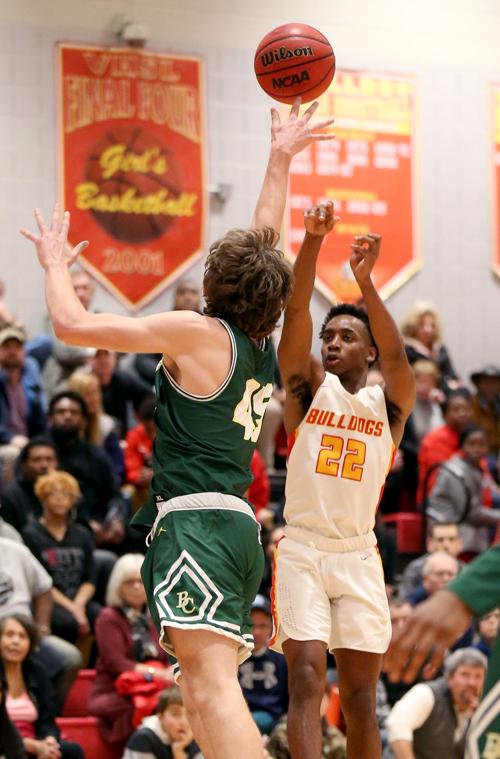 Goochland High School activities director Joe Fowler says the Bulldogs are "all in" for playing winter sports. One catch: They need to find some other schools to play.
Six of the nine schools in the James River District, where Goochland is a member, have decided not to play in the winter, Fowler said. That's part of a no-play list that is building around the state as COVID-19 cases tick up and about 30% of the 132 school divisions are in fully remote learning.
It has left Goochland scrambling to find opponents, particularly in basketball.
"We're kind of in a situation where we have team, will travel," Fowler said. "I was on the phone or emailing [a week ago] with just about every athletic director north of the [James River] and about half of them south of the river trying to find games for our kids. Right now, it's tough."
Schools in the Capital, Colonial and Dominion districts — three of the four biggest in the area — also had to rework schedules following the announcement from Richmond Public Schools last week that it won't allow its five high schools to play in the winter.
The Capital District is made up of schools from Henrico and Hanover counties, plus Richmond. The Colonial District is made up of schools from Henrico, Richmond and Maggie Walker Governor's School. The Dominion is made up of schools from Chesterfield and Powhatan counties, plus Richmond.
Henrico has said it plans to play in the winter. Chesterfield and Hanover haven't announced decisions. Still, activities directors throughout the area are making plans knowing the stop sign can be thrown up at any time.
All three districts were set to play the maximum 14-game schedules in boys and girls basketball mostly inside their districts. Without the Richmond schools, though, the Capital and Colonial districts have been pared to seven schools. The Dominion has eight.
The Capital and Colonial schools now need a few games to fill their schedules. That is being done first between the districts, activities directors said. If schools still need games, they can look outside.
Dominion schools will get their 14 games in-district by playing each other twice, Cosby activities director Mickey Swartz said.
All that limits area options for Goochland, a school with a smaller enrollment that doesn't normally play its neighbors in the Capital, Colonial and Dominion districts.
With his district down to two opponents, Fowler said the Bulldogs may have to play several times against them.
"Right now, we're just basically waiting, in all honesty, for somebody else around the state or around the area to bail on winter sports, and then hopefully we can jump in and pick up their opponents," Fowler said.
The Virginia High School League left the decision to play sports to school divisions after the league got the green light from Gov. Ralph Northam to begin participation in December in basketball, gymnastics, indoor track, sideline cheering, swimming and diving, and wrestling. VHSL spokesman Mike McCall said the league expected some schools would opt not to play.
Northam issued new restrictions last Friday that limits gatherings for indoor and outdoor recreational sports to 25 spectators. And while uneasiness grows over whether the winter season will start, the league said the restrictions do not prevent VHSL schools from playing sports.
In the James River District, Bluestone, Buckingham, Central-Lunenburg, Nottoway, Prince Edward and Randolph-Henry all informed Fowler they're not playing.
Several other school divisions around the state — among them Greensville, Surry and Park View-South Hill — have decided not to play in the winter. Arlington schools in Northern Virginia originally said they weren't going to play winter sports before reversing the decision, although they won't have wrestling.
College basketball programs have been constantly redrawing schedules as they get ready to start their seasons. Given how quickly things can change, Fowler thinks a lot of high schools may be penciling in and erasing opponents until just before the season starts, assuming they play. Even then, he said, "You're going to lose some games as people have positive tests and contact tracing."
"It all depends which way the numbers go," said Fowler, who plans to hold senior night at Goochland's first home basketball game. "The well-being of the students' health is obviously more important than anything else. Who knows how much things can change in the next month and a half?"
"If the SEC can't pull it off in football every single week," he added, "it's certainly going to be a challenge for public high schools."
(804) 649-6965
Twitter: @timpearrelltd