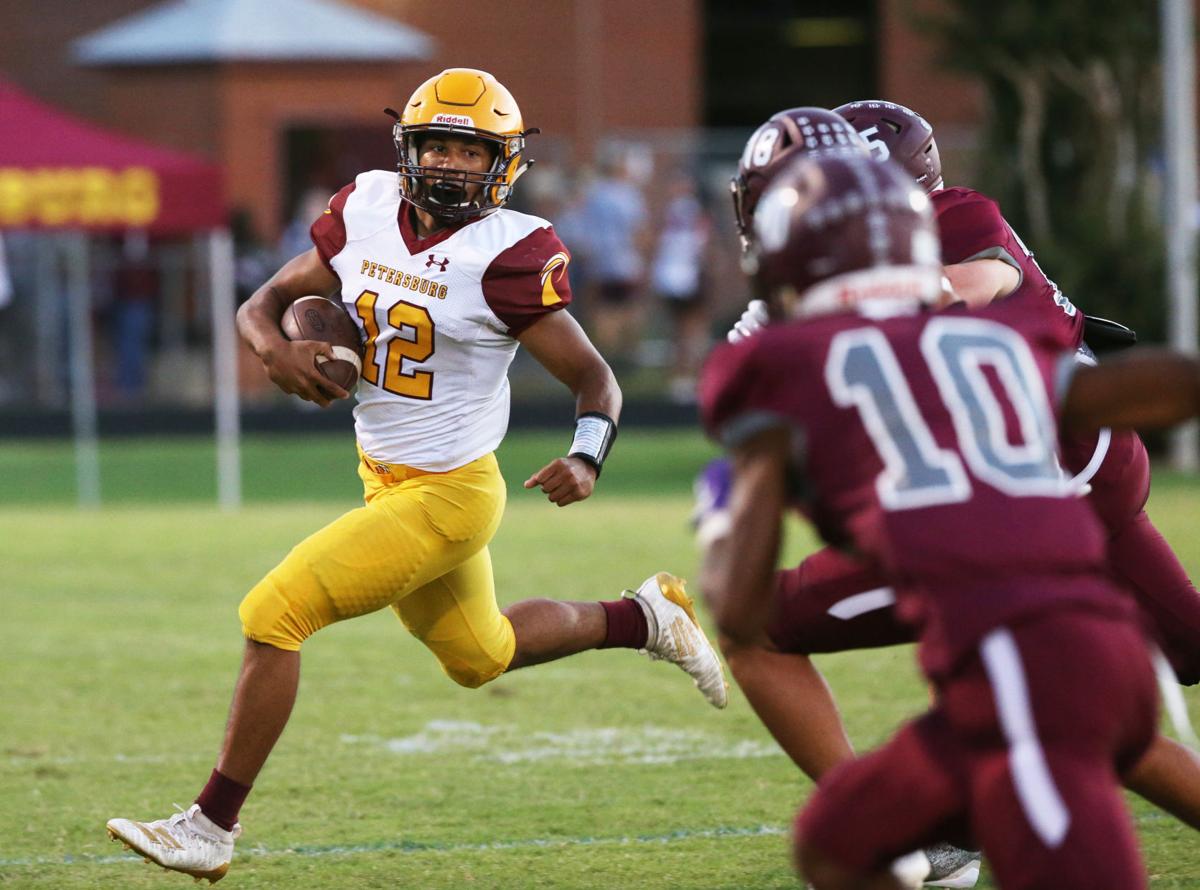 Quarterback Meziah Scott spent 90 minutes passing a football to receivers running different routes. He threw from a play-action scenario. He threw while on the run. He threw off balance, and he threw long-distances passes.
All the while, his personal coach, Malcolm Bell, stood behind him filming each throw on his smart phone. These days, high school football players are filming all their workouts, from weightlifting to football-specific drills, in an effort to attract the attention of college football programs.
"It's totally crazy, because [college football coaches] never liked workout videos before," Bell said.
While the recruiting video has long been a staple of baseball players' path to college, it was never popular among football coaches, who preferred to assess the talent of high school players in person.
But the pandemic has shut down face-to-face recruiting, denying kids the opportunity of performing live for college coaches. And the high school season in Virginia won't be played until March at the earliest, which means players won't be able to accumulate coveted game film showing off their skills.
So they are resorting to the next best thing, filming anything remotely football-related.
Scott, a rising senior at Petersburg, spent an hour one day scrolling through his video snippets, selecting the best ones and editing them together on the Clips applications on his iPhone. Then he sent them to college coaches.
He has three offers so far, Western Carolina, Norfolk State and Georgetown. Three others, Richmond, Maine and Towson, have shown interest in him. A coach from Maine recently sent him a list of throws he wanted to see Scott complete. They were somewhat difficult requests, including a 25-yard comeback route from the opposite hash, which is too long for most high school quarterbacks. Scott completed the pass and got it on film.
"I never would have thought a coach would say, 'Send me two minutes of you throwing,' " Bell said.
Juwan Dent, a rising senior quarterback at Highland Springs, tries to film all his workouts, whether he's throwing balls, shuffling his feet around cones or lifting weights on the bicep curl machine at the gym. He posts clips on Twitter and Instagram or sends them to coaches at Richmond or William & Mary.
"We go through it, make sure it's the best, then put it out there," said his father, Kevin Dent, an assistant coach at Highland Springs.
Since colleges now have a smaller window to see a player's physical ability, they're opening others into recruits' mental capabilities. The quarterbacks coach from Maine got on a Zoom call with Scott, pulled up film of an old Maine game and asked the young quarterback questions.
When there were just a few seconds left in the game, the coach asked, why did the quarterback throw to the outside receiver? Scott knew the answer. The quarterback chose the receiver near the sideline, so the receiver could step out of bounds and stop the clock, Scott told the coach.
"[Recruiting] is way more mental now," Scott said. "Especially as a quarterback."
In the coming months, there will be more opportunities for quarterbacks, receivers and defensive backs to appear in useful recruiting film, said Zohn Burden, a former Virginia Tech assistant. There will be 7-on-7 games, which are allowed in Virginia's Phase Three restrictions, and which do not include linemen, linebackers or running backs.
Skill players can display a lot of their talents in 7-on-7, such as breaking on the ball, backpedaling, catching and throwing. While linemen can still create their own workout videos, they can't display the abilities that set them apart, like an offensive guard pancake blocking a defensive tackle, or a defensive end swatting down the hands of an offensive lineman to sack the quarterback.
The best thing a lineman can do, Burden said, is to display his footwork or his hands in drills against other well-regarded players.
Loren Johnson, the coach at Highland Springs, said the pandemic is accelerating recruiting trends that had already taken root. In the past, a player's game film was his most important asset to attract offers. But game film, Johnson said, doesn't speak to coaches the way it once did.
How a player gets recruited, he said, is increasingly dependent on the relationship between the college coach and the player or his high school coaches, the player's performance at camps, and his measurable factors like height, weight and speed. Without in-person visits or game film, some of those factors will take on greater importance.
"When I was getting recruited, it had nothing to do with measurables," said Johnson, a Virginia Tech alumnus.