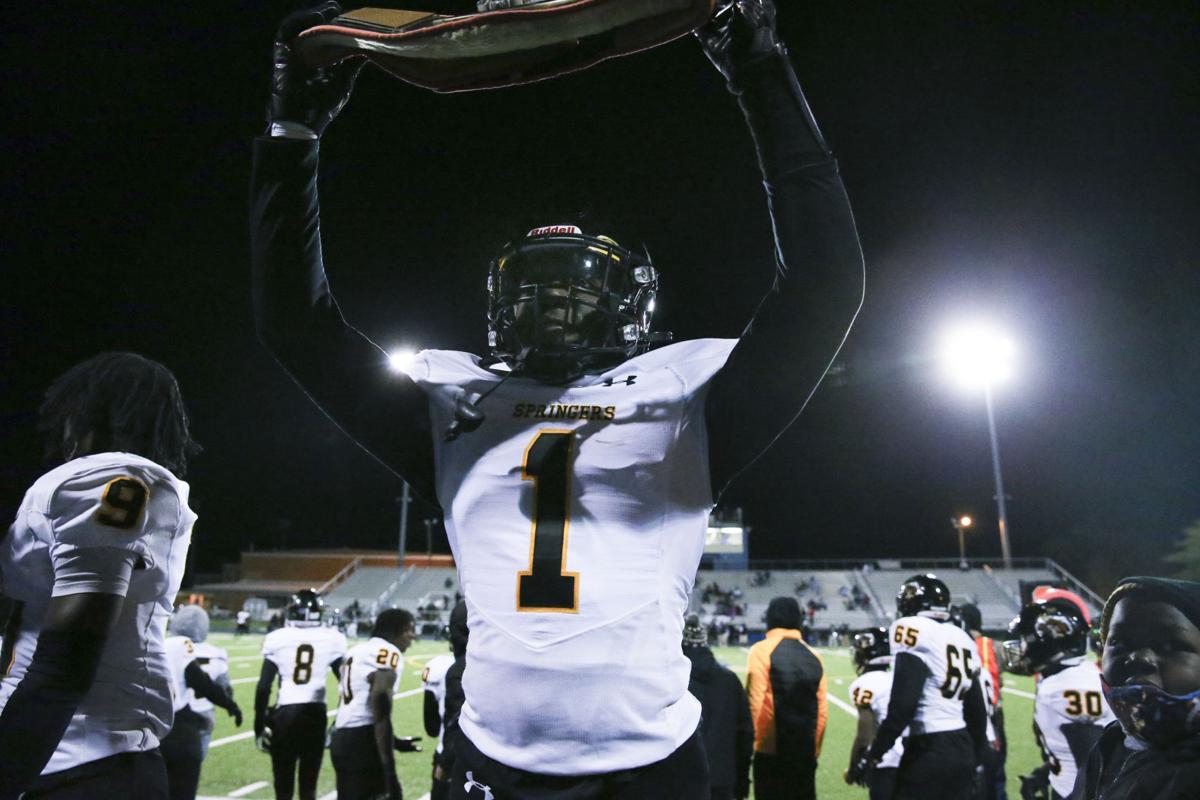 The Virginia High School League released the pairings for football regional semifinals on Monday, with seven games on this weekend's playoff slate involving at least one local team.
Per usual, Class 5, Region B is the headliner from a Richmond-area perspective. No. 1 Highland Springs (6-0) will be the home team against No. 4 Prince George (5-1) at Varina.
This will be the first meeting between the Springers and Royals since 2004. Highland Springs leads the all-time series 10-1, with Prince George's only victory (18-7) coming the first time the schools met in 1971. They played every year from 1971-1980, then just once in the 41 years since.
On the other side of the 5B bracket, No. 2 Hermitage (6-0) will host No. 3 Manchester (5-1). The Panthers and Lancers have met 17 times since first facing off in 1946. They played 12 times from '46 to 1964, then not again until 2014. Hermitage holds a 12-3-2 advantage in the series. But Manchester has won the past two meetings, 26-20 in 2017 and 70-0 in 2018.
Hermitage and Highland Springs finished with identical 28.0 ratings on the VHSL points scale and needed a tiebreaker to determine the top seed.
The VHSL's only requirement is that each region send in their teams for the state playoffs. How regions determine seeding through tiebreakers is their decision.
Highland Springs director of student activities Harry Lee Daniel said, prior to him becoming AD, the established tiebreaker for Region 5B was the Virginia Lottery Pick 3.
If the three-digit winning combination ended with an even number, Hermitage would be the top seed. And if it was odd, Highland Springs would be No. 1. It came back odd.
Varina AD Kevin Adams, the regional director for football, said local ADs pick the date and time of the Pick 3, which the Virginia Lottery does twice a day. Whichever school comes first alphabetically, in this case Hermitage, gets the even number. They picked the number a week ahead of time and used the March 26 evening draw of 583.
"We wanted to make it an arbitrary thing where none of us had any control over it," Adams said. "It makes it nice and clean and easy."
It wasn't his idea, but he recalls it first being broached around the 2013-14 school year at the outset of the six group classification system.
In Class 4, Region B, No. 1 Monacan (6-0) will host No. 4 Patrick Henry (6-0). The Chiefs and Patriots have met just once before, a 26-7 Monacan win in 1985 that saw the Chiefs capture their first Central Region championship.
Two more 6-0 teams fill out the rest of 4B: No. 2 King George will host No. 3 Louisa.
In Class 6, Region A, No. 2 Thomas Dale (5-0) will host No. 3 Franklin County (4-2). The Knights and Eagles have played one time in their history, a 50-0 Thomas Dale victory in 2017.
In Class 3, Region A, No. 4 New Kent (4-2) travels to No. 1 Lafayette (5-0). The Rams beat the Trojans 35-13 in Williamsburg on March 26. The Rams and Trojans have met every year since 2001. New Kent won that first meeting 32-17, and Lafayette has won every game since 2002 to build an 18-1 head-to-head advantage.
On the other side of the 3A regional is No. 3 Hopewell (3-1), traveling to face No. 2 Phoebus (3-0). The Blue Devils and Phantoms have played twice. Hopewell won 7-6 in 2017 in Hampton, and again in 2019, 19-6 at Merner Field.
In Class 3, Region B, Goochland (5-0) is the top seed. The Bulldogs will host No. 4 Brentsville District (5-1) in the first meeting between the schools on the football field.
(804) 649-6555
Twitter: @ZachJoachim