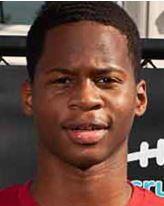 Highland Springs High sophomore defensive back Braylon Johnson was in a virtual chemistry class Tuesday morning when the first of a dizzying flood of Division I football scholarship offers came.
In less than 28 hours, the count was 11.
Johnson, the son of former Virginia Tech player and highly successful Highland Springs football coach Loren Johnson, had no offers before Tuesday. He played on the Springers' JV team last year, with a scant few minutes on the varsity.
His offer sheet changed after a showing at a local showcase last April led to an invitation to the NextGen All America Camp Dec. 27-30 at IMG Academy in Bradenton, Fla., where Loren was able to get video of Braylon going against some top recruits in 7-on-7 games.
Highland Springs has a recruiting coordinator, Keylon Mayo, who along with Springers activities director Harry Lee Daniel helps keep players on college coaches' radar. He and Daniel uploaded the video to Hudl, an online and mobile platform for video sharing and review, and sent it out to coaches Monday night and Tuesday.
About 9 a.m. Tuesday, a Virginia Tech coach called Daniel. As Tech was making its offer, a Maryland coach called Daniel and had to hold before saying his school was offering a scholarship.
The offers kept coming and being relayed to Johnson: Liberty and Virginia came late in the afternoon, followed by Boston College and Penn State at night.
Pittsburgh made an offer early Wednesday morning while Johnson was running stairs in the city. Four more offers came before 1 o'clock: Norfolk State, Georgia Tech, Old Dominion and Oklahoma.
Mayo is accustomed to getting calls from multiple schools. But the speed and volume of this one was "kind of mind-blowing," he said.
"It felt like all the hard work paid off type of thing," said Johnson, who got another offer from Michigan State on Thursday. "At the same time, it was a moment where I self-reflected and I was like, you've got to keep working, you've got to keep going. None of this matters if you don't have a good season and play well."
Loren Johnson said several Richmond-area players were at the showcase in Florida, and he believes that might lead to offers as well.
His video of his son gave recruiters a look at a 15-year-old safety and cornerback — he's also a wide receiver and long snapper — who's 6-foot-1, 160 pounds and likely will grow. He excels as a 500-meter runner in track.
"It's been a very interesting process, with a lot of support and then some negative comments as well," Loren Johnson said. "Just people on the outside, questioning the process. … I don't think I've ever said anything to [media] about my son and his playing at all, or even mentioning him. I guess a lot of people question it. But I don't question it because I see his work ethic."
Braylon, his father said, is a thinker who's "very analytical" and has been able to learn from a long line of talented Springers defensive backs. His father also was a defensive back at Virginia Tech from 1995-98. His Highland Springs teams have won four state titles in the past five seasons.
His advice to his son about the process?
"Enjoy the honeymoon. It changes quickly," Loren Johnson said. "Continue to work. In our house, a 3.5 [GPA] is probably about the lowest his mother is going to accept. … Your SAT prep has to increase. Your social life has to be managed correctly.
"He's still got a lot of work to do. We've heard this comment a couple of times from a really close friend: Some people have a plan to get scholarships; they just don't have a plan to keep them. That's our goal, to keep as many as we have and for him to continue to work and to become an integral part of our program here at Highland Springs."
(804) 649-6965
Twitter: @timpearrelltd