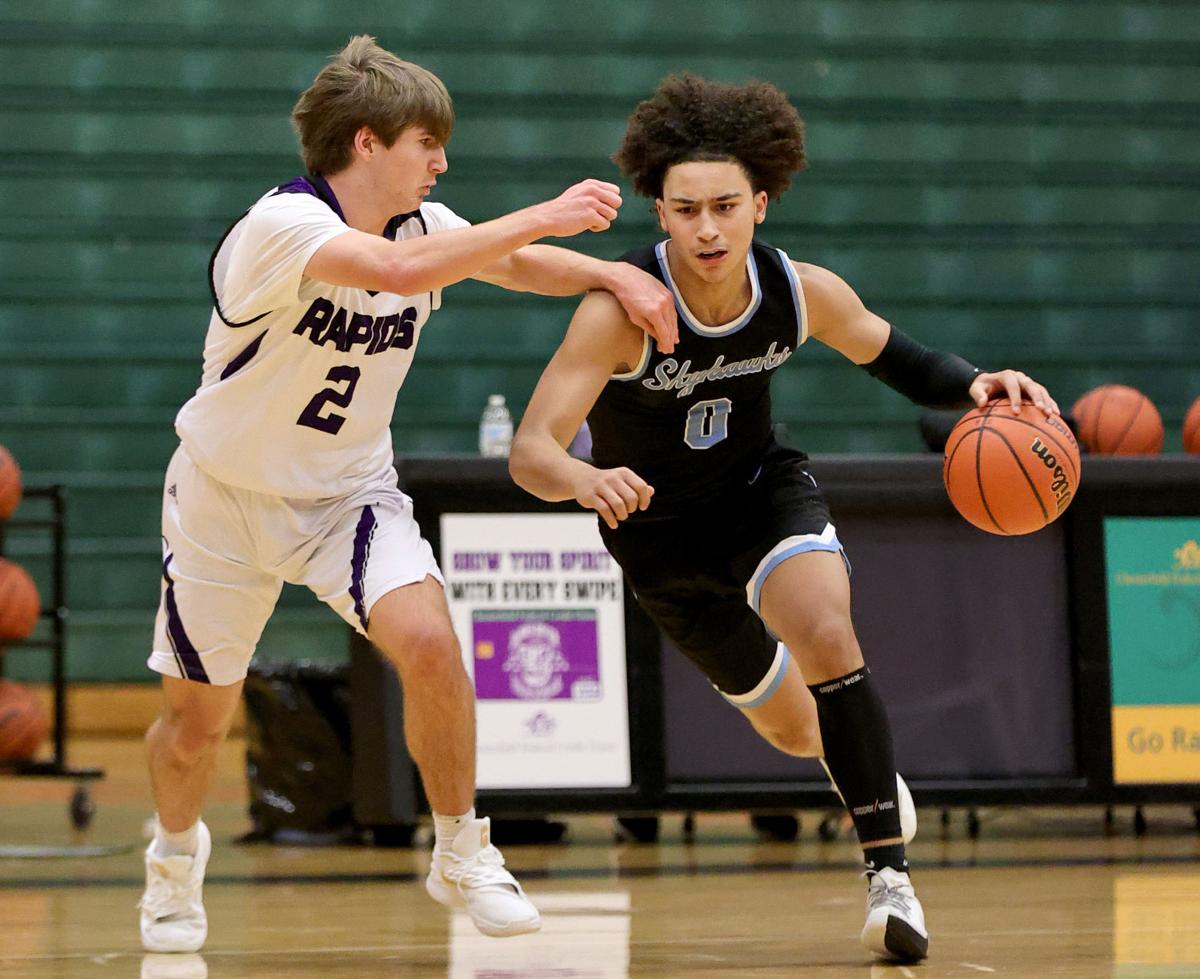 James River boys basketball and first-year coach Jonathan Smith notched their first signature win of the season Wednesday night with a 62-56 victory at Manchester (9-1, No. 6 in The Times-Dispatch Top 10).
"Big-time win for us," Smith said Thursday, his voice cracking from yelling so much on the sideline the night before.
James River jumped out to a 16-6 lead before the Lancers fought back into it. The Rapids won a lot of 50-50 balls in the second half, allowing them to push the pace and get out in transition, a style Smith said defines his group.
The Rapids hit a couple big 3s down the stretch to pull away.
"They [Manchester] are a very talented team, have a lot of length and skill," Smith said.
The Rapids (8-1) opened the season with a 78-67 loss to reigning Class 3 champion Hopewell. James River was up late in that game, but the Blue Devils caught fire down the stretch in the fourth quarter. Smith's team has reeled off eight consecutive victories since.
"There were a lot of intangibles, new system, first time playing for me against a defending state champion," Smith said of his first game at the helm.
"I really do think it gave us a ton of confidence knowing we were neck-and-neck with a defending state champion. That set the culture for what we have now, we're able to compete against high talent and good teams."
Leading the charge for James River are senior 6-foot-6 wing Michael Johnson; senior point guard Pierce Boerner; and senior shooting guard Alex Orr.
Johnson scored 15 in the victory over Manchester. Boerner and Orr added 11 points apiece. Junior guard Ryley Lawhun and sophomore forward Maurice Davis scored 9 each.
Johnson, a versatile scoring threat, got injured in the first half of the Hopewell game but has returned to average 15 points in the last three games. Boerner is a savvy decision maker who handles on-ball pressure well, Smith said. And Orr (6-foot-4) is a high-level shooter who's shooting close to 43% on the year.
"When you combine Pierce [Boerner] being able to make the right decision with two playmakers in Alex [Orr] and MJ [Johnson], it gives us a great amount of depth before even talking about the other guys," Smith said.
Those three, in addition to fellow senior starter Miles Johnson, who does a little bit of everything, set the tone for a group otherwise comprised of new faces to the program. Lawhun and Davis, among others, have played key roles in augmenting the leading trio.
"It's been a huge growing process for us," Smith said of his group adjusting to a new coach and system, adding that his Rapids love to play fast and shoot a lot of 3-pointers.
"I'm a big culture guy, we spend a lot of time talking about our program pillars -- selflessness, unity and passion. The style we play mimics what we base our culture off of, which has been really cool to see."
(804) 649-6555
Twitter: @ZachJoachim