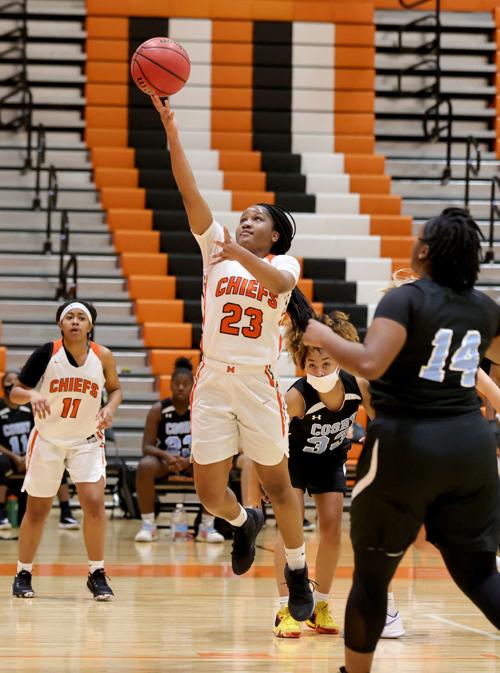 Playing in her first competitive basketball game since the coronavirus brought high school sports to a grinding halt last March, Monacan senior guard Jordan Hodges was grateful to just be on the floor Wednesday against visiting Cosby.
"It meant a lot, and I just wanted to go out there and have fun because we haven't been on the court together for a long time," Hodges said.
Despite the lengthy layoff, Hodges didn't show many signs of rust. The Titans kept it close through three quarters behind the post play of Alexis Warren, but Hodges' fourth-quarter heroics lifted the Chiefs to a 68-55 victory.
Cosby (0-1) carried a 48-47 lead into the fourth quarter. When asked what made the difference in the final quarter, Chiefs coach Larry Starr kept it simple.
"Jordan Hodges," Starr said. "I just believe that she's the best point guard in the state. And she stepped up big time."
Monacan (1-0) slowed the game down with what Starr calls his "four-to-score" set, spreading four off-ball players as wide as possible in the half court in order to give Hodges an isolation scoring opportunity at the top of the key with a vacated lane to drive.
The two-time All-Metro guard used that set to bleed clock and limit Cosby's offensive opportunities on the other end. She hit floaters in the lane, drew contact on contested layups and dished to teammates when defenders stepped to her.
"It's actually really helpful. Usually Coach Starr calls that when we want to run the clock out or just get a good layup," Hodges said. "It isolates me and opens me up. I like to look for my teammates first, shoot second, so it really opens me up and gets everyone else open."
Hodges finished with 25 points (9 in the fourth), eight assists and three rebounds. She said she's developed the instinct over the years to know when to assert herself offensively.
"Not only is she talented, but she's maybe the smartest player I've ever coached," Starr said of his senior guard. "She just sees the floor, defensively, offensively. And that's one of the reasons that [the four-to-score set] works, is she just never takes a bad shot."
Warren did all she could to keep the Titans in it — a dominant presence on the low block, she controlled the paint and finished with 25 points via some nifty footwork and a soft touch. At one point in the third quarter, Warren stepped outside and sank a 3-pointer, causing Starr to throw his hands in the air with exasperation.
"She's just a beast inside," Starr said of Warren, noting that the Chiefs had to change their defensive schemes to focus more on keeping the ball out of her hands in the post. "Our whole second half, we all helped with keeping it out of her hands."
Sydney Turner joined Warren in double figures for Cosby with 14. Isabel Tillett and Ilah Javellana hit a pair of 3-pointers apiece.
Mackenzie Swayne chipped in 9 points for Monacan, including some key fourth-quarter buckets. Sydney Clayton added 8 points and nine rebounds.
A frightening moment in the first quarter brought the game to a halt. Monacan junior forward Linden Madison drove toward the baseline and fell to the floor after her opponent was called for a pushing foul.
Madison, who was noticeably in pain, stayed down for a time before being helped off the floor by two coaches. She did not return to the game and appeared unable to put weight on her right leg. Starr said the Chiefs are awaiting a medical evaluation.
Both teams sat spaced out on the sidelines, as did a limited number of spectators in the stands. Some players wore masks during play.
"You look at Henrico, I feel so bad for those kids, I feel so bad for the coaches," Starr said, referring to one of the counties that doesn't plan to play basketball. "So we don't take it for granted. We are very appreciative of our county for allowing us to play."
Mon: Jordan Hodges 25, Mackenzie Swayne 9, Sydney Clayton 8, Amirah Washington 6, Emily Knabel 6, Jada Norman 5, Caitlyn Rodriguez 5, Lilly Hoy 4. Totals: 24 19-32 68
Cos: Alexis Warren 25, Sydney Turner 14, Isabel Tillett 6, Ilah Javellana 6, Emily Ellis 3, Kaelin Smith 1. Totals: 22 4-9 55
3-point goals: Mon: Hodges 1; Cos: Tillet 2, Javellana 2, Ellis 1, Turner 1, Warren 1.
(804) 649-6555
Twitter: @ZachJoachim