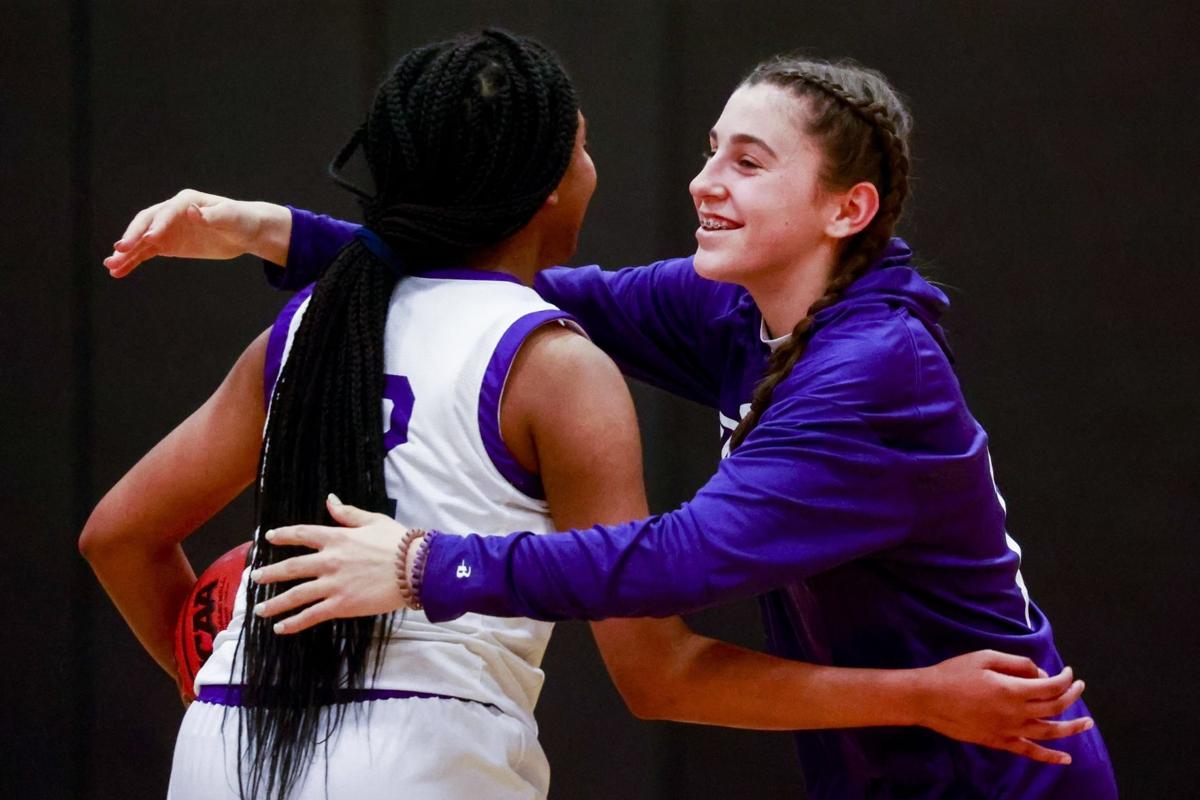 James River girls basketball stars Lanie Grant and Arshae Jackson are still developing chemistry in their first season as teammates.
But you'd think the duo had a longstanding partnership while watching the Rapids, 9-1 and No. 1 in the Times-Dispatch Top 10, take down No. 3 Manchester 68-39 at home on a frigid Tuesday night in front of about 100 largely purple-clad onlookers.
"Lanie is an elite player; I think Arshae is an elite player," said Rapids coach Henry Schechter, adding that Jackson is getting more comfortable playing off the ball after functioning as the team's primary creator last season.
"We do a lot of work in practice emphasizing two-man game, three-man game, working to peoples' strengths. Arshae is learning to play with Lanie. It's just working through some chemistry. But as you see tonight, when it works, it's really good."
Grant, a freshman point guard who has already verbally committed to North Carolina, scored 28 including six 3-pointers and a series of crafty layups on smooth drives through traffic to the basket. She showed off elite handles and court vision plus a fluid, quick shooting release.
"I've known Arshae for a while, this team meshes together really well, it's been fun so far," Grant said. "My mind is geared around doing whatever the team needs me to do to win, whether that's scoring, passing, defending. It doesn't matter how many points I score, as long as we win, I'll be happy at the end of the day."
Jackson, a junior left-handed combo guard and All-Metro honorable mention as a sophomore, scored 19 points, featuring an array of spin and hesitation moves on strong drives through the paint and a soft touch at the rim.
She added a pair of 3s and, like Grant, a handful of crafty assists to open teammates.
"We're just getting to know each other, realizing on the floor we have to lead the team," Jackson said of her partnership with Grant.
Collective defensive intensity helped the Rapids plug passing lanes and limit the Lancers (7-2) to a heavy reliance on the post play of physical sophomore forward Mia Woolfolk (18 points) and creativity of savvy freshman guard Rayne Wright (13 points).
Junior wing Channelle Bragg and senior guard Madison Murphy added a 3-pointer apiece for Manchester, which has beaten three Top 10 teams this season: No. 10 Glen Allen (69-48); No. 4 Monacan (60-49) and No. 5 Cosby (44-41).
"We were locked in defensively," Schechter said. "That's been a point of emphasis. [Woolfolk] is a good player, no doubt, she likes to work around the paint area. We had a lot of people putting pressure on her."
The Rapids run a motion offense, and although Grant and Jackson are talented creators, they weren't forced to improvise much with off-ball movement creating open shots for themselves and their teammates.
"Our entire offense is off-ball movement," Grant said. "It's nice to know, if I'm attacking, someone's always open."
Sophomore guard Katrina Scholtz scored 5 points, Ava King had 7 and senior forward Gillian Smith was a key defensive presence for the Rapids, who are unbeaten locally, with their only loss a 37-36 defeat to West Springfield.
Manchester hung around into the second quarter, but a 12-0 James River run featuring a 3-point play by Jackson off a nifty feed from Grant made it 34-15 going into the break, and the Rapids, who started two freshmen, two sophomores and a junior, never looked back.
"It's not just Lanie and Arshae, whoever we have on the court, we feel comfortable they can knock down shots or get to the rim," Schechter said.
"We had every kid come in and contribute, every kid is buying in. It's a great team chemistry, I think we have a really good culture and the kids truly like each other. They enjoy each other's company and, when you have that, great things can happen."
MAN: Bragg 3, Wright 13, Murphy 3, Woolfolk 18, Shavers 2.
JR: Flournoy 2, Scholtz 5, Grant 28, Jackson 19, King 7, Hollomon 3, Hawkins 3, Whirley 2.
(804) 649-6555
Twitter: @ZachJoachim