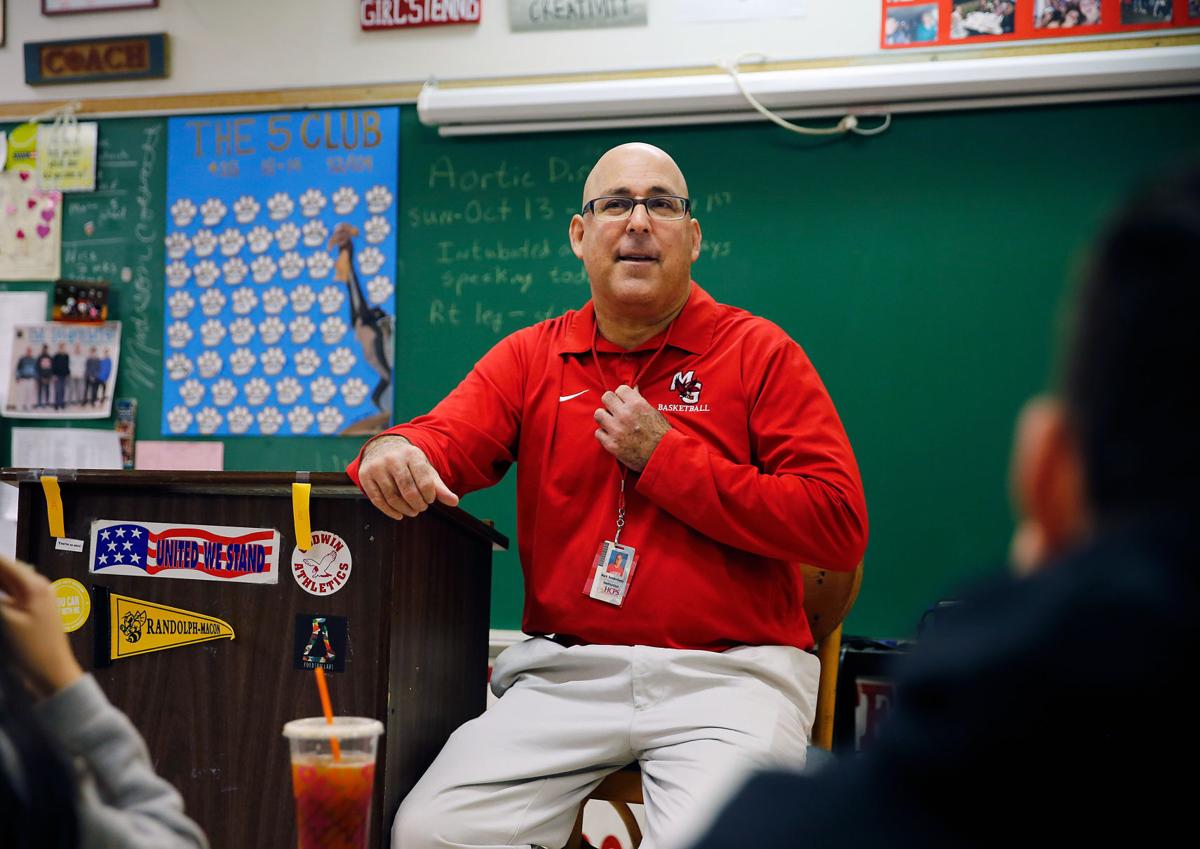 Mills Godwin High girls tennis coach Mark Seidenberg is stepping down after a storied tenure, having guided the Eagles to more state team titles than any other school in the Virginia High School League.
Seidenberg, 57, suffered a life-threatening aortic dissection in October of 2019, sparking an outpouring of emotion, support and love from friends, colleagues, students and coaches in many sports. He recovered and went back to teaching — he'd been at Godwin since 1990 — before retiring.
Spring sports were shut down last year because of the pandemic, and Seidenberg thought he'd continue to coach this year. His heart is "actually feeling great," he said, but he has some other minor health issues.
"It was just good timing to stop now," he said.
Godwin has had two girls tennis coaches — Doris Moser and Seidenberg — since the school was founded in 1980. Moser's team won a state championship in 1993. Seidenberg took over the following year and won the first of 11 state titles in 1995. Godwin's 12 overall are two more than Gate City.
"I like to think I came in and continued that run of where [Moser] ended," said Seidenberg, who also credited the program's success to assistant coaches and former players who came back to help.
During one stretch, Godwin claimed 16 straight region championships and played in 14 consecutive state title matches. The Eagles finished state runner-up four times.
Seidenberg's girls teams won 432 matches, second on the VHSL career list to former Freeman coach Larry Parpart (487), whom Seidenberg played for on Freeman's JV basketball team.
"Any success we had was due to the players," Seidenberg said. "Players make good coaches. The girls had a desire and determination to succeed, and I was lucky to be the one that got to lead them."
Seidenberg said he always stressed the team aspect of tennis and depth. Godwin had two singles champs — Lindsey Howard (2002) and Katie Blow (2008) — during his tenure.
His teams used preseason trips for scrimmages against top teams in North Carolina and later Maryland as bonding excursions.
"Just being with the team and seeing them outside the tennis courts had so many great memories, whether it was freshman skits or scavenger hunts they did in the hotel," he said. "We always tried to do something more than just tennis."
Seidenberg's coaching résumé is long and diverse. He has another state title as the boys tennis coach at Freeman. He coached Godwin's boys basketball team for 10 years, took a year off, and then coached another year. He was an assistant in softball as well.
He's stayed around basketball, sometimes attending Godwin's boys and girls practices or keeping possession charts for various teams in the area.
He'll miss coaching, he said, but he'll continue to serve as a substitute teacher and conduct basketball clinics.
"I've been busy," he said. "I do like retirement. It gives you a lot of freedom."
Seidenberg is one of several coaches Godwin is replacing. Football coach Ron Strine stepped down in October, and baseball coach John Fletcher stepped down after eight years to become the head coach at Richard Bland.
"I'm 62," said Strine, who was named Godwin's football coach in 2017. "I've been doing it for a while. It was time. I've got to focus on some other things."
Defensive coordinator Kevin Simonds is serving as the interim football coach. Godwin activities director Tom Nadeau said the school will go through the normal hiring process for a head coach. Simonds played at Randolph-Macon and was the head coach at Fairfax from 2010-16.
(804) 649-6965
Twitter: @timpearrelltd