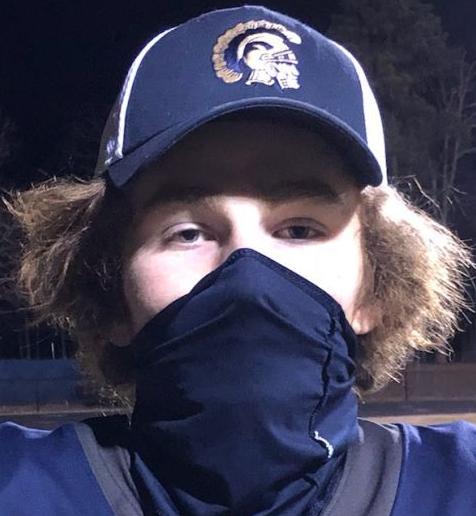 Distance wasn't an issue on Maxx Lawton's decisive 37-yard field goal for Midlothian High against Clover Hill on Friday night.
Ah, but the direction. Was it going to be too far to the right?
From the left hash, Lawton watched like everybody else as his kick with 41 seconds left ascended and descended toward the short upright at Midlothian. He thought at first he had missed it.
But like a golfer hitting a draw, the ball kept working toward the upright. By the time it got there, he said it was inside by a foot or less — he wasn't sure.
The officials agreed, and it was enough to give Midlothian a 10-9 lead and a short time later, a victory that made the Trojans 2-0 in this six-game regular season.
"It had me nervous until the last second they called it in," Lawton said. "It was squeaking in, coming back, hooking in. Very lucky it came back for me."
Special teams played a big part in this struggle, which for a 10-9 game had a lot of second-half twists and turns.
Scoreless at halftime after neither team threatened, Jalen Rembert set up the Trojans' first score by taking the second-half kickoff 52 yards to the Clover Hill 38. Four runs by Rembert (25 carries, 72 yards) and Ashby Berry resulted in Berry's 3-yard TD.
The Trojans' next possession reached the Cavaliers' 1. Rembert was stuffed for no gain on third down, and a slant pass on fourth down was incomplete.
Midlothian got the ball back at the Clover Hill 34 but managed only 4 yards. In went Lawton, whose 47-yard attempt was blocked after a low trajectory and a slow approach, he said.
The Cavaliers (1-1) quickly reversed momentum when Reece Hamilton found Corie Addo streaking past the secondary for a 29-yard TD. A missed PAT try left it 7-6. Hamilton was 12 for 29 for 178 yards. Addo had four catches for 46 yards, Jaden Jennings had four for 118, and Reggie Carter had 90 yards on 21 carries.
Midlothian then fumbled the kickoff, setting up Clover Hill at the 27 to start the fourth quarter. The Cavaliers got the 10 before the Trojans shut down the possession — and then blocked Tyler Lee's 27-yard field goal attempt.
Lee, though, kicked a 30-yard field goal on the next possession that put Clover Hill ahead 9-7 with 6:14 left.
"It was two steps forward and two steps back all night," Midlothian coach Matt Hutchings said. "I was just so proud of these guys. They kept coming back and coming back and coming back."
Midlothian appeared to have a go-ahead 47-yard touchdown when sophomore quarterback Cooper Meads (13-23, 162 yards) found a receiver behind the secondary.
Hutchings said he thought the pass may have been bobbled, and it came free inside the Clover Hill 10. The officials ruled fumble, and the Cavaliers recovered.
Midlothian held and got the ball back at the Clover Hill 34 with 3:08 remaining. The Trojans got to the 20 before facing fourth-and-10.
Even with the earlier block, Hutchings had no reservations putting the game on the foot of Lawton, a sophomore with a big leg who can put kickoffs in the end zone. As a freshman last year, he made field goals of 35 and 40 yards.
"Special kid," Hutchings said. "That type of kid doesn't come around very often. I've known him since [youth] ball. … You just know what he says, I believe."
Lawton told Hutchings before the game he was "good from 50." A former soccer player who fell in love with kicking in the fourth or fifth grade, he went to an invitation showcase in Texas in December and is comfortable inside that range.
Clover Hill tried to make him uncomfortable by calling a timeout before kick. Lawton said that actually helped, giving him "a chance to head back to the sideline and get another kick into our net, kind of just resettle myself, calm myself down a little bit more."
Mid — Berry 3 run (Lawton kick)
CH — Addo 29 pass from Hamilton (kick failed)
CH — Carter 21-90, Ver Beek 1-0, Hamilton 2- minus-11; Mid — Rembert 25-72, Berry 6-34, Meads 2- minus-3
CH — Hamilton 12-29-178-1-0; Mid — Meads 13-23-162-0-0
CH — J. Jennings 4-118, Addo 4-46, B. Jennings 1-11, Carter 2-2, Hataway 1-1; Mid — Smith 4-49, Lee 3-45, Parker 1-39, Rembert 3-15, Harrington 2-14.
(804) 649-6965
Twitter: @timpearrelltd