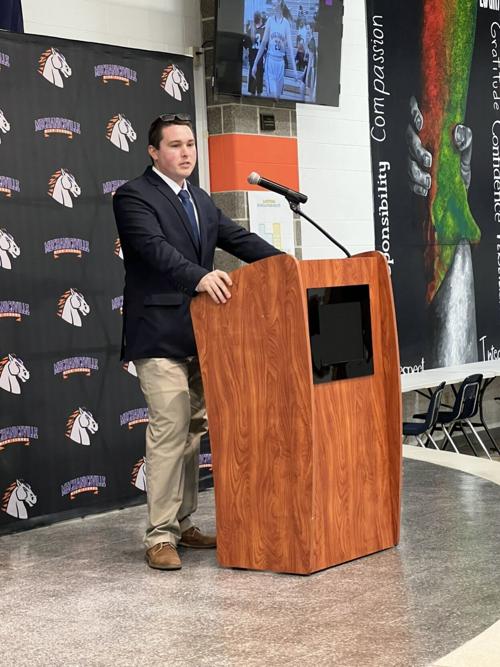 Shane Reynolds, a 2012 Lee-Davis graduate and former football player who has spent time as the offensive coordinator at L.C. Bird the past four years, has been hired by his alma mater to be the next head coach at Mechanicsville.
The Mustangs parted ways with former coach Ryan Turnage after this past season. Turnage had led the program since 2014, going 29-49 over that eight-season span including a five-game 2020-21 campaign. Turnage's 2015, '16 and '17 teams had winning records, but the program has won just five games over the past four seasons. 
Reynolds, now 28 years old, was an assistant at VMI in 2017 and Virginia Union in 2016. He was also an intern helping with recruiting and coaching quarterbacks at Old Dominion while he attended the university. 
A versatile receiver and running back in his playing days at Lee-Davis, Reynolds has coached primarily on the offensive side of the ball for the past 10 years. 
He said the tutelage of Bird coach Troy Taylor was key in his feeling ready to take on his own program. 
"He's helped me a ton, I've learned a ton from him, had a lot of fun while I was there [at Bird]," Reynolds said. "The kids over there work really hard, I'm proud to have been over there and helped those guys and Coach Taylor."
Reynolds said the allure of coaching his alma mater is what drew him to Mechanicsville. After Turnage stepped down, Reynolds got a phone call from one of his former coaching friends telling him he should apply for the position.
"To be honest, I would not have left the kids at Bird were it not for it being the Mechanicsville job," he said. "That's my school. It's the only job I wanted. ... We're going to do everything we can to represent our families and our community the right way."
Reynolds' first priority is getting to know every kid in his program and their families, as well as the school's staff.
He hasn't yet thought ahead to the feeling of his first game on the sidelines for his alma mater, but he's excited to reconnect with a Mechanicsville community that loves its sports teams dearly. 
"They've always had great support from the administration, the parents, the community as a whole, they've always been very passionate about sports there," Reynolds said Thursday before beginning workouts with his new team. 
(804) 649-6555
Twitter: @ZachJoachim