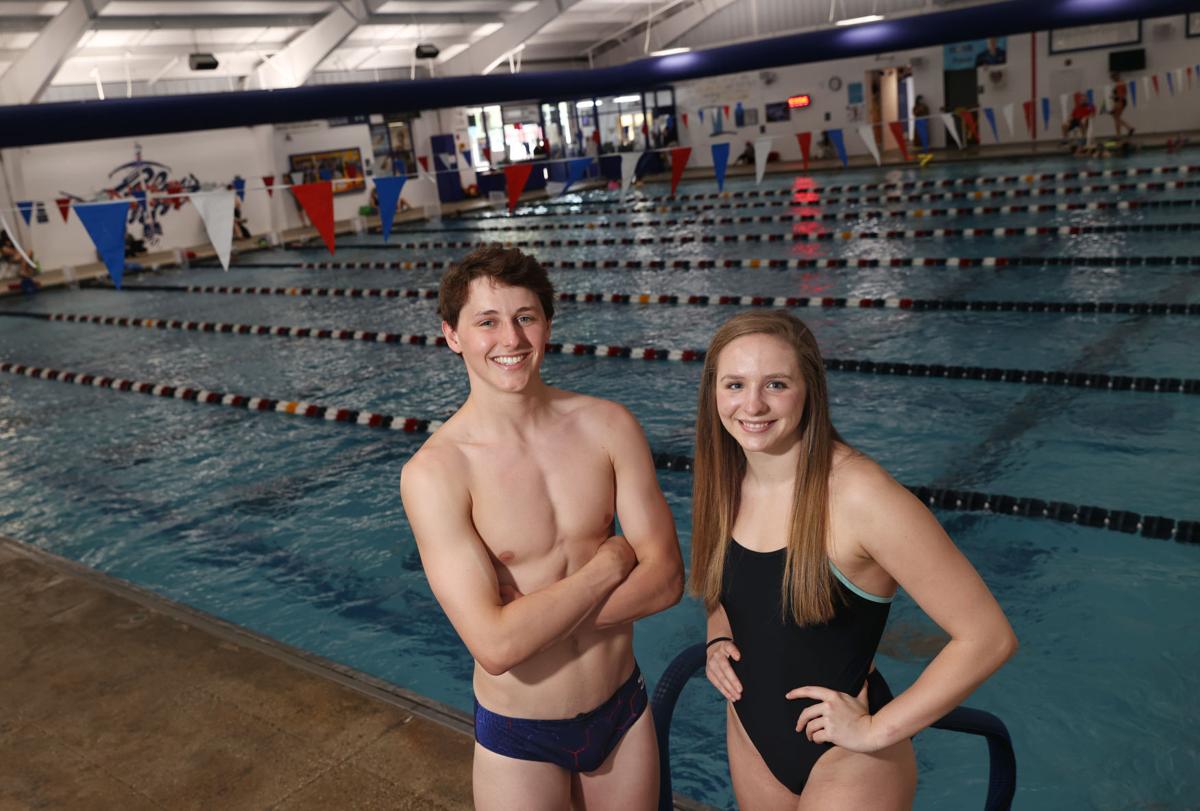 Girls swimmer of the year: Grace Sheble, James River
When Grace Sheble was named the All-Metro swimmer of the year in 2018, she was believed to be the first freshman to earn the title.
Now, she's believed to be the first four-time honoree in the sport, and the first athlete to claim the feat since tennis standout Nina Sorkin of Deep Run swept from 2014-2017.
Sheble finished this season with top times in the 100 freestyle, 100 breaststroke, 200 butterfly and 200 IM. At her club team, NOVA of Virginia Aquatics, she holds five individual and four relay short-course records.
So, while this year's nod didn't come as a shock to Sheble, she said it still felt meaningful knowing the local competition.
"I know I've worked hard over the past couple of years, and it's cool to see it pay off," she said. "Racing against the people around me has really helped get me to this point, and it feels like a big accomplishment to get it all four years."
In a year that offered little in the way of normalcy, Sheble said that swimming, for the most part, was where she could keep up with her goals and stay close with her team.
While she missed out on school dances and football games during her senior year at James River, she, twin sister Caroline and the Rapids won the Class 6, Region A title during the abbreviated winter sports season. She also claimed a state title in the 100 breaststroke.
Sheble was then the top points getter for NOVA at the NCSA Spring Invite, where the program earned the women's team and overall national titles. She finished first in the 200 IM.
The tournament in Orlando, Fla, was a highlight of her season, Sheble said.
"We were mainly focused on long-course meets this year, so we trained through a lot of short-course meets and didn't really rest, and then we rested and I was finally able to drop," Sheble said. "I would be at my best times or just over my best times all year, but I was never really able to drop, so it was like a sigh of relief for me."
Next for Sheble are the Olympic Trials in June, alongside fellow NOVA swimmers Caroline, Claire Dafoe, Zoe Dixon, Josephine Fuller and 2016 gold medalist Townley Haas. She will compete in the 200 fly, 200 IM and 400 IM.
Then, in the fall, she and Caroline will head to college together at N.C. State.
The Wolfpack's women's program came in second at both the ACC and NCAA tournaments, behind Virginia, during the 2020-2021 season. The roster also boasts some local flavor, with two-time first team member Megan Pulley (Deep Run) and boys 2019 All-Metro swimmer of the year Zach Cram (Collegiate).
Sheble said that while she'll miss the swimming community that she has built in Virginia, she's excited to see what her college career will bring.
"I love everyone that I'm here with, and I love all the support I've gotten from my coaches, teammates and family," Sheble said. "But I think the change will be exciting. It'll be a fresh start, and I'll be able to see where that takes me."
Boys swimmer of the year: Aiden Duffy, Douglas Freeman
Growing up, Aidan Duffy played a variety of different sports — soccer, football, track and field, baseball, and lacrosse.
But by his freshman year at Douglas Freeman, he knew where he wanted to focus all his efforts. There was no defining moment, Duffy said, but rather the accumulation of the relationships and lessons that made swimming his sport.
And four years later, that effort has earned him the title of All-Metro boys swimmer of the year with his top times in the 200 freestyle, 100 breaststroke, 200 breaststroke, 200 IM and 400 IM.
"It's been a really big goal of mine to get this award after seeing [previous winners Zach Cram and Noah Nichols] receive it in past years," Duffy said. "I've really been working towards this."
Duffy didn't have a traditional high school season. Like many of the Richmond area's top swimmers, he lives in Henrico County — which opted out of winter sports.
That put a pause on Douglas Freeman's two-year streak as Class 5 state champions, and eliminated Duffy's chance at capping his senior year with a third straight 100 breaststroke title.
"We were really looking forward to it. I wanted to go out on a good note to try and win again, so it was pretty disappointing, but that's what had to happen," Duffy said.
Duffy joined NOVA of Virginia Aquatics at age 11. He initially trained under Geoff Brown until Brown's retirement in 2019, when Norm Wright took over the program. Duffy calls both coaches his role models, along with his parents Michael and Renee Duffy.
During NOVA's NCSA Spring Invite showing, Duffy broke a program record with his 200 breaststroke win and was the top scorer for the men's team. He was also the men's high-point winner at the 2021 Virginia Senior Championships.
So, even without the standard senior sendoff, Duffy said that he's proud of what he's accomplished during his high school career.
"I'm really happy with everything that happened," Duffy said. "… Swimming, for the most part, is an individual sport, but for the teams I was on, for NOVA and for Freeman, I felt like I was competing for something more than myself."
A four-time USA Swimming All-American Scholastic honoree, which is given to athletes who maintain over a 3.5 GPA and make a Winter Junior qualifying time, Duffy will be joining UNC-Wilmington's swim team.
Duffy is part of the first recruitment class for head coach Bobby Guntoro, who became the third head coach in program history last July. Guntoro previously served on N.C. State's coaching staff for eight years.
"He sees something in this team and sees something in these swimmers, and I see something in this team and I see a bright future," Duffy said. "I really wanted to be a part of the team Bobby is building. I knew in Wilmington that I can meet my academic goals for the future, and I can also meet my athletic goals in swimming."
2021 All-Metro girls first team
Event: Name, School/Club, Year, Time
50 Free: Josephine Fuller, Glen Allen/NOVA, Sr., 22.89
100 Free: Grace Sheble, James River/NOVA, Sr., 50.65
200 Free: Sanna Peterson, Deep Run/NOVA, Jr., 1:48.68
500 Free: Claire Dafoe, Cosby/NOVA, Jr, 4:43.97
1000 Free: Claire Dafoe, Cosby/NOVA, Jr., 9:42.50
1650 Free: Claire Dafoe, Cosby/NOVA, Jr., 16:15.53
100 Back: Josephine Fuller, Glen Allen/NOVA, Sr., 52.91
200 Back: Josephine Fuller, Glen Allen/NOVA, Sr., 1:52.73
100 Breast: Grace Sheble, James River/NOVA, Sr., 1:01.00
200 Breast: Josephine Fuller, Glen Allen/NOVA, Sr., 2:12.27
100 Fly: Zoe Dixon, Mills Godwin/NOVA, Jr., 53.90
200 Fly: Grace Sheble James River/NOVA, Sr., 1:54.43
200 IM: Grace Sheble, James River/NOVA, Sr., 1:56.99
400 IM: Zoe Dixon, Mills Godwin/NOVA, Jr., 4:08.06
DIVING: Lindsay Wright, Trinity/Dive RVA, Jr., 326.20*
2021 All-Metro girls second team
Event: Name, School/Club, Year, Time
50 FREE: Christine Datovech, Maggie Walker/SwimRVA, Fr. 23.49
100 FREE: Josephine Fuller, Glen Allen/NOVA, Sr., 51.08
200 FREE: Zoe Dixon, Mills Godwin/NOVA, Jr., 1:49.12
500 FREE: Caroline Sheble, James River/NOVA, Sr. 4:49.49
1000 FREE: Sanna Peterson, Deep Run/NOVA, Jr., 9:54.82
1650 FREE: Sanna Peterson, Deep Run/NOVA, Jr., 16:26.95
100 Back: Zoe Dixon, Mills Godwin/NOVA, Jr., 54.13
200 Back: Zoe Dixon, Mills Godwin/NOVA, Jr., 1:54.06
100 Breast: Josephine Fuller, Glen Allen/NOVA, Sr., 1:01.72
200 Breast: Grace Sheble, James River/NOVA, Sr., 2:12.86
100 FLY: Grace Sheble, James River/NOVA, Sr., 54.13
200 FLY: Caroline Sheble, James River/NOVA, Sr., 1:55.52
200 IM: Zoe Dixon, Mills Godwin/NOVA, Jr., 1:57.76
400 IM: Grace Sheble, James River/NOVA, Sr., 4:08.50
DIVING: Hannah Fultz, St. Catherine's, Fr., 317.65*
2021 All-Metro boys first team
Event: Name, School/Club, Year, Time
50 FREE: Josiah Yeomans, Home School/Quest, Jr., 20.86
100 FREE: Nikolas Lee-Bishop, Deep Run/NOVA, Sr., 45.91
200 FREE: Aidan Duffy, Douglas Freeman/NOVA, Sr., 1:39.92
500 FREE: Nikolas Lee-Bishop, Deep Run/NOVA, Sr., 4:27.47
1000 FREE: Nikolas Lee-Bishop, Deep Run/NOVA, Sr., 9:15.77
1650 FREE: Nikolas Lee-Bishop, Deep Run/NOVA, Sr., 15:37.87
100 BACK: Matthew Duren, Midlothian/QST, Jr. 49.44
200 BACK: Benjamin Gordon, Hanover/NOVA, So, 1:47.47
100 BREAST: Aidan Duffy, Douglas Freeman/NOVA, Sr., 55.30
200 BREAST: Aidan Duffy, Douglas Freeman/NOVA, Sr., 1:57.28
100 FLY: Devin Naoroz, Maggie Walker/NOVA, So, 50.27
200 FLY: Grayson Daughtry, Cosby/QST, Sr., 1:51.63
200 IM: Aidan Duffy, Douglas Freeman/NOVA, Sr., 1:49.72
400 IM: Aidan Duffy, Douglas Freeman/NOVA, Sr. 3:55.07
DIVING: Tyler Read, Grove Christian/ADC-Richmond, So., 596.45*
2021 All-Metro boys second team
50 FREE: Christian Mayr, Collegiate/NOVA/ Jr., 21.22
100 FREE: Josiah Yeomans, Home School/QST, Jr. 45.93
200 FREE: Nikolas Lee-Bishop, Deep Run/NOVA, Sr., 1:40.47
500 FREE: Craig Bohlman, Tucker/NOVA, So, 4:31.91
1000 FREE: Craig Bohlman, Tucker/NOVA, So, 9:24.40
1650 FREE: Craig Bohlman, Tucker/NOVA, SO, 15:40.02
100 BACK: Anderson Broughton, Douglas Freeman /NOVA, Sr, 49.88
200 BACK: Devin Naoroz, Maggie Walker/NOVA, So, 1:47.60
100 BREAST: Jason Menninger, Cosby/QST, Sr., 56.99
200 BREAST: Jack McCann, James River/NOVA, Sr, 2:02.47
100 FLY: Anderson Broughton, Douglas Freeman/NOVA, Sr, 50.46
200 FLY: Alexander Schreck, James River/NOVA, Jr., 1:52.62
200 IM: Liam Ryan, Collegiate/NOVA, Sr., 1:51.08
400 IM: Benjamin Gordon, Hanover /NOVA, So, 3:58.07
DIVING: Lane Jones, St. Christopher's, Jr., 374.80*
* Diving rankings determined according to finishes at high school state meet