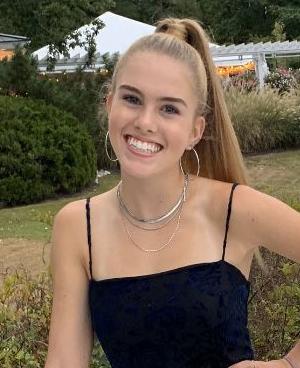 Athletic accomplishments: A junior middle-distance runner, Caroline won the Class 5 state championship in the 1,000-meter run, finished second in the 1,600 and third in the 4x800 relay. Her team also finished runner-up. Her time of 2:57.13 in the 1,000 was the best in the area this year by almost six seconds and 38th best in the country. Her time in the 1,600 was third best in the area. She won both events at the Class 5, Region B indoor meet this year, and her team was the region champion. She was named all-region in cross country last year.
Academic accomplishments: Caroline is a Sidekick, which is the school's orientation team, and she's president of the Champions club, which works with Special Olympics and people with disabilities. She also volunteers at various 5k races.
What she's doing while school is out: "I'm still doing schoolwork. A lot of school work. I'm still training hard, hoping for an outdoor season." On Monday she went for an eight-mile run, which she finished in 55 minutes.
Favorite subject: "Math." She's currently in dual-enrollment precalculus with Ms. Williams.
Future major: "I'm undecided but leaning toward business."
Dream job: "Work for Nike."
First job she wanted as a kid: "Lifeguard, because my sisters were lifeguards, and I always looked up to them."
Three words to describe her: "Positive, determined, organized."
Favorite book: "The Glass Castle" by Jeannette Walls.
Favorite thing about being a student-athlete at Midlothian: "I love surrounding myself with people who have the same goals as I do and who have a strong work ethic, especially my team."
Best sports memory: "At the Virginia Commonwealth Games, I ran the U.S. No. 1 time" in the 1,000. She held the best time in the country for about two weeks.
On her playlist: "I like listening to pop, but also I have country and Christian music on my playlist."
Most embarrassing music: "Hannah Montana."
Person alive she admires the most: "My mom."
Favorite emoji: "I like the new one with the star eyes." It expresses a lot of her emotions.
If she could go on any game show: " 'Family Feud' for sure. I feel like my family would be really good at it."
If she could travel anywhere in the world: "Europe, so I could learn more about different cultures."
If she could be any animal: "Dog." She loves being around people, and dogs are the most personable animals.
If she could have dinner with anyone dead or alive: "Bethany Hamilton," a surfer who suffered a shark attack. "She's had such a positive attitude."
Her house is burning down and she can take only one thing with her: "A jar of peanut butter."
Scholar-athletes of the month are nominated by their coach or athletics director and are chosen by the Richmond Times-Dispatch and Richmond Sports Backers. For more information on the program, visit sportsbackers.org/scholarships.