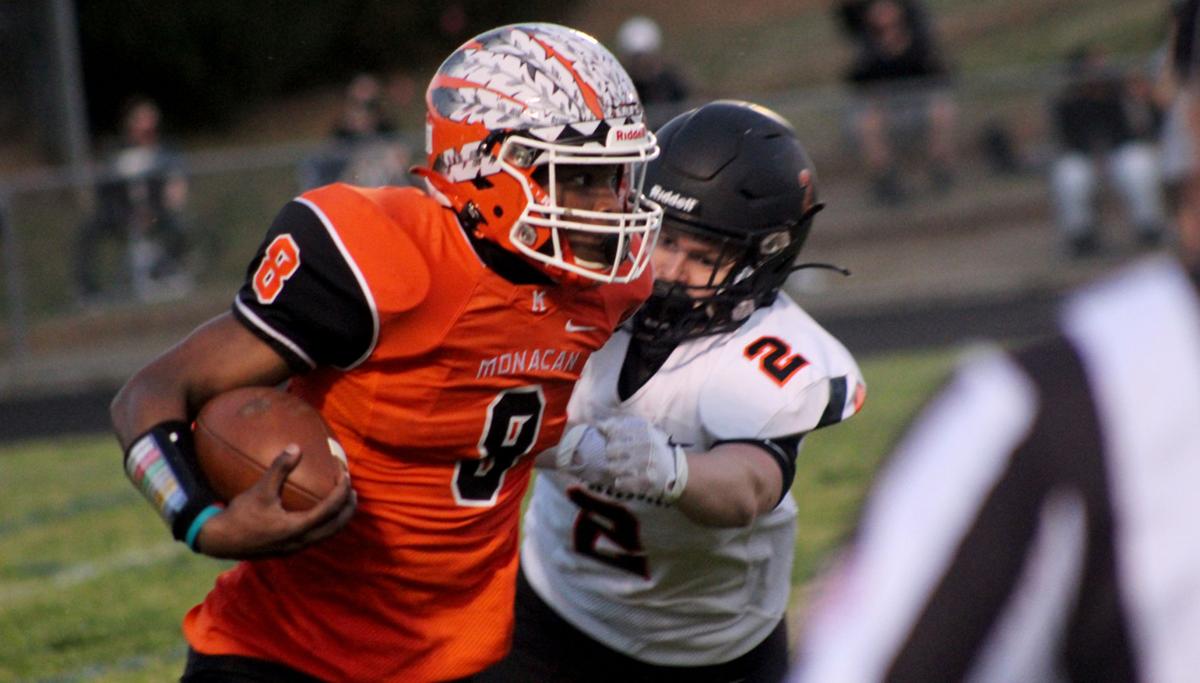 After the chains came out for measurement with the score tied 6-6, the first-down marker stood ahead of the football by mere inches, if not less.
That was how much Powhatan's offense still needed for the first down, having reached Monacan's 13-yard line. But the Chiefs defense had come through on the fourth-down stop to force the change of possession.
The difference in inches led to the Chiefs assembling an 87-yard go-ahead drive in the second quarter. From there, they pulled away to defeat Region 4B opponent Powhatan 26-14 in a game with significant postseason implications.
"That was a team right there that, with a win over us could have propelled themselves in, and so we knew it was a playoff-style game for them," said Monacan coach Jim Henderson. "To take that win tonight was very big for our guys."
Monacan's Keyshawn Jefferson rushed for 135 yards and scored three of the Chiefs' four touchdowns.
"I just want to run. I just want to run the ball. I just want to score," Jefferson said with a smile. "That's my mindset in the game ... just to score, or to get my yards to help my team out."
Jefferson also recovered a fumble in the third quarter at Monacan's 4-yard line to halt a 61-yard drive by the Indians deep into the Chiefs' territory.
"He's just a fun kid; he loves playing football, he's always got a smile on his face, and it was funny, because on the way over here, one of the coaches looked at me and said, 'Man, 8's in the zone tonight. I don't know what it is about him; he just looks different,'" Jim Henderson said of Jefferson. "He was just laser-focused tonight."
Powhatan coach Mike Henderson said missed opportunities hurt his team against a quality opponent.
"They're a really good football team. They played well tonight and they executed well ... they had a great scheme to slow our running game down. I don't think they completely stopped us, but they certainly slowed us down more than what some other teams have been doing," he said. "We had a couple chances to capitalize, and we didn't."
Monacan, seeded No. 2 in Region 4B with a 5-0 record, will wrap up the regular season at James River, while Powhatan (3-2), who was seeded No. 5 coming into the game and is now out of the playoffs, will host Midlothian. Both games kick off Thursday at 7 p.m.
"Midlothian's a rival," Mike Henderson said. "We have a lot to play for next week. Even if our playoff season's over, we're going to play hard, and we'll do everything we can to get a win and make ourselves proud, and to knock (Midlothian) out of the playoffs. We're not going to roll over."
MON — Jefferson 1 run (kick failed), 7:47
POW — Johnson 2 run (kick blocked), 1:23
MON — Pettus 27 pass from Hensley (kick failed), 7:19
MON — Jefferson 3 run (pass failed), 1:18
MON — Jefferson 1 run (pass failed), 2:24
POW — Rehme 2 run (Rehme run), 0:42