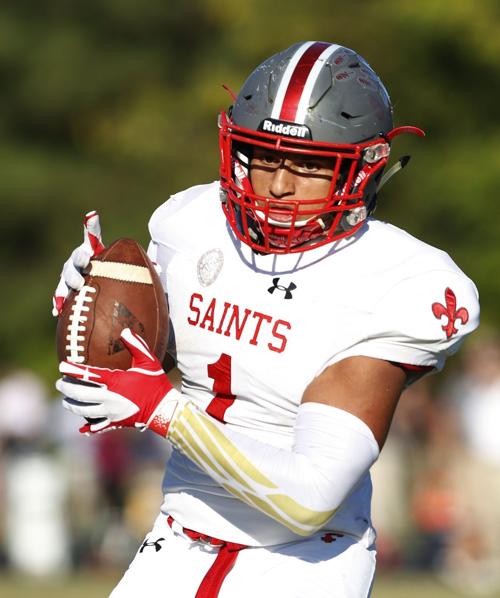 St. Christopher's football coach Lance Clelland gives out helmet stickers for certain individual and team accomplishments: touchdowns, plays of 20 yards or more, interceptions, turnovers caused and other things.
Nikkos Kovanes may not have much free space left on his helmet after the past few weeks.
In a 48-7 victory last week over Fork Union, Kovanes had two touchdowns rushing; returned an interception 32 yards for a TD; caused two fumbles and recovered one; had three tackles; and had 51 yards in kick returns.
"Nikkos filled his helmet up quite nicely," Clelland said.
The previous week in a 14-7 victory over Benedictine, Kovanes had 102 all-purpose yards; a TD receiving; a 35-yard interception return for a TD; and six tackles.
On a 6-0 team that Clelland says has a bunch of players who are smart, unselfish, and can fill multiple roles, Kovanes may be the multi-multipurpose player.
The 5-foot-10, 185-pound senior, who is planning to play at Dickinson College, is a running back, receiver and outside linebacker who "plays more like a safety for us."
For the season, he's got 184 yards rushing and two TDs, a TD receiving, 83 yards in kick returns, four interceptions (three for TDs), three forced fumbles and 20 tackles.
"He is a leader in our school," Clelland said. "He's the president of our student council. He's a four-year varsity football player. He's a four-year varsity basketball player. He's just an all-around incredible young man to be around every day.
"On top of that, he's an incredible athlete. Fast, quick, smart, all the physical tools you'd want. … He's going to be a leader on and off the football field for [Dickinson]. They're getting a really good steal because Nikkos absolutely in my mind has Division I talent."
Clelland said Kovanes had a hand in one more thing for the Saints a few weeks ago.
"As student council president, he was making sure that our student body had some transportation over to Benedictine," Clelland said. "He was the one helping organize that with the help of a bunch of other folks."
(804) 649-6965
Twitter: @timpearrelltd