Waleed Suliman sat in a large room in a Memphis library alongside 74 other men and women from all corners of the globe who were about to become United States citizens. He was nervous as the microphone was passed from person to person. When it arrived in his hands, he stood up, told the group his name, that he came to the U.S. from Jordan and that he had been living here for more than five years.
He was 15 when his parents, refugees from war-torn Darfur, brought him and his four sisters to Henrico County. He had played soccer and run some races in Jordan. So when he enrolled at Douglas Freeman High, he walked to Regency Mall with his father, purchased running shoes and joined the cross country team.
In the next three years, he became one of the best high school runners the Richmond area has ever seen. He graduated with honors, joined the track and cross country teams at the University of Mississippi and became an All-America middle-distance runner.
All the while, he was waiting out the clock. He had to live in the United States for five continuous years before he could apply for citizenship. On Jan. 17, his wait ended. At the citizenship ceremony, he took an oath to support the U.S. Constitution, and when his name was called, he walked on stage to receive his proof-of-citizenship paperwork. In 2018, more than 750,000 people were sworn in as U.S. citizens.
When the ceremony ended, he took pictures with his coach and a few friends who had made the drive to witness the ceremony. Then they hit the road for Nashville, where Suliman competed in an indoor track meet at Vanderbilt the next day.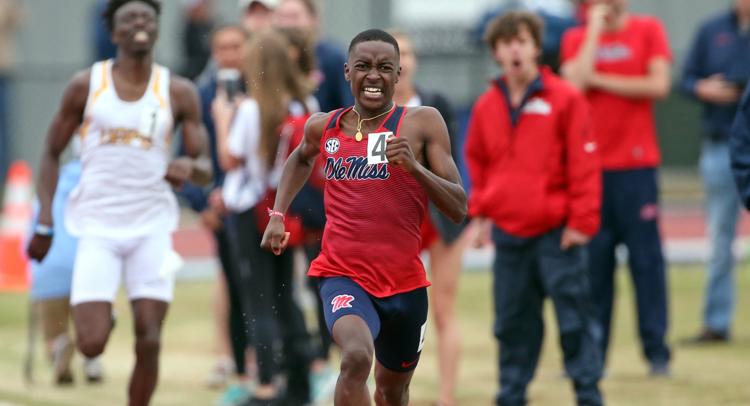 Suliman thought back to the work his parents, Mohamedain and Khadiga, did to get him on that stage. When he was little, they picked fruit off trees and sold them to afford a house. His father paid for Waleed to attend a school in Jordan where he could learn English.
"To bring us here and to finally become a U.S. citizen and belong here, it's somewhat emotional," Suliman said this week. "Everything paid off. It took a lot of sacrifice, but it paid off."
In 2006, Suliman's parents decided to take the family to the United States. But it would take eight years for that goal to be realized. In May 2014, he was given one week's notice to pack everything he had and leave Jordan forever.
Later that summer, after he moved to Henrico County, he told a Freeman counselor he wanted to join the cross country team. Freeman had a talented team already — three months later, it won the state championship. So coach Brian Reutinger put Suliman in the last group of six or seven kids. Suliman wasn't in great shape for running, but he stood out with his natural ability and an innate toughness.
"He's probably one of the more competitive people I've known in any sport, which makes him great," Reutinger said.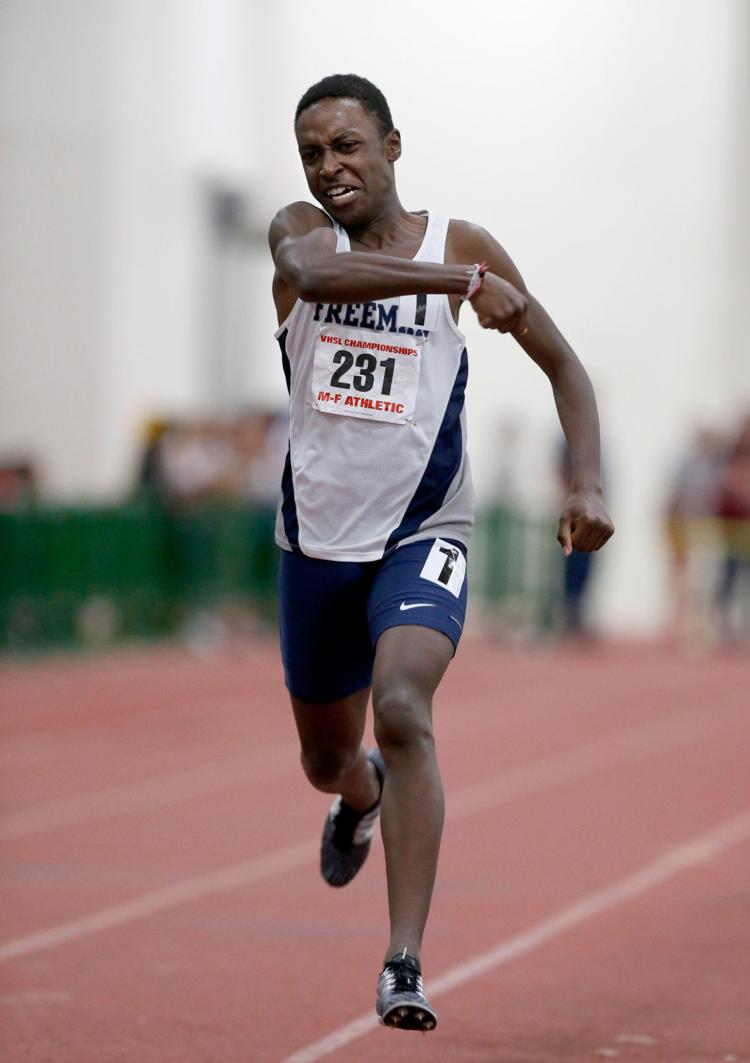 By the end of the season, he was Freeman's best runner, and he finished 15th in the Class 5 state meet. During his three years at Freeman, he won 10 state championships in cross country and track. He was named All-Metro runner of the year five times and Times-Dispatch male athlete of the year twice. He set a local cross country record in the 5K with a time of 14:49 and the mile with a time of 4:04.27.
When he reached the University of Mississippi, it didn't take him long to excel. He ran what was at that point the nation's fastest time among freshmen in the outdoor 800-meter run. He upped his training regimen, sometimes running 90 miles in a week.
Ole Miss won the SEC cross country title in 2018, and he cracked the 4-minute mile in indoor track the next year with a time of 3:56.78. In 2019, Ole Miss won the SEC title again, and Suliman finished third in the championship race. He's been named a second-team All-American three times.
When his five years of waiting were complete, he applied for citizenship. The application costs $750, he said, and it took several more months for the process to begin. The application form asked him, among other questions, if he had ever been associated with the Communist Party or terrorist organizations.
He later sat for his citizenship interview, in which he had to repeat the answers to the questions on his form to prove he was the person who filled it out. He also had to complete a test proving his knowledge of U.S. government, history and geography.
There are 100 possible questions on the test, which applicants can see ahead of time and study. Then 10 of those 100 questions are asked, and the applicant must answer six correctly. Among the questions:
"Name one state that borders Canada."
"Who did the United States fight in WWII?"
He was also given a language test to prove his knowledge of English. If you've been through American high school social studies and English classes, the questions are a breeze, he said. For someone like his mother, who immigrated as an adult, they were a little more challenging.
Suliman's mother, father and sisters became citizens in December, a few weeks before he did. He renounced his citizenship with Sudan, which is the nationality of his parents. Though he was born in Jordan, he was never a citizen there.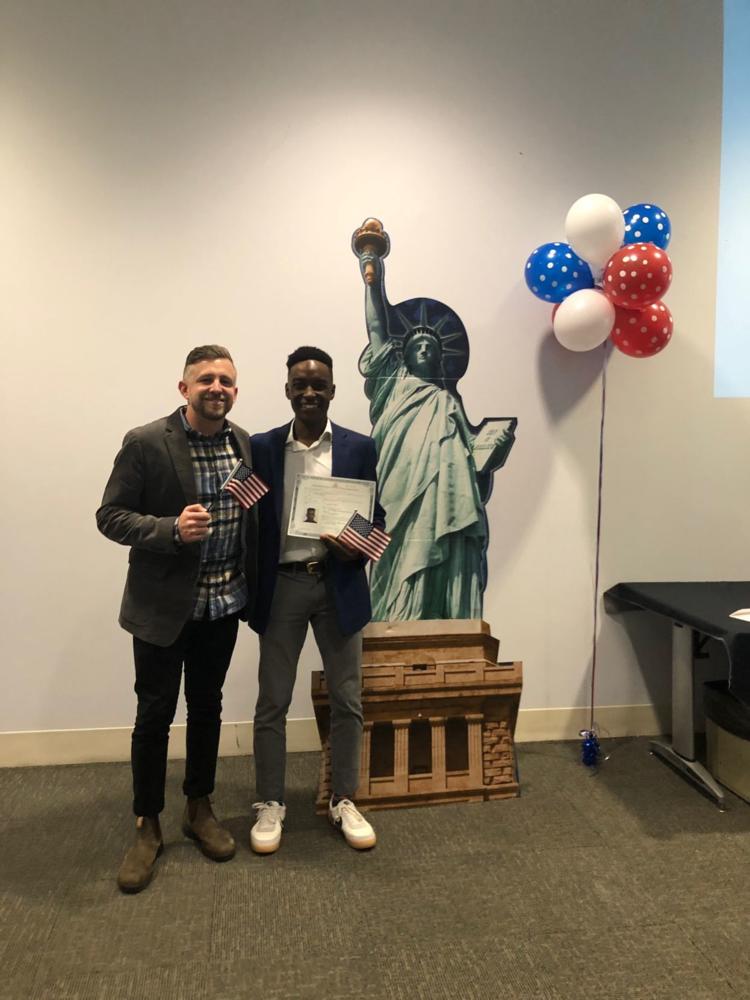 Eventually, Suliman wants to compete in the Olympics as an American. Though International Olympic Committee rules allow him to compete for Sudan's team, the U.S. team is the most competitive and most prestigious, he said. He was preparing for the U.S. Olympic trials in the 800- and 1,500-meter runs when the trials and the 2020 Tokyo Olympics were postponed to next year. Suliman also hopes to become a professional runner after he graduates from Ole Miss next year.
The spring track and field season at Ole Miss was canceled because of the coronavirus, so he and 10 teammates on the track and cross country teams decided to rent a cabin in Flagstaff, Ariz. to stay together and train. Flagstaff is the perfect city for running because of its elevation of nearly 7,000 feet and its mild climate, he said. The city has become a popular training destination for athletes.
The 11 of them crammed into four cars and drove 20 hours from Oxford to Flagstaff. There, they've escaped the oppressive humidity of Mississippi.
Next for Suliman: He is eligible to vote. He expects to cast his first vote this November in the general election. He intends to register in Oxford, because that's where he expects to live for his last year of college. After that, the door is wide open.