Meet boys swimmer of the year Noah Nichols:
Noah Nichols never gets nervous before a race.
But this past August at USA Junior Nationals in Palo Alto, Calif., was an exception. Nichols, a senior at Steward and the 2020 boys All-Metro swimmer of the year, was trying to make his first Olympic trials.
He didn't make it in the preliminaries, and all his hopes rested on the final. In a departure from his typically loose demeanor, Nichols threw up before the race.
Then, next thing he knew, he was touching the wall and looking back at the board — he'd obliterated the cut line. Nichols had never met the swimmer in the lane to his left, but he'd made the cut, too.
So Nichols jumped over the lane line, and the strangers embraced.
"Some guy I never knew. That was a good moment," said Nichols, a member of Poseidon Swimming who will compete for the University of Virginia.
He made the Olympic trial cuts in the 100 and 200 breast stroke. Ted Sallade, Nichols' coach at Poseidon, said "the sky's the limit" for his young swimmer.
Sallade called Nichols a "gym rat" and "stroke perfectionist." He's blessed with a long build and "tremendous feel for the water," Sallade said, but two personality traits have allowed him to reach an elite level in the pool.
First, his work ethic — Nichols loves strength training, but everything he does is directed toward swimming development, as opposed to throwing around as much weight as possible. Sallade called him a "cerebral swimmer" because he excels at applying specific input and training to his routine and habits.
Second, he's a "fun-loving kid" that "makes everybody around him happy."
"And I think that's a big part of it, to be able to enjoy what you're doing," Sallade said.
"Swimming is a year-round sport. You play everything else — football, basketball, tennis. But you have to train for swimming. And his element of having fun is not lost."
Nichols began swimming in a summer league when he was 5 years old. But it took some time for him to warm up to the water.
"I kind of hated it, never wanted to ear my goggles or anything like that," he said with a laugh.
Then a group of his friends joined Poseidon when Nichols was about 7. So he decided to give it a shot, and eventually fell in love with the sport when he was about 12 after traveling to Florida for a big meet and coming home with an assortment of medals.
None of those friends still swim, but the relationships within the sport continue to be the driving force of Nichols' commitment to the pool.
"I've made a lot of friends through swimming which has been cool, that's part of what keeps me going on harder days, it's definitely my teammates, people who understand the struggle that has gotten me through swimming," he said.
Nichols used to be a distance freestyler, until he randomly swam the 50 breast at a meet, and realized he was quite good at it. Over time, he figured out that it was probably his best event. Now, he specializes in breast stroke, freestyle and IM events.
He plans to study computer science at UVA, and chose to take his talents to Charlottesville because he saw in the Cavaliers' program a high-energy, hard-working yet loose atmosphere which mirrors his own demeanor. Virginia finished the 2019-2020 season ranked No. 15 in the NCAA coaches poll.
"I loved the team and everyone was super welcoming, all the coaches are super young, high energy. Like if you saw them, they're all bouncing off the walls, super excited about everything," Nichols said, excitedly.
"It's a very tight-knit community. A college team is like no other and I really saw that when I came to UVA. Everyone is there for each other."
Nichols coaches both children and peers now. He said he loves to give back to the swimming community, and particularly enjoys fostering a love for the sport in young athletes.
"Because that's exactly where I was," he said. "I didn't like swimming, only did it because my parents signed me up. And I fell in love with it, so you really never know."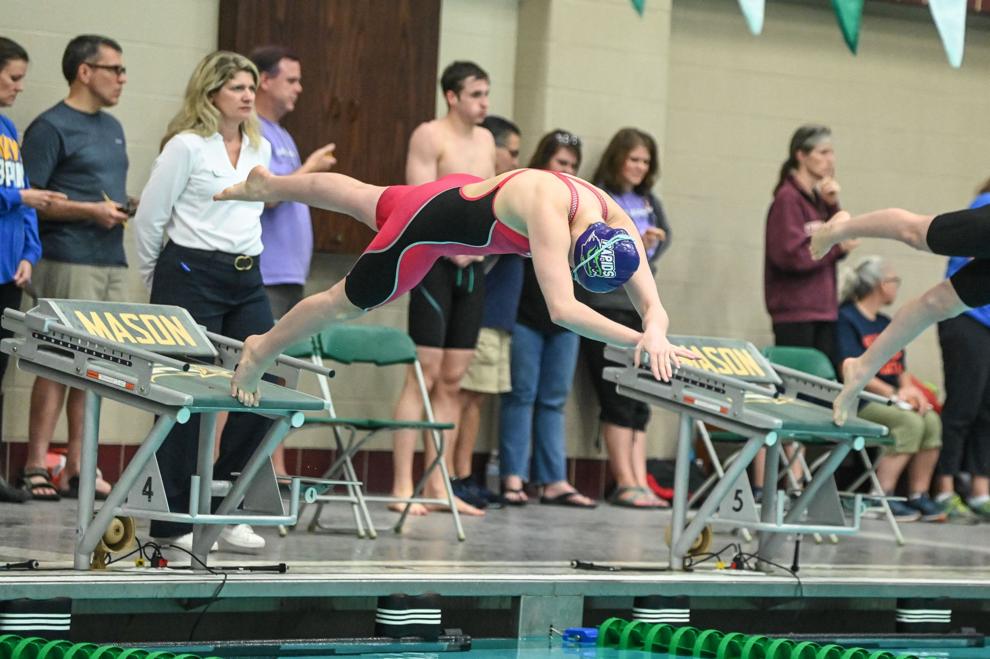 Meet girls swimmer of the year Grace Sheble:
Three-time girls All-Metro swimmer of the year Grace Sheble would trade all the sleep in the world just to see her friends and teammates again.
She's getting a lot of rest in the age of COVID-19 — her last day in the pool was March 12, and Sheble said she's not able to do much aside from work out and sleep. For an elite athlete accustomed to 4:30 a.m. practices and extensive travel, the change of pace is a major departure from routine.
"I would give anything to go back to training, I would do anything to get back to my teammates," Sheble said.
A junior at James River and swimmer for NOVA of Virginia Aquatics, Sheble was believed to be the first freshman to ever win All-Metro swimmer of the year. She's now three-for-three.
Sheble has lots of current and former teammates she should be making memories with -- she began traveling for elite competitions early on, and has since built an extensive network in the local and national swimming community. She represented Team USA in August of this past year at the 2019 FINA World Junior Championships in Budapest, Hungary.
"You kind of got to see another level of competitive swimming," she said of the meet, which gathered the world's best under-18 swimmers.
"Meeting everyone on the team that was there was so much fun, we all still talk now even eight months later. So we're all still close, you get to meet some of your closest friends that you'll see for years to come in college, in national-level meets. It's just really, really cool. It's a beautiful country, and getting to represent Team USA was such an honor."
She sees her teammates from Budapest at national meets routinely, and they have a group chat to stay in contact. One of them will even be Sheble's college teammate at N.C. State, where she committed in late September shortly after visiting the campus in Raleigh. Collegiate's Zach Cram, last year's boys All-Metro swimmer of the year, also swims for the Wolfpack.
"It was such a great feeling. Like when I walked on campus I was like, 'Wow, this is where I want to be,'" Sheble said.
"I loved it there. Everybody there seemed like family immediately. I didn't even have to take the time to get to know people, they were all just so welcoming."
The N.C. State women finished second at the 2020 ACC championships, and were ranked seventh nationally in the NCAA's final coaches poll.
Sheble's best events are the 200 and 400 IM and 200 fly. She joined the National Junior Team this year, another elite-level feat she's proud of which enabled her to make more connections in the swimming community.
There was supposed to be a "bonding camp" for team members in April, another chance to make friends and meet new teammates, though that didn't end up happening.
The added rest has been one of the few positives of COVID-19 restrictions for Sheble.
"But I would sleep three hours a night just to be able to see my teammates again," she said.
----------------------------------------------------------------------
First team girls All-Metro
Event: Name, School/Club, Year, Time
50 Free: Josephine Fuller, Glen Allen/NOVA, Jr., 23.17
100 Free: Sydney Whiting, Trinity Episcopal/NOVA, Sr., 49.65
200 Free: Sydney Whiting, Trinity Episcopal/NOVA, Sr., 1:47.83
500 Free: Sanna Peterson, Deep Run/NOVA, So., 4:48.80
1000 Free: Sanna Peterson, Deep Run/NOVA, So., 9:49.84
1650 Free: Claire Dafoe, Cosby/QST, So., 16:43.60 **
100 Back: Josephine Fuller, Glen Allen/NOVA, Jr., 52.91
200 Back: Zoe Dixon, Mills Godwin/NOVA, So., 1:55.42
100 Breast: Grace Sheble, James River/NOVA, Jr., 1:00.73
200 Breast: Sarah Bender, Douglas Freeman/NOVA, Sr., 2:12.54
100 Fly: Megan Pulley, Deep Run/NOVA, Sr., 53.68
200 Fly: Grace Sheble, James River/NOVA, Jr., 1:56.51
200 IM: Grace Sheble, James River/NOVA, Jr., 1:57.03
400 IM: Grace Sheble, James River/NOVA, Jr., 4:05.90
DIVING: Anna Jepson, Maggie Walker/ADC-Richmond, Sr., 458.80
Second team girls All-Metro
Event: Name, School/Club, Year, Time
50 FREE: Madison Cottrell, Mills Godwin/NOVA, Sr., 23.38
100 FREE: Courtney Isley, JR Tucker/NOVA, Sr., 50.32
200 FREE: Grace Sheble, James River/NOVA, Jr., 1:48.63
500 FREE: Grace Sheble, James River/NOVA, Jr., 4:49.31
1000 FREE: Grace Sheble, James River/NOVA, Jr., 9:51.49
1650 FREE: Annabelle Young, Mills Godwin/NOVA, Jr., 16:51.50
100 Back: Zoe Dixon, Mills Godwin/NOVA, So., 53.81
200 Back: Josephine Fuller, Glen Allen/NOVA, Sr., 1:56.18
100 Breast: Zoe Dixon, Mills Godwin/NOVA, So., 1:02.28
200 Breast: Riley Bridgman, Colonial Heights/QST, Fr., 2:18.24
100 FLY: Caroline Sheble, James River/NOVA, Jr., 54.92
200 FLY: Caroline Sheble, James River/NOVA, Jr., 1:57.76
200 IM: Zoe Dixon, Mills Godwin/NOVA, So., 1:57.22
400 IM: Zoe Dixon, Mills Godwin/NOVA, So., 4:06.43
DIVING: Chandler Kerkam, St. Catherine's, Sr., 360.10
First team boys All-Metro
Event: Name, School/Club, Year, Time
50 FREE: Noah Nichols, Steward/PSDN, Sr., 20.85
100 FREE: Garrett McGovern, Mills Godwin/NOVA, Sr., 44.62
200 FREE: Nikolas Lee-Bishop, Deep Run/NOVA, Jr., 1:38.61
500 FREE: Hunter Locher, Douglas Freeman/NOVA, Sr., 4:28.44
1000 FREE: Hunter Locher, Douglas Freeman/NOVA, Sr., 9:15.04
1650 FREE: Daniel Chance, JR Tucker/NOVA, Sr., 15:21.81
100 BACK: Elijah Tarabocchia, Cosby/QST, Sr., 49.91
200 BACK: Elijah Tarabocchia, Cosby/QST, Sr., 1:46.87
100 BREAST: Noah Nichols, Steward/PSDN, Sr., 53.77
200 BREAST: Noah Nichols, Steward/PSDN, Sr., 1:58.09
100 FLY: Miles West, St. Christophers/SwimRVA, Sr., 50.26
200 FLY: DC Hellams, Mills Godwin/NOVA, Sr., 1:50.46
200 IM: Cameron Dafoe, Cosby/QST, Sr., 1:48.21 **
400 IM: Hunter Locher, Douglas Freeman/NOVA, Sr., 3:53.11
DIVING: Tyler Read, Grove Christian/ADC-Richmond, Fr., 593.40
Second team boys All-Metro
50 FREE: Josiah Yeomans, Cosby/QST, So., 20.95
100 FREE: Nikolas Lee- Bishop, Deep Run/NOVA, Jr., 45.66
200 FREE: Garrett McGovern, Mills Godwin/NOVA, Sr., 1:40.14
500 FREE: Garrett McGovern, Sr., Mills Godwin/NOVA, Sr., 4:28.46
1000 FREE: Daniel Chance, Sr., Tucker/NOVA, Sr., 9:17.12
1650 FREE: DC Hellams, Mills Godwin/NOVA, Sr., 15:29.41
100 BACK: Jacob Oberle, Mills Godwin/NOVA, Sr., 50.43
200 BACK: Cameron Dafoe, Cosby/QST, Sr., 1:48.71 **
100 BREAST: Aidan Duffy, Douglas Freeman/NOVA, Jr., 56.83
200 BREAST: Aidan Duffy, Douglas Freeman/NOVA, Jr., 2:01.01
100 FLY: Atesh Camurden, TES/NOVA, Sr., 50.41
200 FLY: Grayson Daughtry, Cosby/QST, Jr., 1:51.87
200 IM: Noah Nichols, Steward/PSDN, Sr., 1:50.49
400 IM: Aidan Duffy, Douglas Freeman/NOVA, Jr., 3:55.0
DIVING: Gray Broaddus, St. Christopher's, Sr. 379.30
** Achieved time while at QST, now swims for NOVA
(804) 649-6555
@ZachJoachim