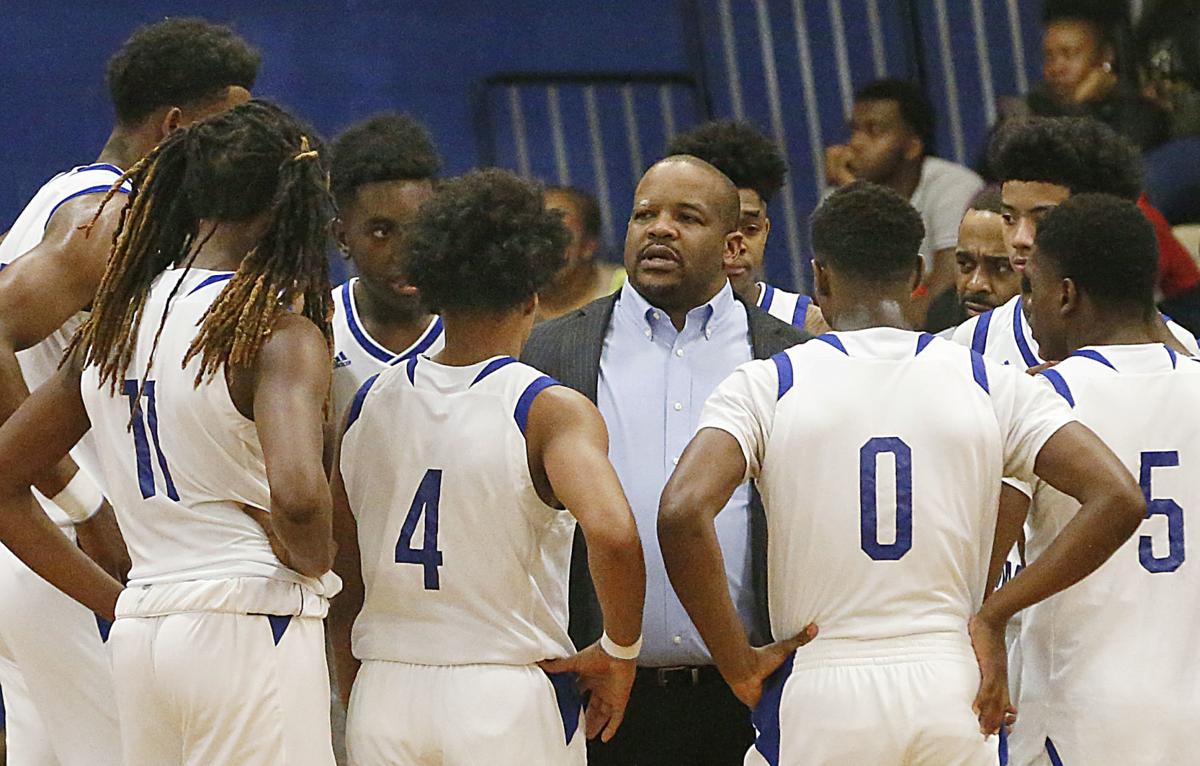 PENN LAIRD — An East Rockingham defender tried to bang a little on 6-foot-10, 250-pound Roosevelt Wheeler in the low post on John Marshall's first possession in the Class 2 boys state semifinal on Tuesday. Wheeler didn't seem fazed. He spread out with his long arms, caught an entry pass, pivoted and strolled to the other side for a reverse layup.
That was pretty much the way things went for much of the first half. Wheeler established himself early and finished with 22 points and 21 rebounds as John Marshall romped to the state championship game with a 78-44 victory before a packed house at Spotswood High.
Seeking its third state title since 2014, John Marshall (23-2) will play Gate City for the crown Thursday at 2:30 p.m. at the Siegel Center.
Wheeler's development was delayed as a sophomore when he tore the patella tendon in his left knee, keeping him out for about two months after having surgery.
He's changed his body — adding about 10-15 pounds of muscle — and is the center of attention this season.
"I've been lifting weights a lot," he said. "I've been working really hard on my upper body and my strength so I'll have more explosiveness. When they're banging on me, that doesn't really faze me. I just give them a grin."
Wheeler had a lot to smile about early. East Rockingham tried a man-to-man defense before trying a zone. Wheeler still got dunks, scored inside and plucked offensive rebounds, piling up 10 of Jayem's first 14 points.
His presence around the basket defensively was noticeable as well. East Rockingham (27-3) didn't venture inside much and took a lot of long jumpers.
"He takes up so much space," John Marshall coach Ty White said. "He's a big target. He's got great shooters around him, so it's hard to double-team him.
"On defense he's an eraser. ... His timing is impeccable."
Wheeler picked up his second foul with 4:05 left in the second quarter. He stayed in and scored another basket, then came out.
The Justices picked up the pace and reeled off 10 points in 67 seconds to take a 31-13 lead. Elijah Seward nailed a pair of 3-pointers and Dana Woodley had a trey and a basket.
Woodley scored 14 points, Seward had 11 and point guard Jason Nelson had 12 assists. Tyce McNair scored 17 for East Rockingham.
Seward's bigger contribution may have come on the defensive end. The 6-1 senior's primary assignment was 6-7 sophomore Tyler Nickel, who is getting interest from Power 5 schools.
Nickel had 15 points, but Seward made him work.
"[Seward is] a senior leader," White said. "He's a four-year varsity guy, so we expect those things.
"Defensively, he's the most athletic kid we have. And he's versatile."
​tpearrell@timesdispatch.com   (804) 649-6965