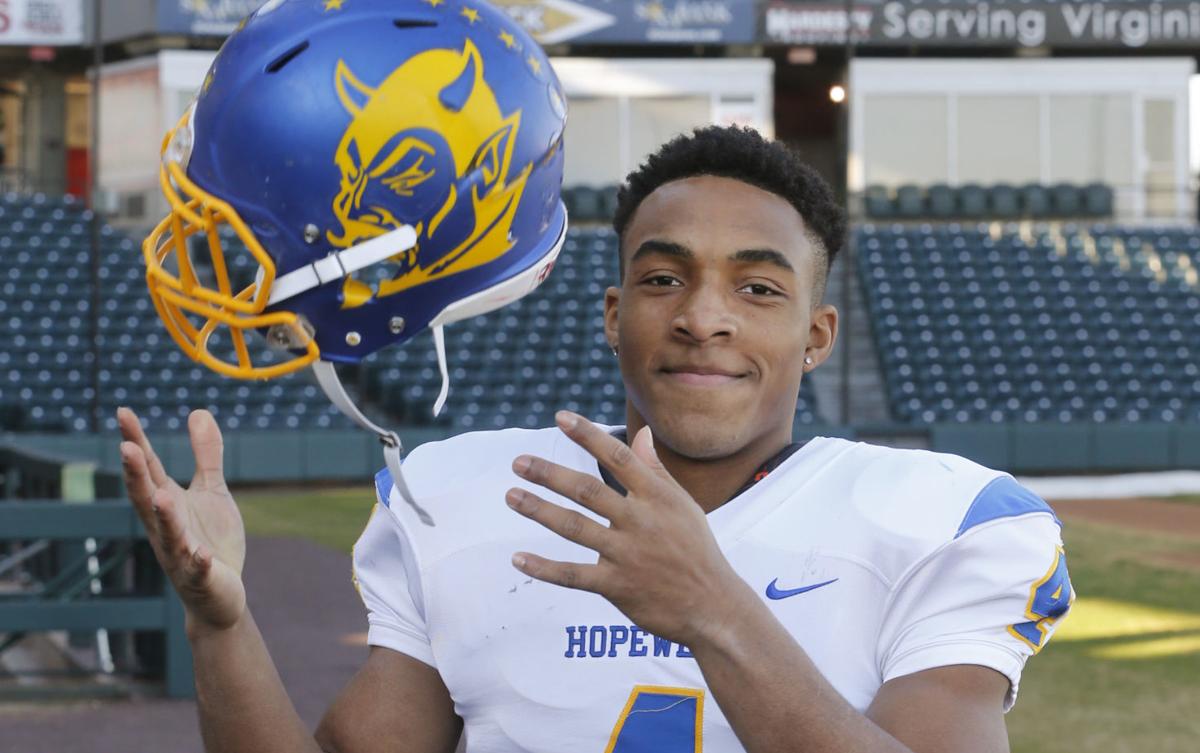 TreVeyon Henderson was inserted at quarterback in the middle of the 2018 season, on the 21-yard line at Dinwiddie High School, the game tied at zero with less than five minutes remaining in the fourth quarter. Hopewell's starting quarterback had gotten hurt earlier in the week, and the coach, Ricky Irby, had decided to try putting his sophomore at the center of the offense in a wildcat formation. Henderson's speed was undeniable, but he hadn't proved yet that he could excel with the offense on his shoulders.
It didn't him take long. On his first play, Henderson took the snap, ran right, broke two tackles, cut back toward the left side line and saw open field ahead of him. He was gone, blazing 79 yards for a touchdown and giving Hopewell a 7-0 victory.
"I think we realized we had something special there," Irby said.
"Special" might be an understatement. Henderson was an electrifying, one-of-a-kind talent in 2019. The ball was put in his hands in a variety of ways — as a slot receiver, running back and quarterback. And every time he touched the ball, he was a threat to break a tackle, sprint away from the defense and score a touchdown. He scored 53 times in 2019, a Richmond-area record and second most in Virginia High School League history.
With Henderson as the focal point of a widely talented team, Hopewell went 15-0 and won the Class 3 state championship. Henderson was a no-doubt pick for 2019 All-Metro player of the year.
"I didn't know I'd have this big a season," he said. "I was just doing whatever it took to get my team the W each and every game."
Before the 2019 season began, Hopewell faced Monacan in a scrimmage. The first time Henderson got the ball, on a jet sweep, he scored a touchdown. The next time he got it, he caught a pass, broke three tackles and scored again. On the third, he took a handoff and again found the end zone. The first three times he touched the ball this season, he scored. That was just a glimpse of what was coming.
Against I.C. Norcom early this year, he scored five touchdowns and racked up 231 all-purpose yards. Coaches from Virginia Tech and Alabama were in attendance. Both schools have made offers as have most of the top-ranked programs on the eastern half of the country. Henderson said he'll narrow down his list of schools in the coming weeks. Most college coaches see him as a running back at the next level, he said, though some are recruiting him as a defensive back.
When he gets to college, he'll be the second Division I running back in his family, following his older brother, Ronnie Walker, who plays for Indiana. The brothers talk a lot, often over internet video games such as Madden.
The two trained together when Walker was in high school and Henderson in middle school. They'd do drills in the backyard or practice their footwork. Henderson has just the right blend of genetics and a tireless work ethic.
"He just showed me the way," Henderson said of his brother.
Now Henderson is striving to pay it forward to an entire generation of youngsters in Hopewell. He's achieved a rare level of fame at age 17, already on the short list of greatest athletes the city has produced. He sees himself as role model to younger kids to avoid making bad decisions or choosing the wrong path in life. He talks about the community often.
"I love Hopewell. It's full of great people, but sometimes it can be bad," he said, referring to violence.
He tells kids you don't have to play football to go to college or make the life you're seeking. Kids, he said, too often get caught up with the wrong people. Henderson, who has a 4.3 GPA, is already giving back to his community.
There was a boy in the city named Carter whose mom had passed away. He told his mentor at Big Brothers and Big Sisters the only thing he wanted for Christmas was a TreVeyon Henderson jersey. So Henderson signed a royal blue No. 4 Hopewell jersey and delivered it in person to Carter's school, Copeland Elementary.
"He's kind of like a folk hero down here," Irby said.