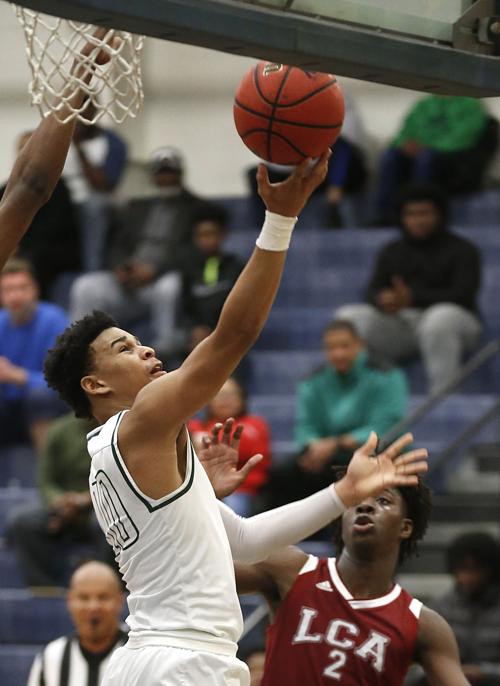 Trinity Episcopal guard A.J. Williams is headed to national power Oak Hill Academy, with an assist from former UVA and NBA guard Cory Alexander.
Alexander is an assistant at Oak Hill under legendary coach Steve Smith. Alexander has helped train Williams since the third grade.
"He used to come down every summer, about a month before school, and work out a group of guys," Williams said. "He knew me all my life. He started talking to Coach Smith, and Coach Smith started to watch me and watch film of my games."
Williams said Oak Hill got in touch last week, and he and his family went for a visit on Tuesday to the boarding school in Mouth of Wilson.
Williams, a rising senior who's about 6-foot-2, is a top shooter and one of the area's top players. He has offers from Virginia Tech, Richmond, Mississippi, George Washington, Old Dominion and Towson, along with interest from a lot of schools in the ACC, including Virginia.
He averaged 18.1 points, 3.3 assists and 2.7 rebounds for Trinity this past season, shooting 44% on 3-pointers and making 74% of his free throws. Williams played at Varina his freshman and sophomore seasons and was a big piece of the Blue Devils' Class 5 state championship in 2018.
Oak Hill sports a sizable list of NBA players: Kevin Durant, Carmelo Anthony, Jerry Stackhouse, Rajon Rondo, Brandon Jennings, Ty Lawson, Steve Blake, Rod Strickland and Stephen Jackson, among others. The Warriors went 37-3 last season and were ranked No. 7 nationally by ESPN.com.
Alexander played for Oak Hill. He scored 1,286 points at UVA (1992-95) and ranks 10th in career assists (401). A first-round pick by the San Antonio Spurs in 1995, he played seven seasons in the NBA.
"It was always a dream to go to Oak Hill when I first found out about them, how Carmelo [Anthony] and Kevin Durant and a bunch of pros went there," Williams said. "I really just started watching them when I was 12 or 13, just knowing about what Oak Hill has done for people and what it's about.
"I'm hoping it helps me in life. Of course it's going to help with the basketball aspect. It just gets me to where I want to be with basketball. … I definitely want to be a pro."
Williams is more of a shooting guard but can play the point. He's been working on his ballhandling and court vision.
"He's a great shooter," Trinity coach Rick Hamlin said. "He's a really good passer and ballhandler. For us, he had an incredible back half of the season and really in some of our biggest games coming down the stretch really stepped up and made huge shots.
"He's very comfortable in clutch situations. His ninth grade year, he played a big role in Varina winning their 5A championship. For us, helping us get to the Final Four of our state tournament last year and also winning the Prep League tournament, he just really caught fire the last six weeks or so of the season I think once he got a comfort level with our team and his teammates.
"I enjoyed coaching him and wish him nothing but the best. I hope that things work out well for him. At the college level, there's not a lot of guys who can just shoot the way he can, and he has a great feel for the game."
(804) 649-6965
@timpearrelltd