Ahead of Steward's TCIS quarterfinal victory against Norfolk Collegiate, the team presented Latasha Traynham, mother of junior point guard Ameerah "Mimi" Traynham, a ball celebrating her 10 millionth breath.
The recognition came a little more than a month after Mimi earned her 1,000th point ball, and nearing a year after Latasha, 41, received a double lung transplant.
"It's kind of tough, because how do you honor somebody in a situation like this? Make a speech? Paint a picture?" assistant head coach Wallace Inge said. "We figured this is a basketball thing, and she's definitely a basketball mom, so what better way than to give her a ball?"
This season, Latasha has made it to every Steward girls game except one — against Nansemond Suffolk earlier this month when an upturned tractor trailer shut down the Varina-Enon Bridge.
"She's a really vibrant person to be around, and she brings that energy with her when she comes, so to see her healthy again and be able to spread that passion and light that she has is really special," said head coach Kara Bacile.
Mimi said that her mother had been living with pulmonary fibrosis for as long as she's been alive, and that 2019 was the end of a steady decline. Latasha was often too unwell to go out, and she spent a significant amount of time hospitalized in Northern Virginia.
The team pitched in to help the Traynham family with everything from buying groceries to giving rides into last summer, something that both the coaches and Mimi said made the team feel more like a family.
"I've been here since sixth grade, so this has always been like a second home," Mimi said, "But for [support] to come when you're at your lowest moment, it's important."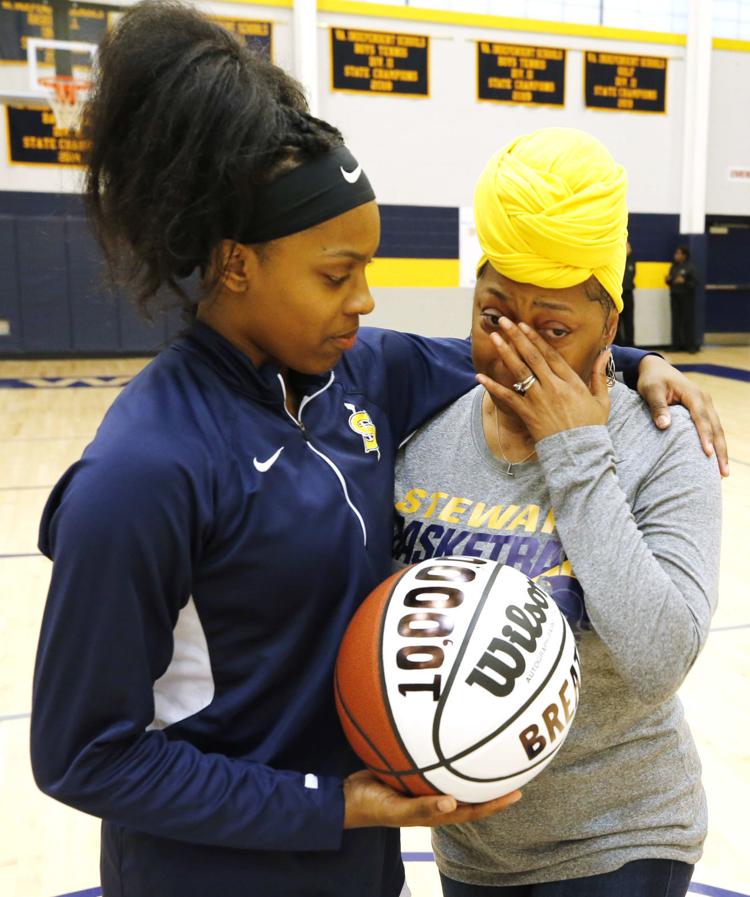 Along with the pregame recognition, Bacile and Inge, along with art teacher Cindy Grissom, arranged to put on an art gallery in partnership with the Unified Network for Organ Sharing in honoring Latasha's strength through her health battles.
It was a case of several pieces falling into place — the majority of girls on the team are in art classes, and Steward had an existing relationship with UNOS, along with an alumni connection through local artist Lindsay Leech, who works in the non-profit's marketing department.
Players created pieces, both independently and in collaboration with Leech, on the themes of resilience, introspection and altruism.
The art show will open Friday, March 6, at The Gallery at UNOS, with a reception from 5-7:30 p.m. Steward hopes to sell the artwork to support the organization.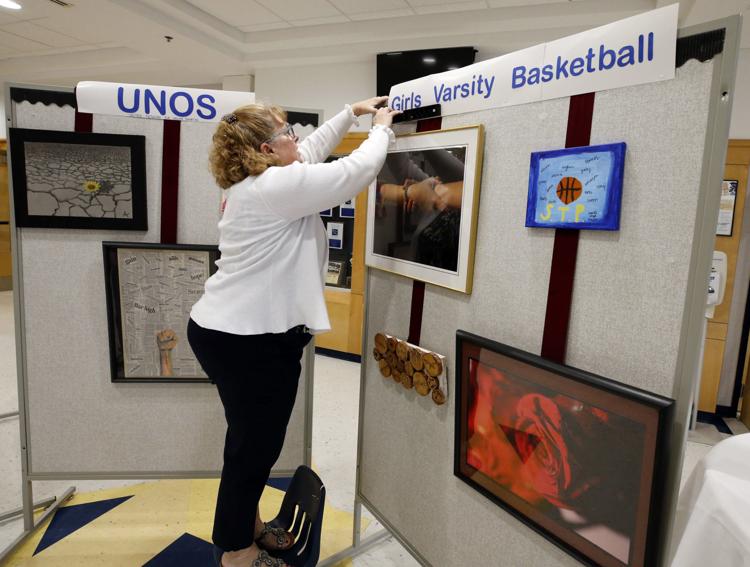 Short shots
Glen Allen's Carmen Betts passed the 1,000-point mark for her career. Also reaching the milestone were Colonial Heights' Ellen McCoy, Collegiate's Chandler Eddleton and Richmond Christian's Jadon Wilson.
• Armstrong has announced its 2020 inductees for its athletics hall of fame: Lucille Brown, an administrator; Ada Green, who worked at Armstrong and contributed to athletics for 33 years; Walter Peterson, a football, basketball, baseball and track athlete from the Class of 1963; George Holmes, a baseball player; Deborah Day, a track, cross country and field hockey athlete; James Lurry, a football and basketball player; Larry Williford and Gregory Pleasants.
Where they're going
• Jack Dickey, who played football at Douglas Freeman before transferring to Blue Ridge, has committed to Bridgewater. The 6-3, 282-pound two-way lineman was named all-state in the VISAA on offense and defense.
• Julius Jackson, a defensive back at Hermitage, will play for Palmetto Prep Academy in Columbia, S.C.