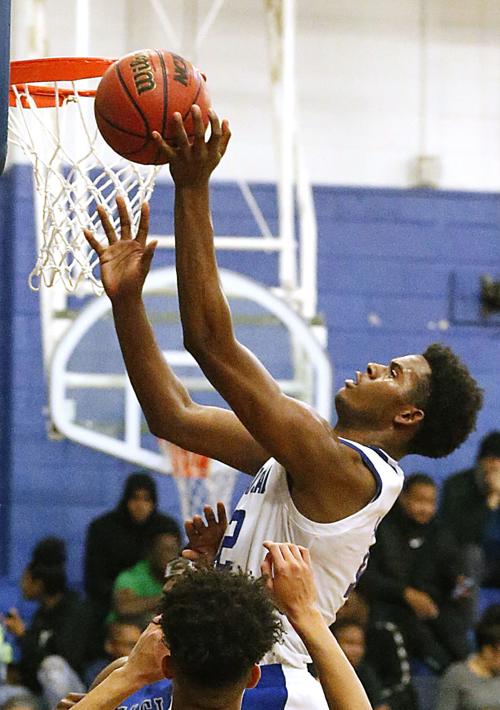 In John Marshall's locker room after last year's overtime loss to Phoebus in the Class 3 boys state semifinals, Justices coach Ty White delivered a direct message to his underclassmen.
"I told them, 'Let's make sure we don't have that feeling again of underachieving,'" White said.
Anything short of a state title is deemed an unsuccessful season by White. John Marshall has won two since 2014.
The Justices (23-2) have a chance to regain that standard again when they play Gate City (24-5) for the Virginia High School League Class 2 boys championship Thursday at 2:30 p.m. at the Siegel Center.
The VHSL announced Wednesday that state tournament games scheduled at the Siegel Center Thursday-Saturday will be played while coronavirus concerns are monitored.
White said his team can be special, but only if it finishes with a title. John Marshall has lost only to Sierra Canyon of California (66-55) and McEachern of Georgia (70-69), teams that have been ranked in the top 10 of USA Today's Super 25 this season.
"Talk to me Thursday after 4:30," he said. "We're not looking past Gate City."
Schools in the VHSL were reclassified in six divisions this year according to enrollment figures from March, 2018. John Marshall dropped from Class 3 to Class 2 with 576 students.
The Justices take a backseat to no one, regardless of classification. They have beaten top teams in the higher classifications, as well as some of the top private schools.
They have a top national recruit in 6-foot-10, 250-pound junior center Roosevelt Wheeler and Division I recruits in junior point guard Jason Nelson and 6-6 freshman wing Dennis Parker.
John Marshall averages 82.5 points. Five players average in double figures: Wheeler (15.8 points, 11.7 rebounds, 4.4 blocks), Nelson (17.5 points, 5.7 assists), Parker (13.9), Elijah Seward (13.3) and Dana Woodley (11.5).
Wheeler had 22 points and 21 rebounds in a 78-44 victory over East Rockingham in the semifinals on Tuesday.
"This year I don't want to feel the pain I felt last year," Wheeler said.
Since the Class 2 playoffs started, the Justices have inflicted it on opponents, winning by 71, 34, 26, 37 and 34 points. They have scored 123, 91, 97, 136 and 78 points.
The 136-point output was the sixth highest total by a team in VHSL history. The 123-point output was the seventh.
"I think we got better as the year went on," White said.
"I knew if we could survive early we'd be tough to deal with late. We had a tough [early-season] schedule."
Gate City, located in Southwest Virginia near the state line and Kingsport, Tenn., won the Class 2 state title in 2018 and has been to the state tournament 17 times since 1993.
The Blue Devils feature 6-2 senior guard Bradley Dean, the third 2,000-point scorer in as many seasons at the school. Mac McClung, the all-time scoring leader in VHSL history, finished with 2,801 points in 2018. Zac Ervin finished with 2,351 points last year.
Dean scored 28 points, including the first seven in overtime, in a semifinal victory over Radford.
White is familiar with Dean. White formed the Team Loaded AAU organization, and Dean played in the program two years ago.
"He's talented," White said. "He's versatile. He plays above the rim with great athleticism, and he can shoot the ball.
"They go as he goes. He's Mr. Everything for them."
(804) 649-6965
@timpearrelltd