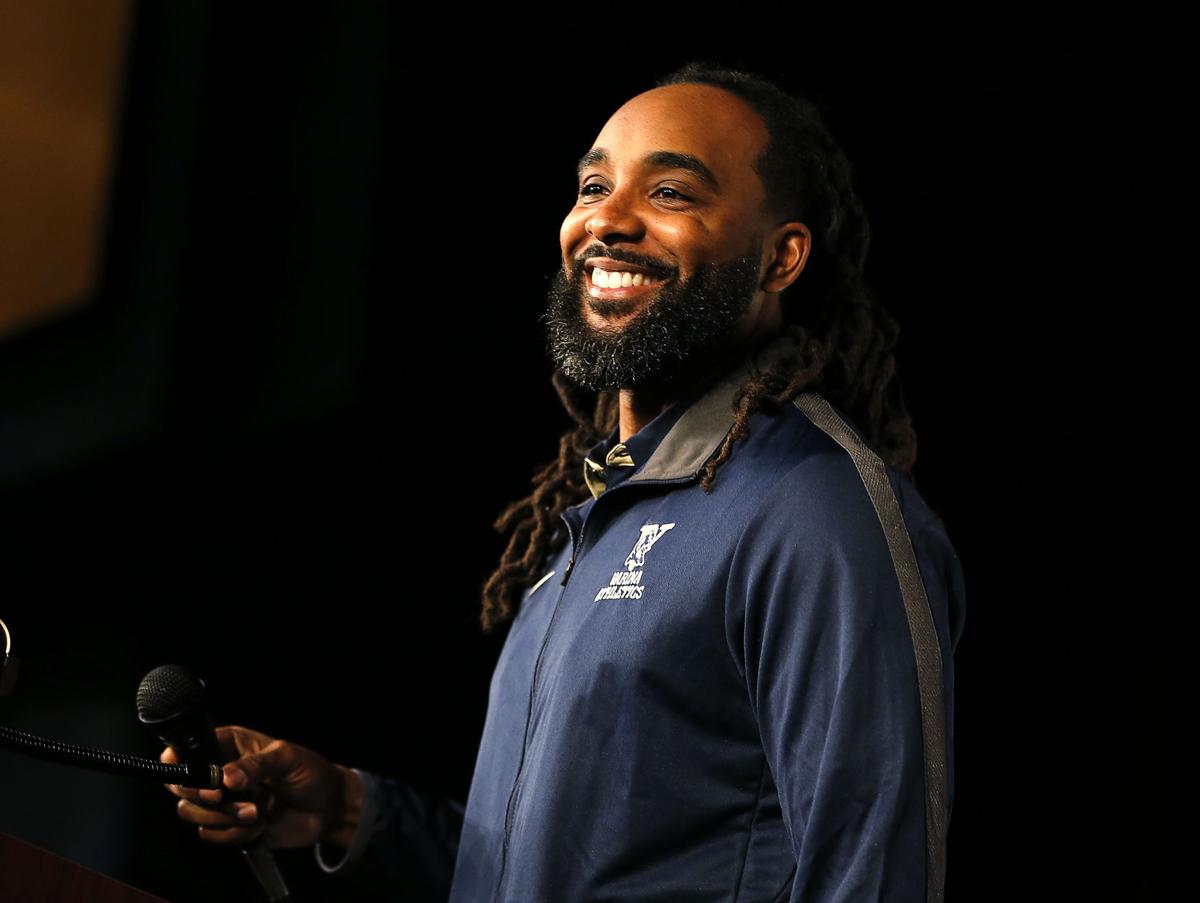 Down the road when he recalls his beginnings as the head football coach at Varina High School, Marcus Lewis may laugh.
To all the things a first-time head coach deals with, Lewis has the added complication of the coronavirus shutdown.
He was elevated to the head job in mid-February after Stu Brown stepped down. A month later, schools and sports were closed.
"The good thing is before everything hit, we got a couple of little things in," Lewis said.
"Like I tell anybody, you control what you can control, and you've got to deal with things you can't control."
At least Lewis is armed with familiarity. A former linebacker with the Blue Devils, he's been an assistant coach at the school since 2008 and the defensive coordinator since 2013.
He doesn't have to start from scratch learning the program and his players.
"It definitely made [the transition] easier for me," he said.
Like other coaches, Lewis normally would have been putting his players through conditioning and weight workouts, skills drills, tweaking offensive and defensive schemes, having 7-on-7 sessions and taking players to camps.
Like other coaches, he's had to revamp all that and communicate conditioning and the playbook through social media sessions until he gets the OK to start limited offseason workouts.
School districts are required to get approval from the Department of Education for plans to keep practices safe. Some of the area's smaller school districts have received approval and have started workouts. Some of the larger ones, like Henrico County, have not started.
"Just trying to test them more mentally and encouraging them to work out," Lewis said. "They have an at-home workout program, whether it's running in the backyard or lifting in the house. I've got them sending me videos.
"I'm sending them messages every day: 'Who worked out today?' I work out a lot. If I can work out, they can work out. … I also just got into cycling. I might ride 20-25 miles in one day. I just encourage them to get in anything they can to keep them in shape."
Lewis lost quite a bit of talent from last year's team that went 11-3 and won the Class 5, Region B title. Varina, though, returns second-team All-Metro quarterback Bobby Dunn and running back Jailin Walker.
Lewis isn't changing the offense, but he is adding some things. He is changing from a four-man front to a three-man front on defense to try to play to the strengths of a group of returning linebackers.
"Those [teams that] are not changing a lot, they've got a lot of seniors coming back, will be ahead of the curve with certain aspects of the game [if the regular season starts in the fall]," he said. "With us keeping some of the things similar, we should be all right. But we're also implementing some new things. It might affect us. I'm hoping it doesn't. But once we are able to get everything started, we're going to have to start fast."
The way he has to communicate with his players on social media, he said, has been the most difficult adjustment.
"I can't physically put my eye on them," Lewis said. "I'm just hoping and praying they do everything we ask as far as working out, as far as getting their school work in, and as far as being safe, protecting themselves when they're out in the community. Just being as safe as possible."
Lewis was hoping to have a one-day, team-building retreat so players and coaches could get to know each other better. That had to be shelved.
"You can't play [football] the rest of your life," he said. "My biggest thing is teaching our kids about life, teaching our kids about financial literacy, being an entrepreneur, the poisons of credit, paying bills on time, just stuff that can help them throughout life.
"I have them reading little things on Instagram that I look at to help motivate me and help make me who I am. I just send them to them and say, 'Hey, read this and we're going to talk about it, or read this and let me know your thoughts.'"
Lewis said he's had some discussions with his players about racial inequality.
"I wanted to see their input and … see how they felt," he said. "We really didn't get in depth to it, but they're definitely aware. They all feel the same way. It's definitely not right, and basically if we can get along on the field and go to school and come together, the world will be a much better place if we all can be that way."
(804) 649-6965
@timpearrelltd