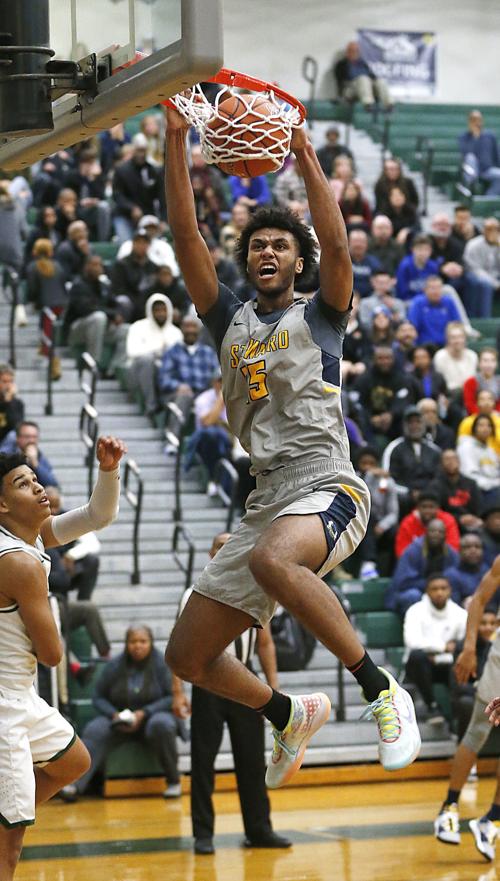 Steward boys basketball coach Curt Kassab had several conversations with Efton Reid as the highly recruited 7-foot, 235-pound center-forward and his family considered options after sports were shut down by the pandemic.
Stay at Steward, where Reid would have been a rising senior next year? Graduate early and go play in college? Graduate early and go play at a postgraduate school.
Reid chose the postgraduate route. Ranked 17th in the Class of 2021 by ESPN.com, he will graduate this month from Steward and play next season on the postgrad team at IMG Academy, a boarding school in Bradenton, Fla.
Reid said IMG is attractive because of its "development of players and their facilities, and just grooming me to be a better player."
IMG is geared toward training high-level athletes in several sports. Its website says that "each student-athlete is surrounded by a support team inclusive of experienced coaches, academic teachers, knowledgeable college placement advisors, and more. … Student-athletes experience an atmosphere that closely mirrors the intensity and schedule of a collegiate program."
Armando Bacot, another highly recruited big man from the area, made a similar move when he transferred from Trinity Episcopal to IMG in 2018 for his senior year. Bacot was a freshman at North Carolina this past season.
Reid's skill set and makeup has led to a long list of offers from Power 5 schools and others: Virginia, Virginia Tech, Louisville, Florida State, Miami, N.C. State, Kansas, Texas, Texas A&M, LSU, Florida, Ohio State, Georgetown and VCU, among others.
He's versatile for his size: tough to stop in the post, can shoot with both hands near the basket, has a good touch on his jumper and can step out and make 3-pointers.
Reid averaged 19 points, 12 rebounds, 2 blocks and 2 assists for Steward while being named first-team All-Metro and first-team VISAA all-state in Division II.
He made 78% of his 2-pointers and 74.6% from the field overall, despite often being the focus of multiple defenders. He was 12 of 40 (30%) on 3-pointers.
Some college coaches talked to Reid about coming out early, but Kassab said he didn't think that would happen because "there were just too many schools he wanted to see and have an opportunity to research. He's a very smart, very cerebral kid."
"He wanted to go somewhere where he could focus on basketball 100% and really train and get bigger, stronger and faster and continue to grow as a player," he said.
Kassab said there were other considerations for going to IMG: the lack of an AAU season this summer, and uncertainty about whether high school sports in Virginia will take place next season.
"One of the things we always talked was not worrying too much about the high school competition … because he was getting that through AAU," Kassab said. "When you take away the opportunity to play AAU against some of the best players in the country, I think that was a big deciding factor. He wanted to be challenged a little more.
"He had a chance to think through things. The last thing you want to do is be stuck without any basketball at all.
"I'm excited for the next chapter. He's a great kid and very coachable and a joy to be around. I wish him nothing but the best."
(804) 649-6965
@timpearrelltd