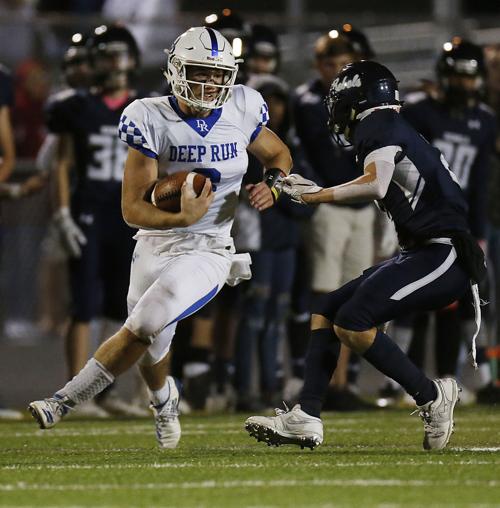 Star performance: Kite completed 11 of 17 passes for 238 yards and three touchdowns in a 47-7 win over Glen Allen. Kite, a junior, also rushed 10 times for 40 yards and two more touchdowns.
Deep Run operates the triple option and is known for running the ball more than it throws. Kite has rushed for 1,023 yards and 21 touchdowns this year, the second most rushing touchdowns in the area. And he's thrown for 695 yards.
His 17 attempts were probably a career high, he said. His 238 passing yards were probably second most. And none of it was really planned before the game started.
"It just happened," Kite said.
The Glen Allen defense stacked the box against Deep Run, and throwing it worked.
"Everyone thinks we're a run team, so that's what they game plan for," Kite said.
Sharpening himself as a QB recruit: At 6-foot-2, 215 pounds, Kite looks like a Division I football recruit. He's most likely to be a linebacker in college, but he wants to do his best showcasing himself as a quarterback before he gets pigeonholed into one position.
He's working with a quarterback coach, and he intends to play for the Mach1 7-on-7 program based out of Virginia Beach next spring. It's tough proving yourself as a quarterback in a triple option offense, so he knows he has to make the most of every opportunity he has to throw the ball.
Deep Run is 9-0: And Kite admits, he's a little surprised. He thought the team would finish 8-2 this year, and then when the season began, he quickly realized Deep Run could go undefeated. The Wildcats finish their regular season Friday against 8-1 Thomas Jefferson.
A loss would give Deep Run its best record since 2008 when it finished 9-1. A win would give the Wildcats their first 10-0 season since 2006 when they reached the Division 5 state semifinals and finished 12-1.
And yet, this Deep Run team is junior heavy, meaning Kite and many of his teammates will be back next year.
"It's exciting to think that everything we're doing this year and everything we'll have next year," Kite said.
But Kite says a playoff run is a must for this team. Going 10-0 doesn't mean a whole lot if you lose in the first round.
Dream job when football is over: "Sports-medicine doctor or college coach."
Hidden talent: He can snowboard, in addition to playing lacrosse and wrestling.
Favorite emoji: "The spoon and fork, because I love to eat."
If he could have dinner with anyone dead or alive: "Drew Brees."
Fred Jones, Henrico: 1,449
TreVeyon Henderson, Hopewell: 462
Jasiah Williams, Thomas Dale: 359
Roemell Garcia, Manchester 312
Vote for next week's player of the week between Friday night and Monday night.