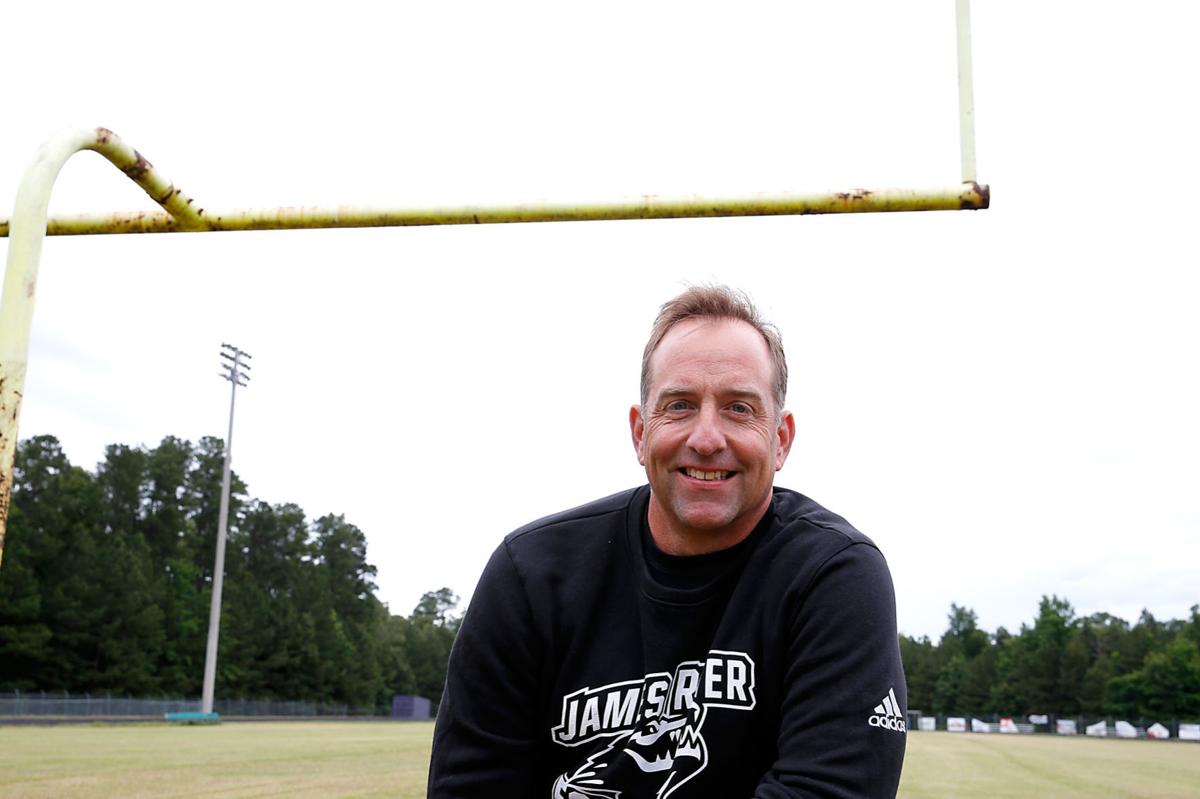 Usually you find a physician standing on the sideline in a medical capacity.
Assuming there's a high school football season this year, you'll find Dr. Tom Scioscia on the sideline in an unusual capacity: as a coach.
Scioscia is an assistant under head coach James Riley at James River. Scioscia is taking a break from his job as an orthopedic spine specialist for at least a year because of migraine headaches.
He's taken a 30-hour-a-week job as the medical director for spine and orthopedic surgery, approving or denying radiological studies and surgeries, allowing him time to pursue his desire to coach.
"Everything happens for a reason," he said. "My life is completely different, in a good way, that way. I wish I could still help patients, and hopefully someday I'll be able to help them, but it's good to actually … enjoy life. I mean, you're going 90 hours, 100 hours a week from Point A to Point B, [doing rounds] on the weekends, taking calls from Kilmarnock and having to drive back to see patients, even when you're not on call. … There's not a lot of orthopedists who can do spine surgery."
Scioscia was an All-American in baseball in 1994 at the University of Richmond. But football is his first love.
He was quarterback running the option in high school. He was headed to play in college despite three knee surgeries — until former UR baseball coach Ronnie Atkins enticed him to play baseball by offering a full scholarship after his first season.
A Rhodes Scholar candidate, Scioscia went through his medical training at the Medical College of Virginia, Pittsburgh and UCLA. He joined OrthoVirginia in 2005 and has worked with UR's teams.
Several years ago, Scioscia started coaching his son Colby's youth-league football teams, which included many of James River's current players. Colby, a rising junior, is a running back and backup quarterback for the Rapids.
With James River (1-9) struggling last season in Riley's first year, Scioscia asked in midseason if he could help.
"We do home visits,'' said Riley, a James River alumnus and former assistant, and a former player at Hampden-Sydney. "He was one of the parents who was always eager to find a way to help.
"At first I was kind of reluctant, like let's figure stuff out. We got kind of in the weeds. You have that first year coaching with all those surprises. You think you've got enough coaches, and then you realize you need more help. He stepped up, and he started showing up at practices, he started helping, and it got a lot easier for us as the season progressed.
"It is tough with a parent because you've got to make sure that what you want to protect and what they want to protect are the same thing. To his credit, he has very little interaction with his son at practice. It is a professional relationship, business as usual. And so we're able to make it work with our staff."
Scioscia worked mostly with the JV, calling plays in the Rapids' option-based offense. That was familiar territory, but with his physician's duties, it sometimes proved hectic.
Most of the time, the JV team was well into practice by the time he arrived from work. Many times after practice or a game he had to drive back to the hospital to see a patient.
He also knew not being there all the time could be disruptive, and he appreciates that Riley continued to let him coach.
Scioscia wasn't sure he would be able to keep up the full-time doc/part-time coach schedule this season. When the migraines — which date to college — started lasting longer, his neurologist told him to take a break from surgery.
Scioscia left OrthoVirginia in mid-April. His new job started this month.
"It really lets me concentrate on giving my time to Coach Riley," he said. "That's what I needed to do. Last year was tough. There wasn't a lot of trust with me being there probably. I'd roll up to the end of practice in scrubs every day, and then I'd be calling plays. Now he sees I'm all in."
Riley isn't afraid to tap untraditional help. He has added a pastor and a youth pastor to his staff this year.
"They're going to be very deeply involved in our culture conversations and our character building," he said.
He says what's quickly evident about Scioscia "is his excitement and his love for football and being involved."
"When we're in meetings, I don't mean this to sound derogatory, he's like a little kid just excited to talk about this stuff," Riley said. "It's like Christmas for him. He's got that learner's mindset. He wants to learn as much as he can and kind of break things down and look at the root of things. He wants to get as in-depth as we can. Sometimes I'm like, let's stop here.
"A lot of these [coaches] played for me or I played with, so we're pretty like-minded. He brings another perspective and a different set of skills. It helps our staff because now we have a different way of looking at things."
Scioscia said he may go back to orthopedic work if the migraines subside. Still, he would probably do it with a reduced schedule that would allow him to coach.
"It was a 24/7 job," he said. "Now I have all the time in the world to concentrate on something that I love. I loved being a physician. But the amount of stress and the amount of hours, it takes away from other parts of your life that you really enjoy once you're done.
"It's a beautiful thing to be able to do what my kids love to do, instead of just run around and say, 'Good job,' and run out the door again. That was my life the first 48 years of my life."
(804) 649-6965
@timpearrelltd