The notes are left in different places: taped under the handrail on a footbridge; in a plastic bag under the bridge; covered by big sticks behind a tree on the edge of a clearing.
The hiding spots and clues are emailed or sent by video, and the hunt is on.
Alyssa Wright and Annie Knutson haven't been able to run together because of social-distancing measures, so they have used an old-fashioned way to stay in touch while running separately: leaving notes for each other on a trail.
"It's a little pen pal sort of thing," said Knutson, Wright's teammate on the cross country and track teams at Maggie Walker Governor's School.
They live about 2 miles apart and have become good friends while attending Maggie Walker GS. The runs they used to take together sometimes on weekends are no longer an option, so they have taken advantage of some nearby trails Wright's mother told her about.
After running the trail, Wright gave Knutson directions and informed her a note was waiting.
"It was a little sticky note that I taped under one of the bridge [handrails]," Wright said. "I sent her a video [with its location]."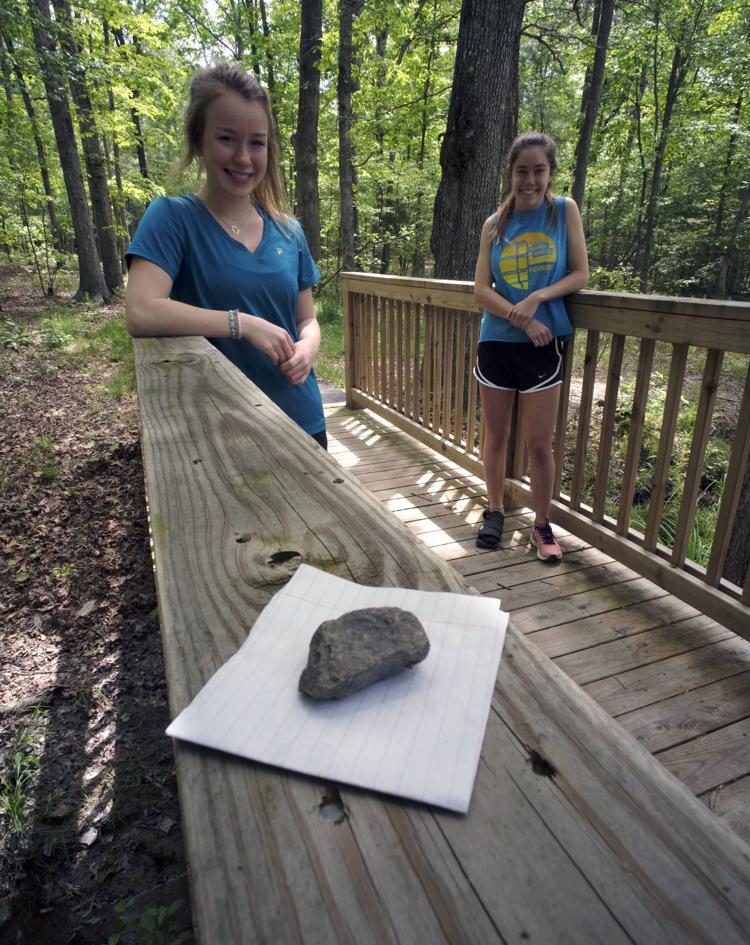 Knutson found the note — Wright wrote that she hoped she had a good run and that she missed her — and the next time reciprocated with a longer one.
The hand-written notes have grown on loose-leaf paper, sometimes front and back, and are placed in plastic bags. Knutson said protection was necessary because of rain and because one of the early notes got some dew on it and wasn't totally legible.
They update each other on life in quarantine, what books they're reading, what they're doing for homework, and their everyday activities.
Wright has written about baking cookies and cakes — chocolate plus a blackberry jam vanilla — taking up knitting and her finding a roommate for college. A senior at Maggie Walker GS, Wright will be attending William & Mary next year to study biology on a preveterinarian track.
Knutson, a junior at MWGS, has written back about painting and reorganizing her room, and learning to play the ukulele.
Wright's family has some ducks, so Knutson included a drawing of a duck with one note.
"It's really nice," Wright said. "You tell the other person more when you're writing a letter. It's like what you did that day, what you baked in quarantine. If you're just texting them you might not feel like telling them that stuff."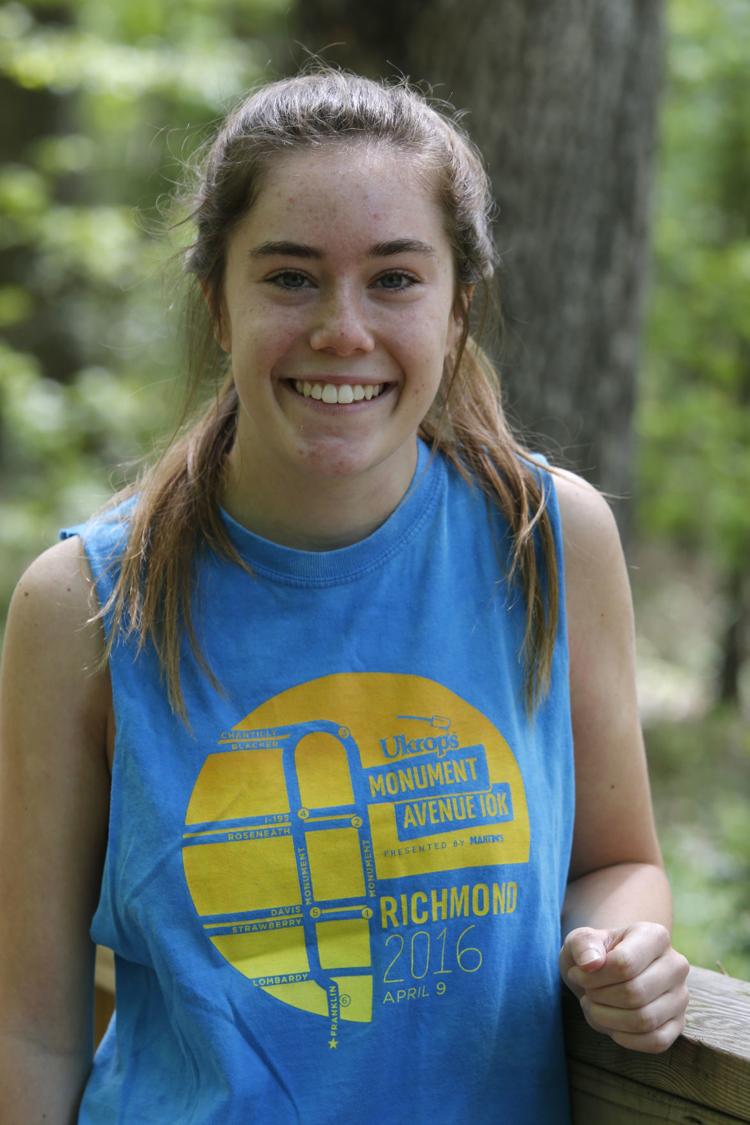 Wright injured her foot and hasn't been able to run recently. So Knutson has been running to Wright's house and leaving and retrieving notes on the doorstep.
"We can always call each other and FaceTime, but it's nice to just have it written down on paper," Knutson said. "I always hang them up on my walls."
While they lived nearby, Wright and Knutson went to separate private schools and didn't know each other until they rode the bus together when Knutson was a freshman at Maggie Walker GS.
Wright said Knutson was nervous the first day on the bus, so Wright sat down and talked to her. Knutson thanked her the next day.
That started a friendship that grew while they ran with the MWGS cross country and track teams.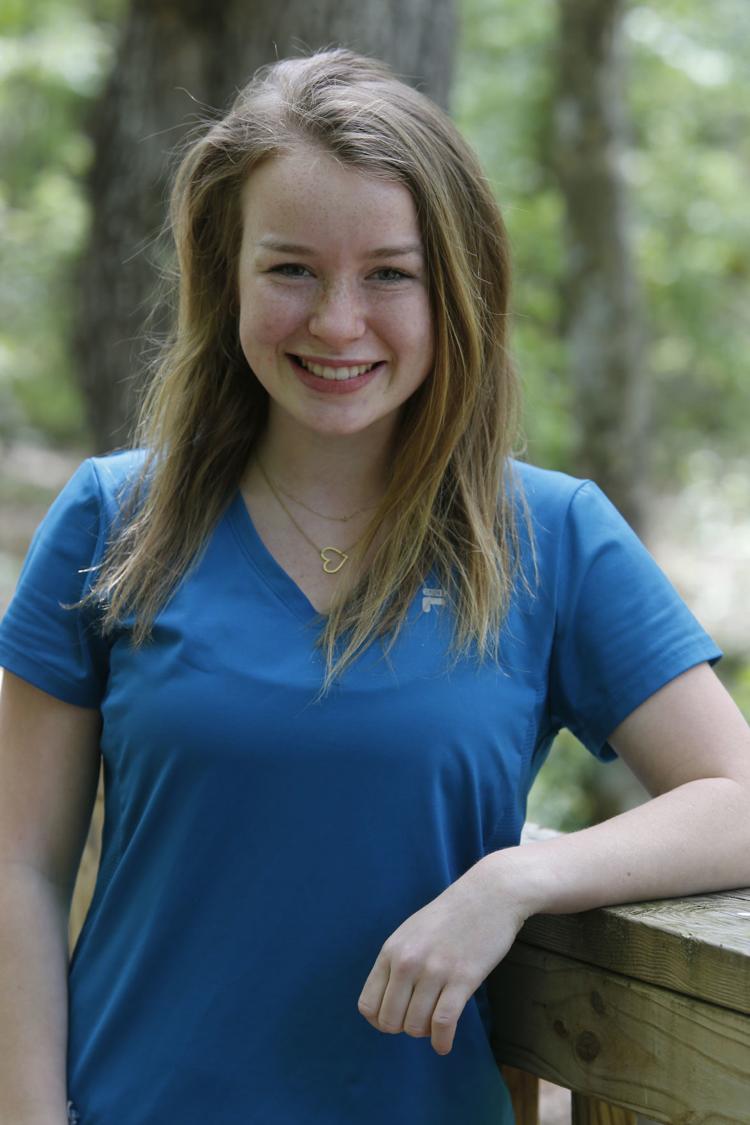 Maggie Walker is one of the titans in the high school running world, with a long list of state championships in boys and girls cross country and boys and girls track and field. Neither Wright nor Knutson had been a runner before going to MWGS. Both heard about the team's reputation and environment and decided to go out.
They run in 400 and 800 meters in track, plus relays.
"She's definitely one of my best friends and probably like my inspiration for school and running," said Knutson, who carpooled with Wright. "She's one of the captains of the team.
"She cares so much about the team and about other people. It's never about [finishing] place for her, and it's never about the medals. It's always about the experience and the friendships she makes along the way, which is really important for the team."
When there was a sliver of hope that spring sports might get started, Wright and Knutson stayed in shape by doing a workout program sent out by Maggie Walker GS coach Jim Holdren.
The season never got going, but Wright and Knutson like the feeling of running and have continued to run almost every day. Knutson also hopes she has cross country season coming up in the fall.
Their running locations vary. Still, they try to get to the trail a couple of times a week.
Since their visits aren't planned and it may be several days before a note is found, they hide them and then send a text or a video with descriptions.
"It inspired both of us to run," Knutson said. "There might be a day where you felt kind of lazy, but then the other person would text and be like, 'I left you this note.' And you'd be like, 'Oh, I'll go get it.'
"It gives you a little mission. When I run the whole way up and I'm holding my note for Alyssa, I'm like, 'Where should I hide it?' Coming up with ideas of where to hide it and the videos to send her, that's fun. And hunting it down is sometimes a challenge."
Neither expects the notes to stop once Wright goes to college.
"I will send her mail," Knutson said. "We can stay pen pals."
(804) 649-6965
@timpearrelltd