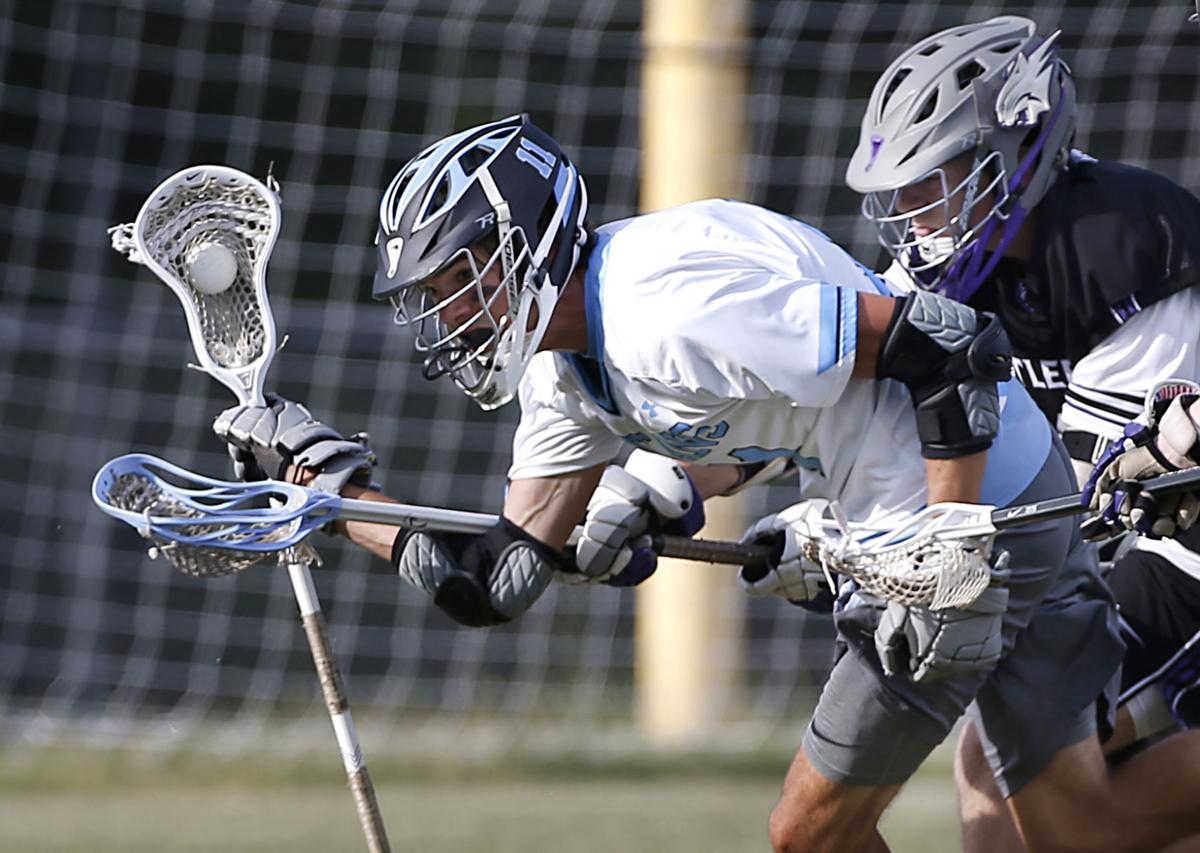 As the 2021 high school boys lacrosse season began this week, the prevalent emotion from players and coaches was gratitude as they returned to the field after losing the 2020 season to the COVID-19 pandemic. As we push the reset button, here's a look at the area scene.
Chase Mullins, St. Christopher's: Widely regarded as the best face-off specialist in the region, the senior who committed to the University of North Carolina last summer is a leader for probably the best boys lacrosse program in the region.
Blake Wyman, Deep Run: The second-team All-Metro honoree as a sophomore enters his senior season with 100 career points, including 58 goals. Wyman signed to play at High Point University.
Kent Goode, St. Christopher's: The junior, who also committed to North Carolina, has anchored the Saints' defense. He will be charged with developing a young defense as the season progresses.
Owen Fasulka, Cosby: The senior exploded onto the scene in 2019 with a 100-point season (55 goals, 45 assists), earning him first-team All-Metro and all-region honors. He leads a group of five seniors hoping to send the Titans into the Class 6 state tournament.
Bo Brown, Collegiate: Already off to a strong start in goal, Brown, who has committed to Richmond, will be key as the Cougars look to take the next step in challenging for the top of the private school ranks.
Pierce and Carter Strothers, Glen Allen: This twin seniors, who both will continue their careers at Bridgewater College, anchor the defense for an upstart Jaguars team with five players who have made college commitments.
Dell Vidunas, Douglas Freeman: The junior attacker looks for a breakout season for the Mavericks, who hope to advance to the Class 5 state tournament this season after a semifinal loss in 2019.
Also keep an eye on: Spalding Hill, St. Christopher's; Jonathan Creager, Steward; Bobby Marlatt, Collegiate, Aiden Stevenson, Midlothian; Braden Eastman, Atlee; Michael Albanese, Deep Run; Samuel Busby, Patrick Henry
St. Christopher's: The Saints were the top seed in the VISAA tournament two years ago, falling in the semifinals. Off to a 6-1 start, coach John Burke leans on the experience of Mullins and Goode, both future Tar Heels. Junior Jack McCoy is emerging at the attack. If the Saints can develop a solid bench during the regular season, another charge in the playoffs is likely.
Collegiate: Sitting at 8-2 after a .500 record in 2019, the Cougars are anchored by senior goalkeeper Bo Brown and a host of scoring options, from attackers Owen Fallon and Will Hanson to midfielder Bobby Marlatt. Collegiate's only losses so far were to St. Christopher's and Norfolk Academy.
Steward: Creager, a senior attacker, and Will Elles, a junior midfielder, are the leaders coach Jim Tyler counts on to improve on an 8-9 record in 2019. Sophomore Cole Tyler is in goal, accompanied defensively by Jack Morgan and Graydon Patterson.
Cosby: The Titans are happy to have an experienced senior core led by Fasulka, midfielder Bryce Oprandi, who has committed to Mary Washington, and goalkeeper Drew Neville. The Titans won the former Class 6, Region B title as a sixth seed two seasons ago, so there's plenty of postseason experience.
Thomas Dale: Coach Paul Amos is rebuilding, losing 18 seniors in 2020. Kaden Flessner and Logan Jacobs will man the goal, with juniors Dustyn Shepard and Landon Mangano leading the attack.
James River: Midfielders Tom Thelan and Grady Pereira are part of a core of returnees for the Rapids under coach David Hope. Sam Carter and Andrew Somerville will be on attack, with Colson Weaver and Wilson Gilliam anchoring the defense.
Atlee: The Raiders have reached the VHSL Class 5 state finals in four of the past five seasons, but are still seeking their first championship. Coach Fielding Crawford points to seniors Braden Eastman and Mark Ward to provide leadership and quick study to the young Raiders, playing their final season in Class 5.
Deep Run: The Wildcats will look to supplant the Raiders with a deep, experienced offense led by senior attackers Blake Wyman and Nick Krug, and two capable goalkeepers: Noah Balagtas and Nate Baker. New coach Alex Lynn looks to Balin Galbraith, who has committed to Mary Washington, to lead a young defense.
Douglas Freeman: The Mavericks will be a handful for defenses with Dell Vidunas, Matt McCabe, Gavin Jones (Westminster College) and Travis Moore on attack. Nate Elkin, Aidan Wilson (Washington College) and Drew Bryner head the defense, with an experienced goalie in Seth Holtz.
Midlothian: The Trojans finally get to compete in Class 5, Region B. Senior goalkeeper Aiden Stevenson is aided by an experienced defense. Coach Greg Barnard is excited about sophomores Brock Naiman, Brennan Lane, Maxx Lawton and Gabe Semidy.
Glen Allen: Joining the Strothers twins are two more players committed to Bridgewater in midfielder Austin White and attacker Korey Polo. Although the Jaguars have a lot of seniors in key roles, are they ready to take the next step after advancing to the Class 5, Region B semifinals in 2019, losing to Atlee?
Mills Godwin: The Eagles look to bounce back from a 5-10 campaign two seasons ago, led by junior goalkeeper Walker Williams and senior midfielders Sam Blackmon and Marcus Vernon. The trio are three of seven returning starters for coach Erik Harrington.
Matoaca: The Warriors must rebuild their defense. Coach Donald Field is excited about his offense, looking to junior attacker Kris Newman and senior midfielders Zach Wilkerson and Dustin Hanshaw to show the way.
Manchester: It's a youth movement for the Lancers in their only season in Region 5B. Thirty-four of the 38 players in Manchester's program are sophomores or younger, according to coach John Poss, taking over a team that will lean heavily on senior midfielder Nasir Dixon early.
Highland Springs: Steve Shoul continues to build the Springers program as they await a new stadium for 2022. A junior-laden squad is led by goalkeeper Boubacar Ba.
L.C. Bird: The Skyhawks must rebuild, losing all but one starter from 2019. Roosevelt Byrd and Shane Spriggs man the middle, while junior James Heaton, who started all 12 games in goal, returns.
Hanover: Youth could be an advantage for the Hawks, returning eight starters, including defenders Aiden Willett and Jackson Currie. Junior Adam Langford welcomes sophomores Henry Montgomery and Rock Schraa to the attack. Senior Connor Bond mans the pipes.
Patrick Henry: Busby heads a lineup that must stay healthy for coach Greg Rosenberg, who says depth is an issue. Look for sophomore attacker Evan Williams to make strides.
Powhatan: The Indians also must avoid the injury bug because of little depth. Connor Jeffs returns in goal. Seniors Chase Mahaney, Ryland Davis and Nate Gray anchor the middle.
Mechanicsville: It's a rebuilding season for the Mustangs, who place junior Evan Williams in goal, and look for offense from attacking seniors Tommy Bonniville and junior Nick Owens.
Note: With the quick turnaround between seasons and the high number of spring sports, the Times-Dispatch is not doing capsules for every school. These highlights are based mostly on forms returned by schools to the RTD.