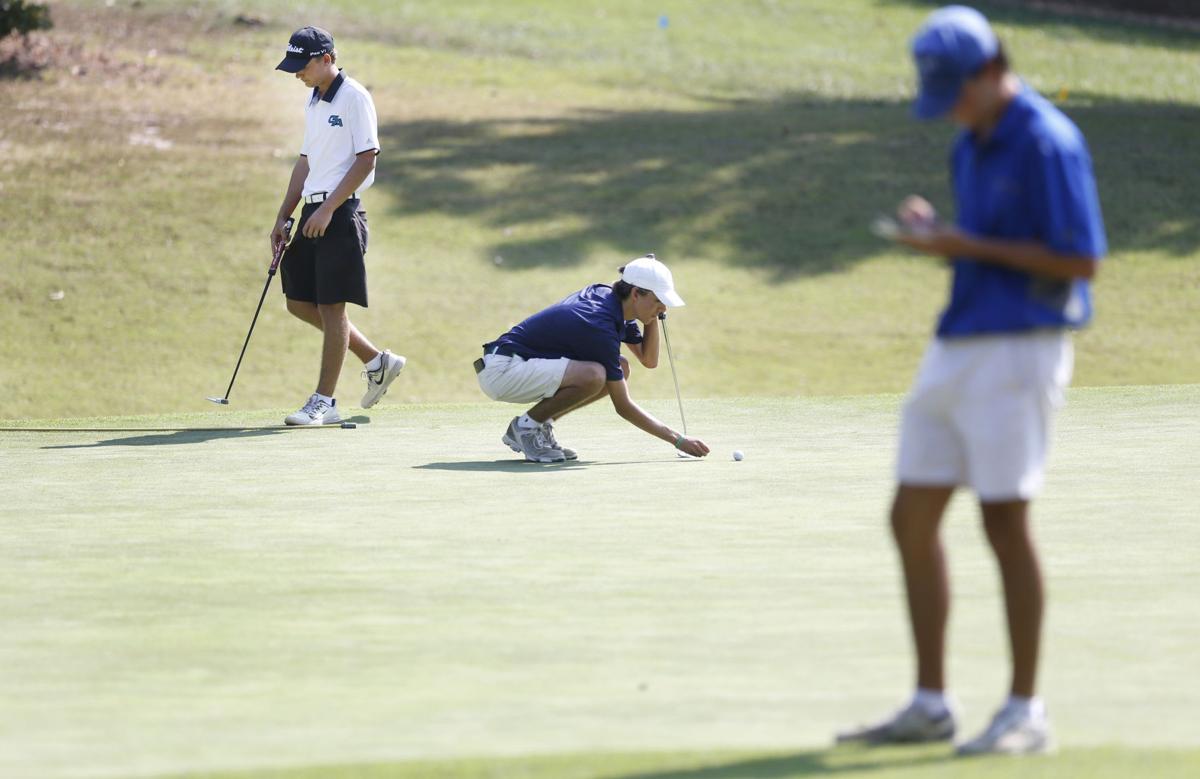 The Virginia High School League golf season is back on the fall schedule and in full swing. Coaches and players in the Richmond Metro area are happy to have it that way.
"It is nice to be playing back in the fall and not dealing with some of the course conditions we dealt with in the spring," Mills Godwin coach Hunter Thomas said.
Because of the coronavirus-induced schedule shakeup, the public schools played golf out of season in the spring.
"The best part of a "normal" fall season is, at least for the summer tournament golfers, they are in midseason form. While the heat and humidity are challenging, the better players are dialed in on their yardages," said Monacan coach Scott Thackston.
Action began Aug. 9 at the Lake Chesdin High School Golf Invitational which featured some of the top teams and players representing VHSL Classes 3-6. Douglas Freeman, led by seniors Grant Miller and Luke Bitsko, won the team title. Midlothian junior Joseph Weinstein was medalist with a 1-under-par 71.
For the first time since 2014, Deep Run is not the reigning Class 5 state champion. The Wildcats and Riverside (Leesburg) tied for second behind Bayside (Virginia Beach) at Williamsburg National in April.
Experience and depth played a major role during Deep Run's five-year championship run. Coach Josh Aldrich reloaded each new season with seniors and juniors who knew success and with younger players who learned what the expectations were.
This year is different. Senior Ethan Snow, who played No. 3 last spring and posted the team's second-best score in the state tournament, is the lone senior with experience. He moves into the No. 1 position. Junior Caden Sherman and sophomores James Oh and Jason Casullo are among the players vying for one of the open spots in the top 6.
"Last season's No. 6 is returning, but we played many different players there through the year," Aldrich said. "We're looking to replace the rest with returning members and new ones."
The Wildcats are the reigning Class 5, Region B champions.
"Deep Run is still the team to beat. They may have the least experience, but confidence is a large part of this game," Thomas said. "Many of the teams are closer in ability now, but until you beat them, they have your number."
All six of last spring's All-Metro first team were seniors. The four players from public schools — Charlie Kennedy of Mills Godwin, Trent Sveum of Deep Run, Quint Dingledine of Monacan and Andrew Wilkinson of Hanover — combined to earn All-Metro first- or second-team honors 11 times during their careers. Kennedy was first team all four years and was player of the year in 2018.
Here are some of the players who could fill the void left by this much-honored group:
Snow, Bitsko, Miller, senior Nick Owen of James River, sophomore Brandon Washburn of Powhatan and junior Ivan Chan of Manchester posted 1-over 73 to share second place behind Weinstein at Lake Chesdin. All of them are playing No. 1 for their teams.
Talon Dingledine, Quint's younger brother, is a freshman at Monacan and already is one of the young Chiefs' leaders.
Weinstein, looking for a breakout season, also tied for first in a Dominion District gathering at Magnolia Green. He and Cosby's Cole Shingleton, a sophomore, shot 73. Cosby was the team winner.
Bitsko (71) edged Snow by a stroke in a seven-team, 18-hole match at The Hollows, but Deep Run won the match by a shot over Douglas Freeman.
Snow (4-under 32) was medalist in a match with Cosby and Monacan. Dingledine (35) also shot under par, but Cosby, led by Shingleton (37), beat Deep Run by two strokes.
Two players in particular from the girls side bear watching. Mechanicsville's Madison Lehr, a two-time winner of the Richmond Golf Association Junior Girls tournament, and Meg Lavinder are the team's top-two players.
The VHSL tournament schedule looks like this:
Region tournaments will be played between Sept. 27 and Oct. 5.
State tournaments will be held Oct. 11 and 12. Classes 1, 3 and 5 play on the 11th and Classes 2, 4 and 6 play on the 12th.
Williamsburg National is the venue for Classes 5 and 6. Glenrochie Country Club in Abingdon is home to Classes 3 and 4, and Olde Mill Resort in Laurel Hill welcomes Classes 1 and 2.
Two teams and three individuals from each class/region will advance to the state tournaments.
Girls Open qualifiers are scheduled Oct. 18-20. The Girls Open is set for Oct. 25 at Heritage Oaks Golf Club in Harrisonburg.
Cosby and James River are contenders for state tournament berths. Seniors Dylan Reasoner, Patrick Burhop and Gabbie Hollberg along with Shingleton and sophomore Sean Acree have led the way for Cosby in the early going. James River is counting on three seniors — Owen, Duncan Andres and Zack Wilson — to carry the load. Owen and Wilson were All-Metro honorable mentions in the spring. Manchester returns to Class 6 this year. Lancers coach Jason Sipe returns an experienced lineup that includes Ivan Chan at No. 1, senior Andrew Schweitzer and junior Holden Loving. Chan's sister, freshman Niki Chan, also could contribute.
Deep Run, the defending region champion, and Douglas Freeman appear to be reprising the 2019 season when the Mavericks stayed on the Wildcats' heels before finishing second. Miller was a second-team All-Metro selection. Bitsko has posted a number of under-par scores for 9 and 18 holes, including a 4-under 67 in a head-to-head with Monacan.
Midlothian has a roster of capable players who need to be more consistent according to coach John Pruitt. Weinstein has been the linchpin so far. Juniors Brady Cox, Dylan Barker and Jack Edwards and sophomores Charlie Wilkerson and Ashley Flood provide solid support.
Getting along without Kennedy won't be easy at Mills Godwin. The Eagles are deeper this year and have six players who can shoot in the mid to low 70s. Nick Collins, a junior transfer from Hampton Roads Academy, joins returnees Matkins Milligan (sophomore), seniors Alex Hudak and Will Houtz and junior Morgan Mussatt.
Four starters — seniors Evan Lobred, Peter Deeb, Will Clarkson and Chase Lempner — return for J.R. Tucker. Charlie Robbins, a junior, is a contributor. Prince George also returns four starters: senior Ashley Allen and juniors Owen Tarnasky, Thomas Carden and Wyatt Holt.
Glen Allen is rebuilding its lineup. Sophomore Will Hemp and senior Reid Stowell are the building blocks. Highland Springs features Bryan McDonough, a senior with postseason experience. Clover Hill sports a senior-laden group that includes Rocco Lobosco, Leyton Tarrh, Jonathan Hass and David Labella. Sophomore Randy Richeson has worked his way into the top 6.
Region B is one of the largest in the commonwealth with 17 members. The region tournament is a two-day event with all teams playing the first day and the top eight moving on to determine the teams and individuals who qualify for the state tournament.
Monacan has won the past two region titles and will be one of the favorites for a third with "our crew that can't drive … a car," Thackston said. "We start four freshmen and a sophomore."
T. Dingledine, Aydan Smith, Cooper Dillman and Grayson Gardner are the freshmen. Samuel Sims is the sophomore. Senior Claire Campbell rounds out the lineup.
Hanover has been Monacan's chief challenger in recent years and will rely on sophomore Trevor Yager and junior Paul McNally to continue the challenge.
Matoaca drops down to Class 4 and should be a contender for a state berth. Seniors Ryan Enge and Ian Barber and junior Peyton Jones are returners. Freshmen Jonathan Gates and Trent Willis have contributed already. Enge recorded a hole-in-one during a recent match against Deep Run.
Patrick Henry has the experience factor with what could be five senior starters. Daniel Ailor, Keaton Winston and Dillon Baskind played on PH's state tournament qualifying team in 2019. Linus Stansbury and Davis Kidd have earned their spots in the lineup. Junior Jackson Burr has seen early-season action.
Washburn's support at Powhatan are Luke McDaniels, Conner Hedgepeth and Jack Debord.
Rod Dickerson, a senior, is Henrico's only experienced golfer. Varina has no seniors and the roster size has doubled from four to eight. Sophomores MJ Wingo and Parker Beaulieu and freshmen Robbie Bordner and Brady Barrett are the four who play.
Maggie Walker (Region 3B) has a mix of new and returning players. The top two are senior Cameron Paoloni and junior Mary Katherine Topping. Freshmen Anusha Rathi and Matthew Tran come into high school golf with tournament experience.
Hopewell (Region 3A) returns senior Deanna Porter and juniors Benjamin Cummings and Matthew English. Newcomers are Tyler Dyson, a senior who is a baseball standout, and freshman Tanner Dobbs.
King William is the two-time reigning Class 2, Region A champion. The Cavaliers are aiming for three in a row behind starters Jonah Ibanez, Michael Knoeller and Gray Beasley, all seniors, and juniors Seth Curry and Kyla Blanton.