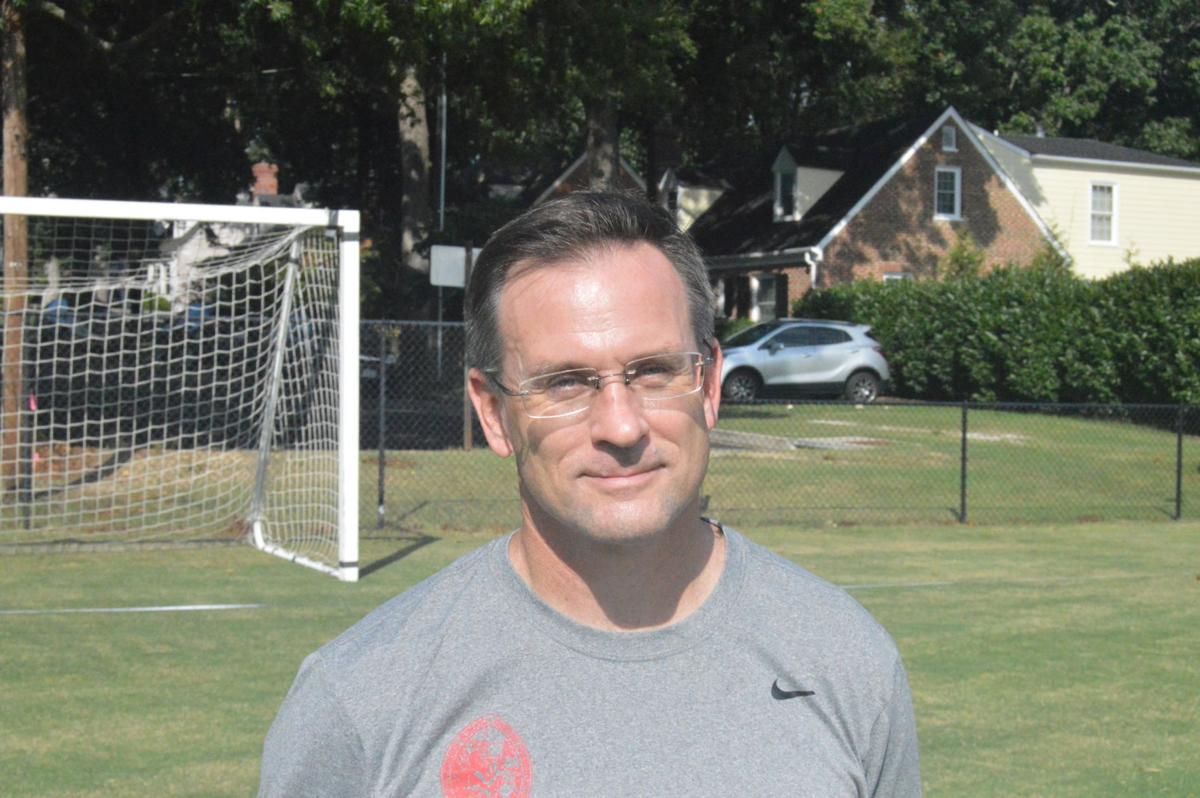 Jay Wood is a little uncomfortable with attention on his coaching record. So it was fine when his 400th win as the boys soccer coach at St. Christopher's went somewhat unnoticed last spring as teams were dealing with the pandemic.
"At 300, my family kind of made a big deal about it," he said. "That was exciting. I don't think it seemed like the right thing or time to do it [last spring]."
Wood is in his 31st season as the Saints' head coach. With a win in the season opener last week, his record is 401-125-53.
The Virginia Independent Schools Athletic Association hasn't kept a list of coaching records. Among public schools in the Virginia High School League, four boys or girls coaches have surpassed 400 wins, according to the VHSL record book: Shelley Blumenthal (545 at Blacksburg), Mike Webb (501 at Courtland and Chancellor) and Pete Scouras (433 at Martinsville) on the boys side; and Jim Rike (504 at James Robinson) on the girls side.
"As you know, it's also a sign of age more than it is about anything," Wood said. "It's more about the kids than it is the coach. Glad to be associated with it, but I don't think that's why anybody is playing or coaching.
"I teach and coach because I enjoy working with the kids. I find that rewarding."
Wood played lacrosse at Princeton. His first job was at St. Christopher's in 1988, the same year John Burke arrived.
They lived together for two years and were assistant lacrosse coaches the first year. Burke became the head coach the following year and has been the head man since. His teams have gone 348-169.
Wood, who played soccer growing up, was an assistant varsity soccer coach his first three years before becoming the head coach. He served as Burke's lacrosse assistant for a few years and was the head JV lacrosse coach for 12 years.
"It's been a good run for both of us," Wood said.
Independent schools normally play boys soccer in the fall (girls play in the spring, along with public school boys and girls). With the pandemic, St. Christopher's wasn't able to play games until the spring, going 3-0, just enough to give Wood his 400th win. It also scrimmaged against some club teams.
"We were at least able to be together, so I feel appreciative of that," Wood said.
Wood, an English teacher, also feels "so appreciative to teach and coach at St. Christopher's."
"It's been a great place to learn and grow as a classroom teacher and a soccer coach," he said. "I've felt supported by my colleagues and the administration and certainly by the families and the boys. It's been a wonderful place to be."
Benedictine coach Daniel Gill believes he has the most talented team the Cadets have assembled in a while. Leading the way for an attack that returns nine starters are senior center back Noah Pappas, junior center back Jack Miller, junior forward Nathan Howerton and junior center mid Reed Miller. They're joined by sophomore Antonio Schoenborn. Junior Gardener Campbell returns as the keeper.
At St. Christopher's, Wood has six starters back. Senior Nate Broughton (midfield) is in his fourth year on the varsity. Seniors Taylor McDermott (back) and John Collier (back) are in their third years. They'll be the backbones with junior Wes Wise (forward). Also in the midfield are junior Ian Cox, senior Tripp Owen and junior Beck Mumford. Rex Alphen (junior) and Max Hladky (senior) are the keepers.
Collegiate will be formidable with a club heavy on seniors, several of whom have been playing on the varsity together since the ninth grade. Coach Rob Ukrop has 10 starters returning and is mixing in some younger players after going 4-1 in a modified season. Senior defensive midfielder Colin Ryan and senior defender Will Neuner head a list that includes senior David Cheon (attacking midfielder) and senior Robert Westermann (defensive midfielder).
New Community did not play last season because of COVID, but coach Kyle Foulger still has five players back from a team that went 9-3-1 in 2019. Senior forward Emery Bray scored 12 goals for that squad. He's joined by sophomore forward Jack Raggio. Seniors Max Shavers and Fox Warner will be anchors in the midfield and defense, respectively. Junior Alex Aghdami is the keeper.
Steward's Sam Roberson was the VISAA Division II player of the year as a freshman in 2019. He followed that by scoring 10 goals and recording 14 assists in nine games as a sophomore last season on the way to All-Metro honors. He'll get assistance from senior Wit Moore and junior Henry Bearden on a team that returns 10 starters. In goal for coach E.J. Watkins are junior Marcus Andriano and senior Harrison Morton.
Trinity Episcopal returns six starters for coach Brian Phillips. Back are senior forward Quinn Slabaugh and junior forward Colin Flood, the leading scorer as a freshman in 2019. A midfield crew of seniors Kaleb Muminovic and Grant Riddle, and juniors Jack Fannon and Charlie Kemp is mixing in some newcomers. Senior Griffin Wright and junior Davis Guise are back on defense. The keepers are Mitchell Kuglman (junior) and Joe Turkaly (sophomore).
Veritas expects to be fairly strong behind defenders Matthew Kleinschuster (senior), Kellen Pollock (senior) and Malcolm Murchie (junior). Second-year coach Sterling Sweeney also is expecting contributions from seniors Trevor Ruzich (center midfield) and Caleb Jordan (defensive midfield). Freshman Eli Felty will be in the midfield when he returns from an injury.
(804) 649-6965
Twitter: @timpearrelltd
Based on forms returned to The Times-Dispatch