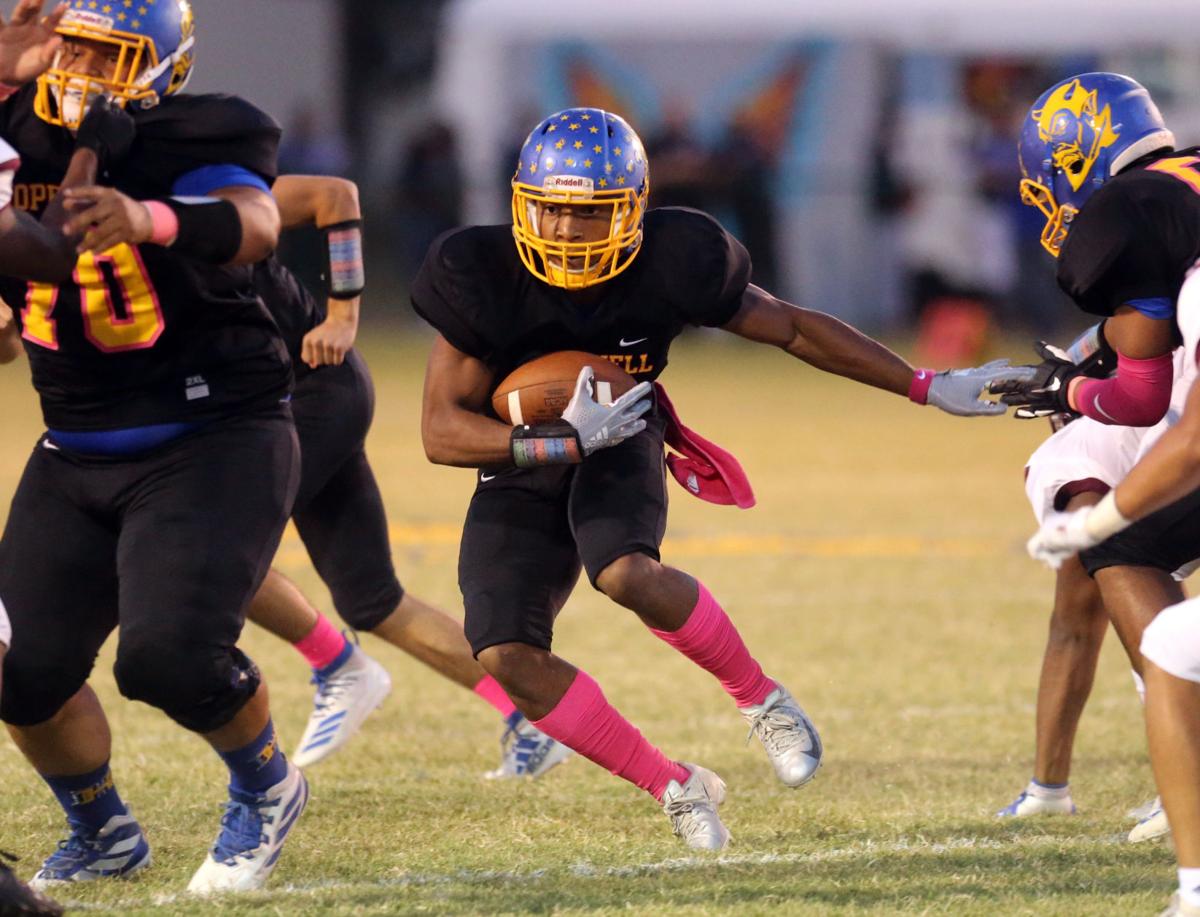 Age: 17. His birthday was Tuesday. 
Athletic accomplishments: In the month of September, TreVeyon had 636 all-purpose yards as a running back, receiver and returner on the Hopewell football team. He leads the Richmond area in rushing yards (1,088), rushing touchdowns (24) and overall touchdowns (28). Henderson could break the state record (59) if he keeps scoring at this rate and if Hopewell keeps winning. He's a nationally ranked recruit in the Class of 2021 with offers from Clemson, Ohio State and Alabama.
Academic accomplishments: TreVeyon is a member of the National Honor Society and Future Business Leaders of America. He was previously named Hopewell High's student of the month. 
Favorite class: "Math." He'll take pre-calculus next semester.
Future major: He's considering engineering and accounting.
Three words to describe him: "Confident, smart and humble."
Working to improve on: "Staying away from all the negativity."
Best sports memory: "When I scored the game winner against Dinwiddie last year." It was a 79-yard touchdown run with 4:06 left in the game, and Hopewell upset Dinwiddie 7-0. 
On his playlist: "Hip-hop."
Person alive he most admires: "My brother," Ronnie Walker, a running back at Indiana University. 
Favorite thing about being a student at Hopewell: "Showing people a way out," and that's it's possible to make it out of a small city. "There's a lot of stuff going on here. I want to bring positivity here."
Hidden talent: "I'm really good at soccer." He used to play when he was little, and he once scored 18 goals in a season. 
Favorite teacher at Hopewell: "There are a lot of great people at Hopewell."
Favorite emoji: "The fire emoji."
If he could go on any game show: "Family Feud."
If he could time travel, he would go: "Probably around the 1980s."
Best advice he's ever received: "From my coach, it's like a crab in the bucket. When one person's trying to get out, they bring them down." He says you best avoid others who want to bring you down by ignoring them. 
If he could have dinner with anyone dead or alive: "LeBron James."
Favorite video game: "Madden."
If he could be any animal: "Lion."
More likely to be early or late: "Early."
His house is burning down and he can take only one thing with him: "My phone."
Scholar-athletes of the month are nominated by their coach or athletics director and are chosen by the Richmond Times-Dispatch and Richmond Sports Backers. For more information on the program, visit sportsbackers.org/scholarships.