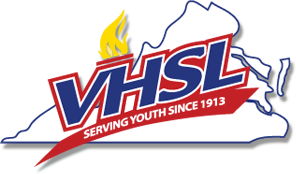 What does the Virginia High School League do with the overload of schools in Class 4, Region B for the 2021-22 and 2022-23 seasons?
That's a question not easily answered as the region swells to 20 schools — the largest in the state — and creates an imbalance in Class 4.
The overcrowding stems from adjustments to the VHSL's four-year classification plan. After two years — in 2021-22 — schools can move up or down in one of the six classifications (Class 6 is for the highest enrollments) as enrollments change. Each class is divided into four regions.
Four area schools — Atlee, Henrico, Matoaca and Varina — saw enrollments decrease enough that they got approval from the league in late July to drop from Class 5 to Class 4. They'll fit geographically into Region B, which has schools in the Richmond area — Dinwiddie, George Wythe, Hanover, Huguenot, the former Lee-Davis that is being renamed, Monacan, Patrick Henry and Powhatan — along with schools in the Charlottesville and Fredericksburg areas.
The additions under the new alignment plan cram 35% of the 57 schools in Class 4 into Region B. Region A (Williamsburg area to Chesapeake) has 13 schools. Region C, in the northwest part of the state, has 16. Region D (Lynchburg to Halifax to the southwest part of the state) has been small and has only eight, and moving schools there to rebalance the regions some isn't geographically friendly.
The rub comes with state playoff bids. Each of the four regions generally sends its champ and runner-up in team sports other than football (champ only), meaning the eight schools in Region D have a much greater chance of making it to the state tournament.
"The teams that are coming in are all great teams," Powhatan activities director Tim Llewellyn said. "It just makes the region too big, and it's not fair."
Seeking more equitable numbers, Region B proposed going from the traditional four regions to eight, with six to nine schools per region. That plan was denied by a VHSL alignment appeals committee on Wednesday. But that may not be the end.
The region has until Sept. 9 to file another appeal to the VHSL's executive committee, which will determine the final alignment plan on Sept. 23.
Tom Dolan, the VHSL's associate director, said Region B could work with the other regions to come up with another plan, such as moving some schools; or it could ask to defer the region setup until the executive committee meets in February.
Llewellyn said the region has discussed presenting another option: giving Region B three state bids and leaving Region D with one.
Dolan said the eight-region proposal would have had one region with Atlee, Hanover, Patrick Henry, the former Lee-Davis, Henrico and Varina; and another with Dinwiddie, Matoaca, George Wythe, Huguenot, Monacan and Powhatan.
Dolan said Region A was in favor of Region B's proposal. Regions C and D were not.
Region D "was opposed mainly because they currently get two representatives from the region into state play and this concept would only give them one," Dolan said.
The appeals committee turned the proposal down by a 5-0 vote. Dolan said the committee "just didn't feel like with … two regions being for it and two regions being against it that they could move it forward."
Dolan also said the number of state playoff berths in football were problematic under the proposal. The committee felt having eight regional champs in Class 4 "would create an inequity" with the other five classifications, which advance only the four regional champs.
"When they looked at the total situation, they empathized with the fact that 4B is larger than everybody else, and there's definitely some skewed numbers there," he said. "How to fix it? This probably was not something they felt like was the answer.
"What the answer is at this point, I'm not sure anybody really knows other than trying to see if there are a few schools … that want to move."
Whatever happens might only last for two years. A plan to go to four classifications is being considered by a VHSL committee for a new cycle beginning in 2023-24.
(804) 649-6965
Twitter: @timpearrelltd