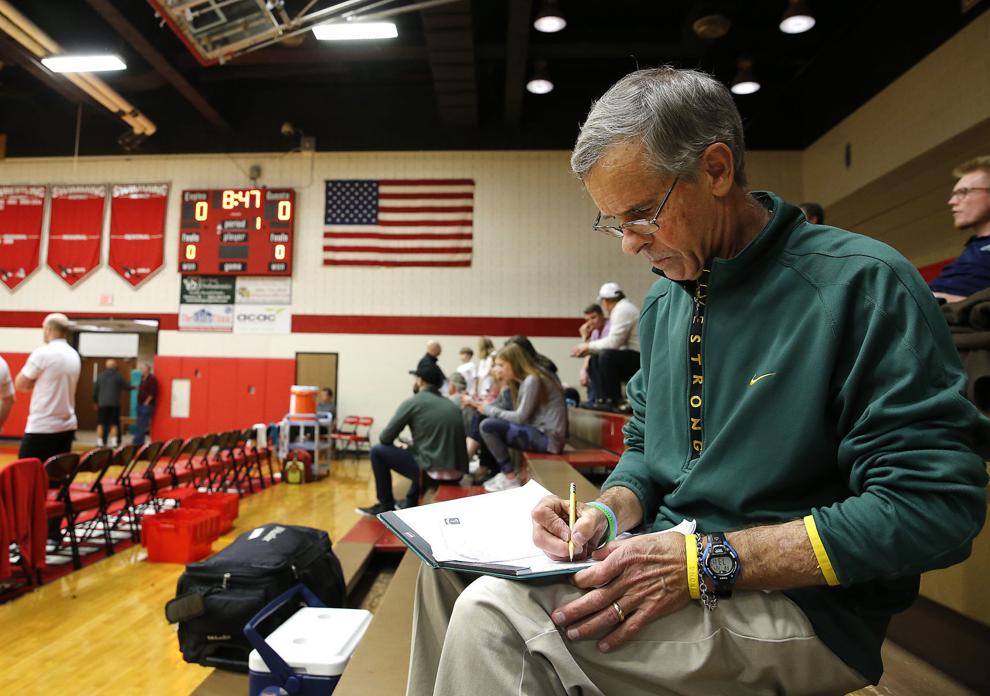 Henry David Thoreau said the mass of men lead lives of quiet desperation. Thoreau was on to something. To understand who you are, what you should be doing and where you should be doing it combine to form one of life's great challenges.
Please take a few moments, then, to meet Weldon Bradshaw, a man for all seasons, a man who has found the exact places he belongs and has occupied those spaces for 50 years.
Bradshaw is a teacher, coach and writer. He loves them all, and he's been able to do them all for the past 50 years.
Bradshaw's name probably is familiar to regular readers of The Times-Dispatch sports section. Most Saturday mornings, you can find his byline gracing the story of a high school football or basketball game. And you will find each story carefully, thoughtfully, creatively and respectfully written. Occasionally, you will find his pieces in the Commentary Section or on the front page, where his piece on Harper Smith, former Clover Hill High volleyball player, and her kidney donation to a 30-year-old father of two she found on Facebook and subsequently met through her brother on Christmas Day.
Bradshaw, 70, is in his 50th season of covering high school basketball for Richmond's newspapers. He's at 49 and counting for football.
Bradshaw also writes Reflections, a weekly column on the people, life and culture of Collegiate for the school's website. He's at 17 years and counting on that assignment.
We at The Times-Dispatch are fortunate to work with him. Readers of The Times-Dispatch are fortunate to have a reporter and writer of Bradshaw's stature, experience and insight painting verbal pictures of events he witnesses.
We were close to losing him once. In 2012, autoimmune disease ravaged his liver, and Bradshaw was hours away from death when a donor liver was found.
This story on Bradshaw is much more pleasant to write than the one he asked me to co-author in those bleak days of 2012.
"I want you," he said to me one afternoon as he faced the most critical deadline of his life, "to work on my obituary with Charlie Blair."
---
Words by Weldon
A sampling of Bradshaw's prose throughout the years
Nov. 28, 1993
Purely from the point of view of comfort, the best part of the Matoaca-Smithfield football game yesterday occurred when the final horn sounded and the 400 drenched diehards in attendance could finally go home.
There were numerous other best parts, however, especially if you happened to be a Warriors fan.
Braving a steady downpour in the second half and thwarting everything their vaunted rivals could muster, Matoaca whipped Smithfield 16-7 to capture the Group AA, Region I, Division 3 championship for the second year in a row.
"We're on top of the world, " said Matoaca coach Pat Manuel. "All year long, these kids have been giving us this type of effort."
---
Blair, a longtime friend of Bradshaw, is the head of the middle school at Collegiate School, where Bradshaw has taught, coached and written since 1972.
I remember a pause in the conversation as I searched for the best way to agree to his request.
I think I finally said, "I don't think we're going to have to do that."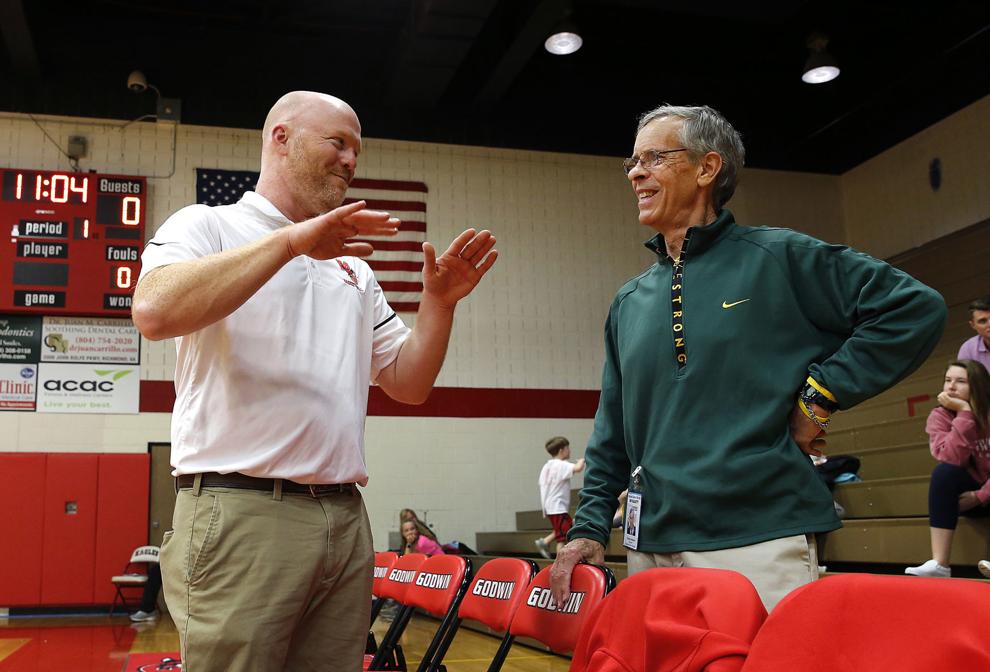 Instead, we're celebrating a rare accomplishment. The number of people who have had a byline in Richmond Newspapers, first The News Leader and now The Times-Dispatch, for 50 consecutive years is a small club.
Bradshaw began as a freelancer when he was a student at the University of Richmond.
He was hired as a full-time sports writer upon graduation in 1970, covering high schools, writing features and doing and anything that needed to be done, from writing to editing.
And he loved every second of it.
Bradshaw was hired by the late Jennings Culley, who had an eye for talent. Bradshaw worked closely with the high school sports editor, Jack Berninger, who eventually became the sports editor of The News Leader and, later, The Times-Dispatch.
Berninger and Bradshaw became and remain good friends.
"He was a good wordsmith, a good reporter and a good writer," Berninger said. "And he loved it. He was conscientious. He cared about everything he did, whether he had to edit copy or cover a game. He loved what he was doing.
"And he was a gentleman, a true gentleman."
---
Words by Weldon
A sampling of Bradshaw's prose throughout the years
Dec. 18, 1993
Whew! Another barnburner.
Meadowbrook and Manchester, which played a double-overtime basketball game December 8, did it again last night.
The score was a shade different, but the result was the same: Meadowbrook 75, Manchester 73. The score was tied at 62 after regulation and 71 at the end of the first OT.
---
But there was something else Bradshaw loved doing.
As a student at UR, Bradshaw began to help coach the middle school football, basketball and baseball teams at Collegiate. He earned $5 a day.
"I thought that was awesome because I got to work with kids, coach a sport, and learn from guys like Petey [Jacobs, legendary coach and athletic director at Collegiate and St. Christopher's] and Jim Hickey [former track and field and football coach at Collegiate]," Bradshaw said.
"I loved being out here. I thought about doing it [as a profession], but I wanted to be a sports writer."
So he became one, full-time, for two years.
"My second year at The News Leader, I was out here [Collegiate] doing a football preview, and they were looking for coaches," Bradshaw said. "At The News Leader, we had afternoons free."
The News Leader was an "afternoon" newspaper. Writers, editors and designers reported for work between 4 and 6:30 a.m., wrote and produced the paper, which was printed around noon and delivered to homes late in the afternoon.
Bradshaw started his part-time work at Collegiate in the fall of 1971. When the planning began for the 1972 school year, Collegiate needed a seventh-grade English teacher. Bradshaw decided to apply.
"I didn't have much in the way of credentials, and they took a chance," Bradshaw said. "I left the paper after a great deal of thought, but only with the understanding I could still freelance. I remember telling Culley, 'Don't be in a hurry to hire anybody because I'll probably be back in a couple of years.' That was 1972."
Bradshaw never came back, at least not on a full-time basis.
In a way, though, he never left.
"I've been blessed all these years to have a job I've loved and an avocation I have loved," Bradshaw said. "And they involve school and kids and coaching.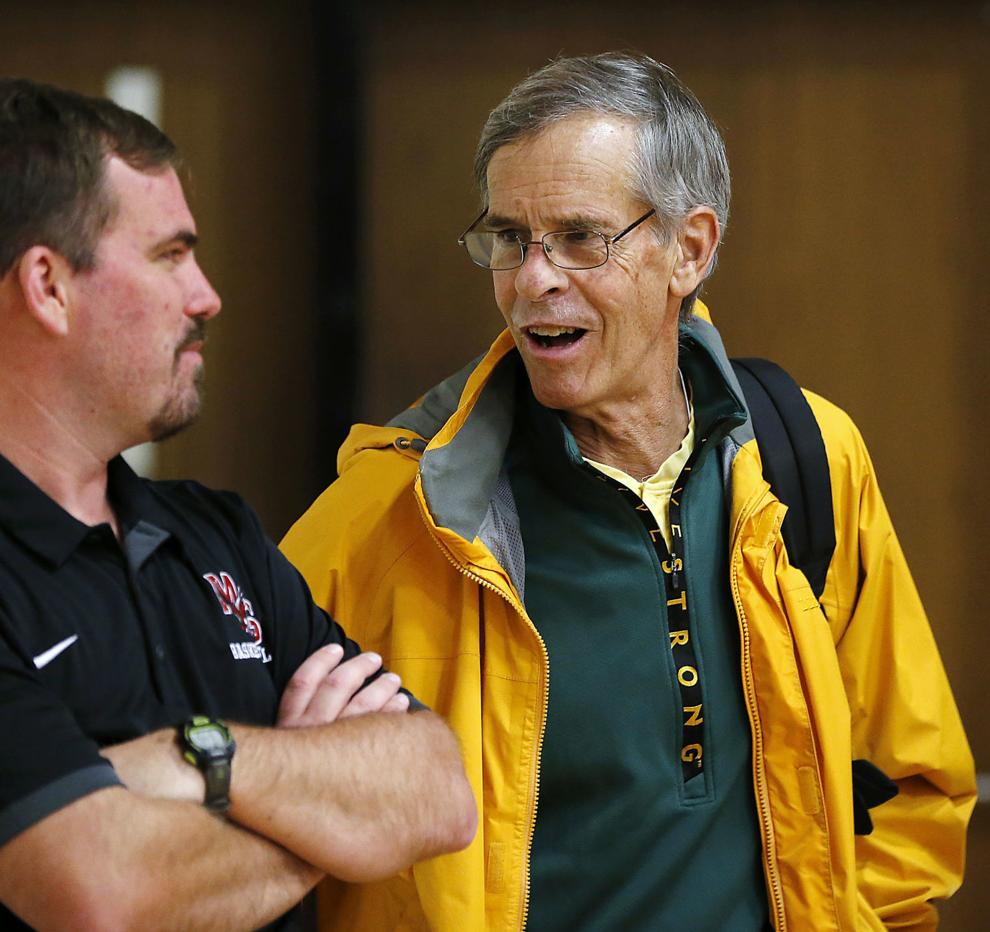 "I got hooked on teaching, working with young people. I wanted to be a coach, and I was hired by Ned Fox, who taught English. He convinced me I was a teacher-coach not a coach-teacher. I credit him with giving me the love for how to teach English, how to teach grammar, how to grade papers and how to be the most effective doing what English teachers should be doing.
"I still love coaching, but I also love seeing kids get better as writers."
---
Words by Weldon
A sampling of Bradshaw's prose throughout the years
Jan. 15, 1994
The license plate on Terry Moore's car says it all: SWISH.
That's what the 6-0 senior did with the basketball from 25 feet out as time expired last night to give Mills Godwin a breathtaking 42-39 Colonial District victory over visiting Patrick Henry.
---
Jon Scher, 56, is a graduate of Collegiate and Duke. He worked six years as a writer and editor for Baseball America. He moved to Sports Illustrated where he wrote and reported for nine years. He was at ESPN for 18 years, as an editor and writer for ESPN Magazine and the network's website. Now he works for the online publication The Athletic as the managing editor for talent development.
"I'll be using a lot of the lessons Weldon taught me," Scher said.
When Scher was in the sixth grade, he remembers a trimester course on journalism, mostly sports journalism, taught by Bradshaw.
""I remember being fascinated by his stories and the concept of getting to go out and observe something and get paid for it," Scher said. "I remember thinking about going into this business shortly after taking his class. He was great.
"There were a few times in high school when I went to games with him. Covering high school sports is hard. I remember when I started covering college games, and they handed me the statistics. And I thought, 'This is easy.'
"The thing that impressed me was how he could seamlessly keep stats, walk the sidelines and decide by the end of the game who the key players were. He didn't do just one interview. He didn't just talk to the coach. He talked to the key players and often, they were offensive linemen.
"That's the most important thing I learned. Don't leave any questions unasked. When I became an editor, and especially now that I'll be working with young reporters, I still use the Weldon's game coverage as a teaching tool for my reporters. Don't leave any questions unasked. That's what it's all about."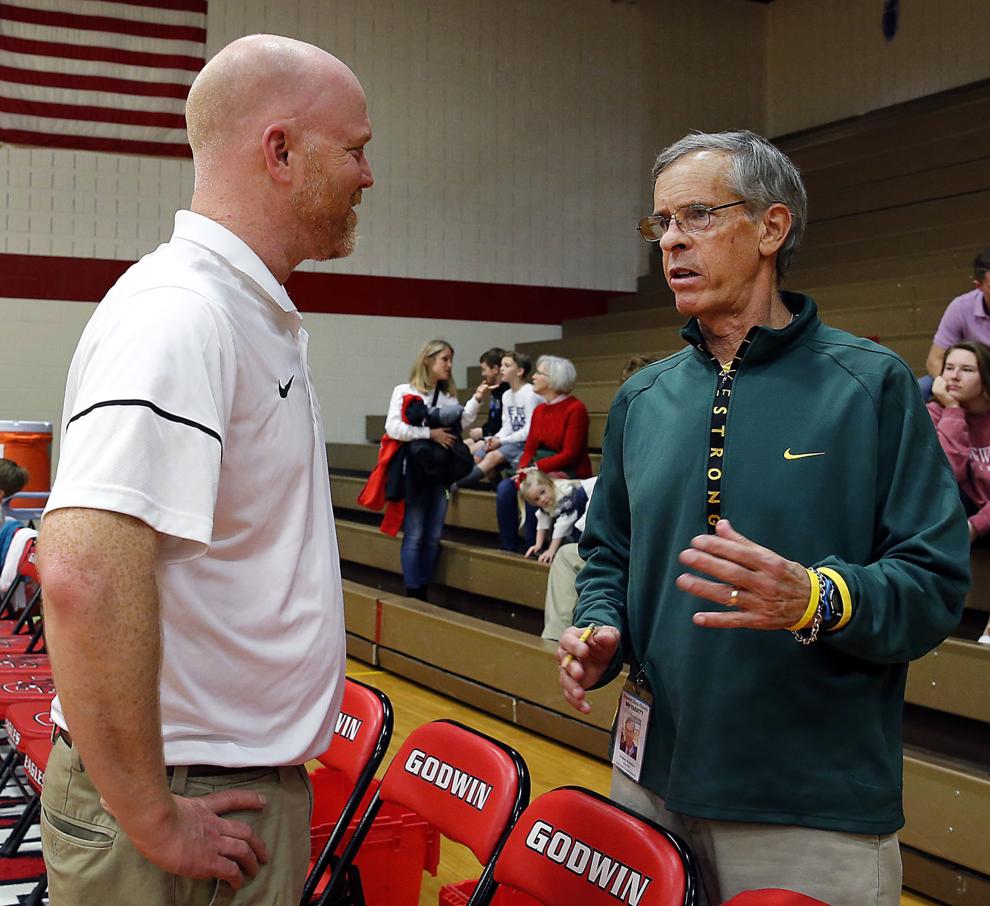 Bradshaw is not just a teacher, he's an educator. He taught seventh-grade English at Collegiate for 45 years. What Bradshaw has is an amazing capacity to find a challenge in everything he does. Teaching grammar to seventh graders for a day, much less decades would be enough to drive many to another profession.
"That's where the job was, and I got into a rhythm," Bradshaw said. "I liked that age. I liked developing writers. The challenge always was to take the ones who were really good and try to make them better.
"What I really loved was working with the ones who found writing wasn't their favorite thing and getting them to the point to where they were really looking forward to the assignments.
"I hope my enthusiasm for writing and putting a story together and painting a picture in words wore off on them. I'm guessing for some of them it did. For some, it probably didn't."
---
Words by Weldon
A sampling of Bradshaw's prose throughout the years
June 3, 1994
For a year, almost to the day, the memory of that long bus ride home has been vivid in the collective consciousness of the Clover Hill High School baseball team.
On June 3, 1993, in the semifinal game of the Central Region tournament at Colonial Heights, the Cavaliers jumped ahead of Mills Godwin 3-0 in the first inning only to drop an agonizing 4-3 decision that abruptly ended their season.
Last night, however, they erased that bitter memory, hammering Godwin 10-2 to advance to tonight's regional final. Atonement came in the form of a four-hit, 10-strikeout performance by junior right-hander Brian Keith and a
relentless offensive attack that made this year's journey home from J.R. Tucker much more pleasant.
---
Fifty years of covering high school basketball games might seem to offer a certain sameness as well. The 3-point shot changed the games. Uniform styles change. But basketball is passing, shooting and rebounding. In high school, it's a fundamental game.
Bradshaw, though, has the rare ability to cover the same game and same teams, sometimes on successive nights in a tournament, year after year after year, without becoming bored. It helps that he knows most of the coaches well. In some cases, he coached the coaches, such as Vance Harmon at Henrico who played on the Collegiate junior varsity team, coached by Bradshaw.
"It probably has to do with what you tell athletes after they commit a turnover or throw an interception," Bradshaw, the coach explains as Bradshaw the writer. "Have a short memory. I look at each game as a new adventure, a new challenge. Each event is a new day. I enjoy the creative part of it and the competition with myself. Every time out, I want to hit a home run. Sometimes, I have to settle for a single over the shortstop's head. The main thing I want to do, especially with the high school folks, is do right by them.
"I'm a high school coach too. I do the same things they do. I understand where they are and some of the things they deal with. I've felt the emotions when things go your way and the disappointment when it doesn't. I try to be tactful and sensitive to their feelings, not that you have to be a coach to be tactful and sensitive. I try to phrase the questions and write the stories in a way that honors the effort and covers the event appropriately without missing the point."
The role Bradshaw's wife Emily has played in what he's done all these years is no small point. Emily retired from Collegiate in 2013 after teaching third grade there or 30 years. Her entire teaching career spanned 36 years. And the Bradshaws, who have been married 32 years, know a bit about dealing with children. They have four adult children and five grandchildren.
"Nothing I've done, whether at Collegiate as a coach or as a sports writer, could I have done without Emily's blessing," Bradshaw said. "Never once has she said, 'Why do you have to go out and stand on the sideline in the cold and see one more high school football game? Why do you have to spend all day Saturday watching a bunch of people run around in circles or up and down hills?' She's been nothing but supportive."
Emily, who often accompanies Weldon to basketball games, was supportive during the toughest of times — when a spouse is critically ill with death a distinct possibility. She never wavered in doing anything and everything to help her husband.
"I got all the attention, but she was the superstar," Bradshaw said. "She had to watch a lot of things and deal with a lot of things that were not easy to see and not easy to deal with. I can't emphasize enough the importance of Emily's support and care."
There was a time when Bradshaw might have put too much care into his game coverage. In The News Leader days, the deadlines weren't an hour after the game. They were the next morning around 9 o'clock. Bradshaw, as many of us did, spent a lot of time wrestling to find the perfect opening and provide the smoothest of transitions from paragraph to paragraph.
Since The News Leader merged with The Times-Dispatch in June of 1992, those deadlines have gotten much more immediate.
"When I think of all the time I spent at night trying to think of some angle, if I'd had a 10:30 deadline all those years, I would have been done," Bradshaw said. "But it's all about the process, the challenge. I can't run races anymore [hip replacement]. I'm not coaching anymore. Instead, I'm competing with myself to do the best job I can and paint the picture with words.
"I know for some kid, it might be the only time he gets his name in the paper. It doesn't matter to me where I am or what I'm covering. I'm going to give it my best effort. That's just something I believe very strongly in."
Bradshaw's efforts have not and do not go unnoticed or unappreciated. He has worked for more than a dozen sports editors and high school editors year after year because he writes tight, hits deadlines, represents himself and the newspaper with dignity and class.
And he writes well. Very well.
"When I drop into Richmond a couple of times a year, I always look to see if he's covered anything," Scher said. "His stories always stand out. They don't just tell the story of a game, they tell the story of a moment. His reporting and conversations after the game enable him to tell a little story beyond the story and beyond the stats. You can look at any of them and see that."
---
Words by Weldon
A sampling of Bradshaw's prose throughout the years
Nov. 30, 1997
When the outlook appeared bleak, their winning streak seemed in jeopardy, and their dream season was about to slip away, the Powhatan Indians still found a way to win a football game yesterday afternoon.
In the semifinal round of the state Group A, Division 2 playoffs, the Indians overcame four turnovers and 80 yards in penalties to defeat New Kent 17-14 and advance to Saturday's state championship game.
---
Bradshaw finds the entire coverage process energizing. There are times when he prepares to leave for an assignment, and he's feeling worn out after giving the maximum effort at his day job. But once he's in the car, he feels better. And when he arrives at his game, he's ready to go, ready to meet another challenge.
And no matter how tight the deadline, no matter how many times the game ends and he thinks, "What is the lead to this story?" He treats everyone involved in the process with great respect.
"He thinks like a coach, and that's what's so comfortable in interviews with him," said George Lancaster, legendary basketball coach at Highland Springs High School who now is rebuilding the boys and girls programs at Bluestone High. "He always asked the right questions. He always picked the right guy to interview. As his legacy has lengthened, you knew it was a big game because he was there.
"He records and writes about the picture he's seen. And he does what all the good ones do. He brings the events to life in a way that when people read them, they feel as if they were there.
"He knows where he belongs," Lancaster said. "And he's there."
​pwoody@timesdispatch.com   (804) 649-6444