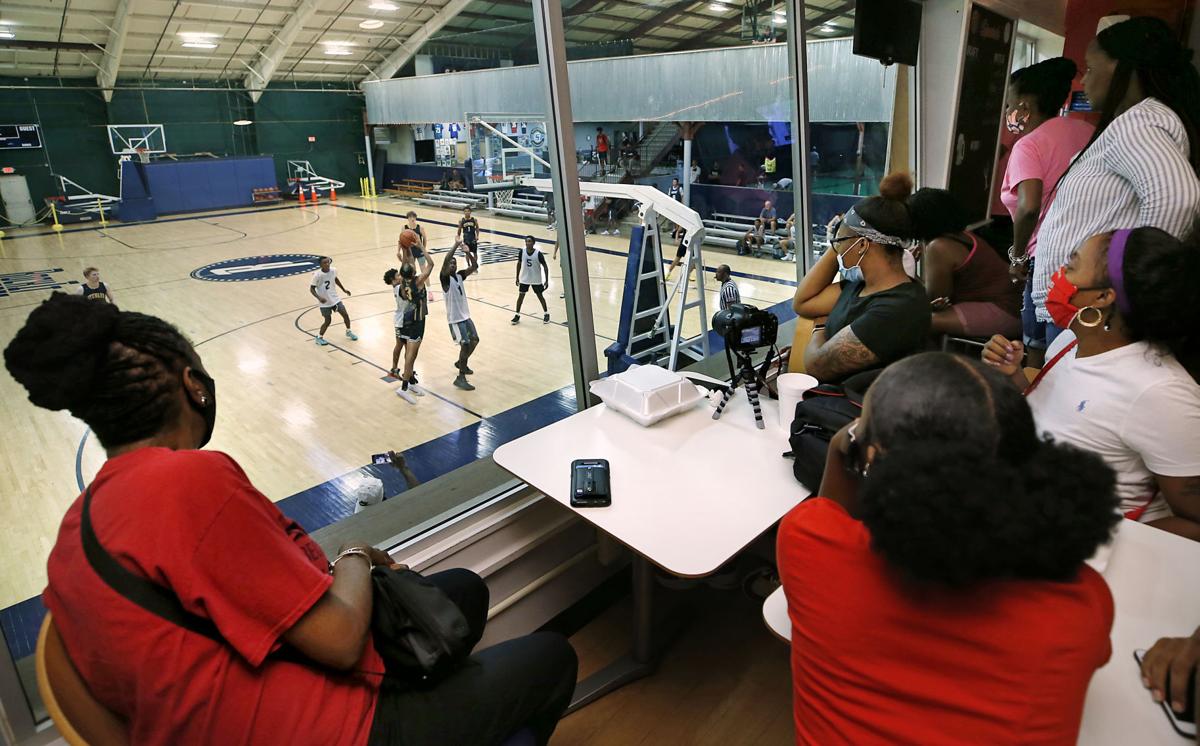 One evening last week, five boys wearing navy and gold Steward School jerseys stepped onto a basketball court and positioned themselves for tipoff. The coronavirus pandemic has put high school sports across the state on hold, but there are still ways for teenage athletes to play alongside their schoolmates.
Pay-to-play club sports persist, even as high schools put the brakes on athletic competition. Some club leagues even offer teens the chance to play on unofficial high school teams.
RockIt Sports in western Henrico is hosting an eight-team summer basketball league in which players who paid $100 and signed a waiver were grouped with their classmates from the same school. The teams are coached by volunteers and are named for the schools' mascots, such as Spartans, Eagles and Jaguars. Richmond Summer League Lacrosse, which has 310 boys playing in its high school league, has a similar setup. So does a separate girls league.
Nearly every youth sport is forging ahead. AAU basketball and travel baseball have returned. Swim meets have resumed. A plan was hatched to play 7-on-7 football on Fridays this fall.
RockIt tournament director Lisa Woodson acknowledges a risk to playing sports now. But a summer league was something families wanted, she said.
"There is absolutely a risk," she said. "We're aware of that. We're not trying to minimize that. We're trying to do as many procedures and protocols as possible to provide the safest environment possible for these kids to play the game of basketball."
Precautions are taken. Players' temperatures are recorded, balls and benches are wiped down, and spectators aren't allowed in the gymnasium.
Games are broadcast online so parents can watch from home or the parking lot.
But when the game begins, the boys play with their usual intensity and act as if there's no risk of transmitting the virus. They bump into one another, and when they play defense, they don't allow for much space between their bodies.
"The kids don't think about it when they're on the court," said Jill Correll, a mother who watched her son play from RockIt's upstairs café.
Whether organized basketball is allowed under Gov. Ralph Northam's Phase 3 restrictions is unclear. The rules state that participants in any sport should maintain 10 feet of physical distance where practicable. If close contact is minor and limited in duration, the state's office of Environmental Health Services said, then the sport may take place. What constitutes minor and limited, it seems, is up for debate.
The Virginia Department of Health will work to educate citizens about its guidelines before taking any enforcement action, the department's spokeswoman said. Pervasive or severe violations can be punished as a misdemeanor.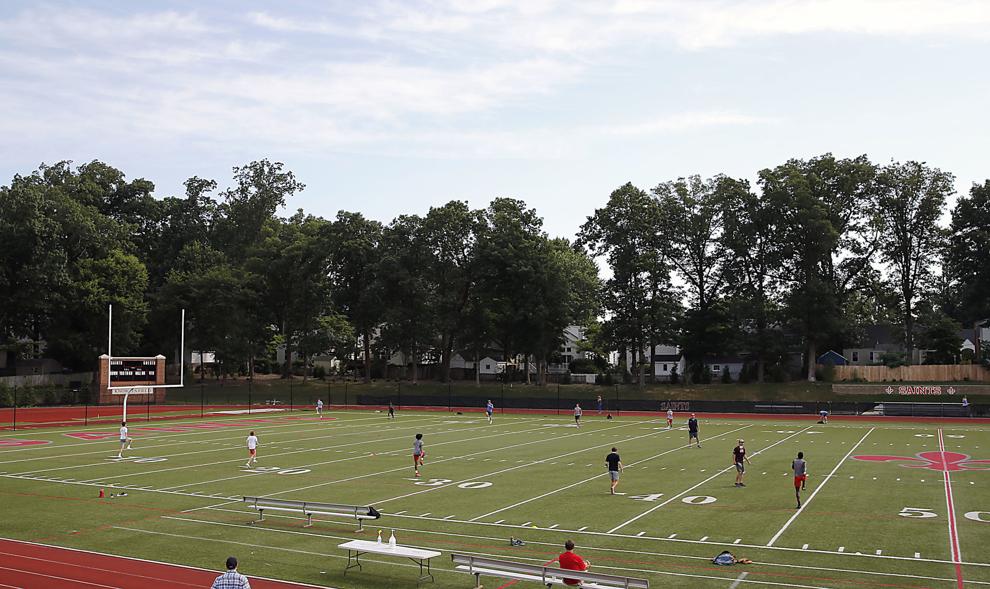 While nearly every sport is being played at the club level, the Virginia High School League has been far less cavalier in allowing school-sponsored sports to continue. It lists basketball as a "high-contact risk" sport, a designation applied by the NCAA and handed down to the high school league. If the basketball season were to start in the fall, the VHSL likely wouldn't allow the sport to begin.
Lacrosse is considered a high-risk sport, too. But Henrico County gave Richmond Summer League Lacrosse its stamp of approval after the league presented its plan for combating the coronavirus.
Eric Moore, a league organizer, said he sat through a one-hour Zoom meeting to learn the county's regulations. One team must leave the field before another comes on, and there's no postgame huddle or handshake. Since June 29, when the league started, no player has tested positive, another organizer said. The league does not coordinate its own tests.
Seven schools are represented in RockIt's basketball league, but Deep Run isn't one of them. Coach Justin Hayes never encouraged his players to join. As a teacher and coach, Hayes said it's his duty to look out for his players' health and well-being.
"A kid will not get sick with COVID under my care as of right now," Hayes said.
Hayes is currently forbidden from meeting with his team for any kind of organized activity. But what his team does on its own is up to the kids and their parents. A father of a RockIt player who identified himself only as Brian said he and his son took a week to decide before joining the league. Another player who asked not to be identified said it was an easy decision to sign up. Playing basketball now, he said, feels normal.
There are many reasons why club leagues have chosen to take a risk that high schools have not. For one, the level of responsibility shouldered by organizers is different. In school sports, coaches and administrators are liable for their kids, said P.J. Adams, the football coach at Thomas Jefferson.
For another, a damaged parent might be more likely to sue a government entity than a private-sector business, one athletics director said.
Plus, the business models are different. While club sports require entrants to pay their way in, high school sports are funded in part by high school football games and the attendees who buy tickets. Playing high school football or basketball without allowing the bleachers to fill would present a large financial hurdle.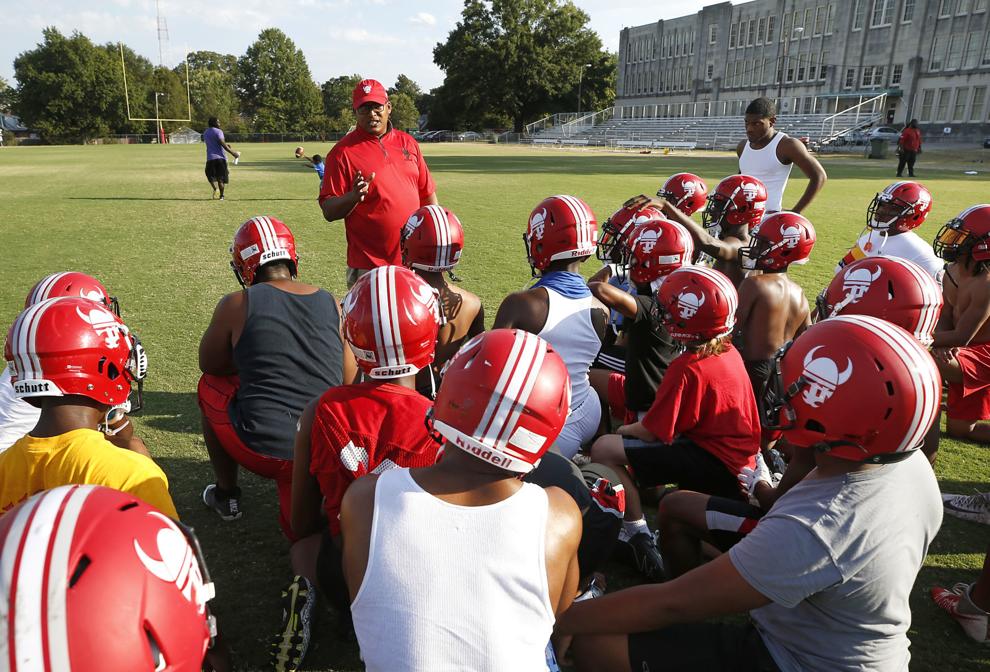 High school coaches and administrators fear that club sports' ability to play during the pandemic will be yet another win in the ongoing battle for the participation of young athletes. High school sports are threatened by club sports, and there might come a day when many athletes choose to play for their AAU basketball team or their travel baseball team and eschew their school teams.
That's already happened in tennis and boys soccer. Many high-level tennis athletes choose to play tournaments only, and members of the U.S. Soccer Developmental Academy are barred from playing for their school teams.
Already, club sports have become the realm in which most players are recruited to college. College coaches are more apt to watch a high-level club tournament with dozens if not hundreds of athletes than attend a single high school sporting event.
The problem with club sports, these coaches and administrators say, is that they favor the wealthy. Because high school sports largely charge no sign-up fees, they are inclusive to kids of all economic backgrounds. Meanwhile, high-level travel leagues can cost a family thousands of dollars a year.
Football is the only sport where playing in high school is essential to getting recruited. But club sports are making inroads in football, too, especially with 7-on-7. Former Virginia Tech assistant Zohn Burden, who started a recruiting advisory business called G.A.M.E. Academy, announced plans to host 7-on-7 football games in Virginia Beach on Friday nights this fall.
High school sports still have a lot going for them, said Correll, whose son plays basketball for his school team and RockIt. High school games feature friends and girls and pep rallies. But Correll can envision a day when her son quits his high school team and plays club sports exclusively.
"It might happen," she said.