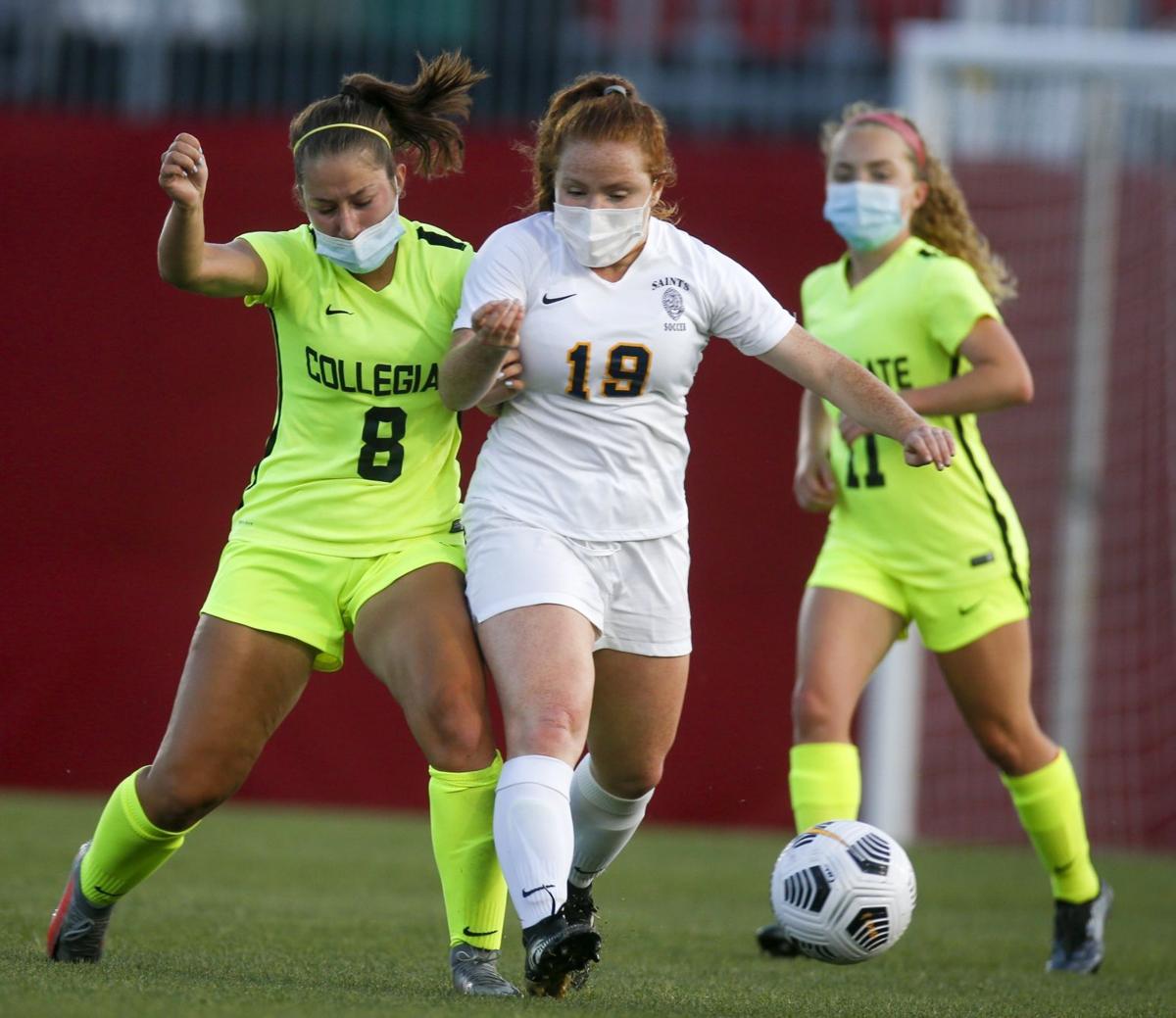 St. Catherine's soccer (11-0) has allowed just one goal all season ahead of the Saints' LIS final matchup with Collegiate (12-2) on Thursday.
The one score came in a 2-1 win over the Cougars on May 3. St. Catherine's also beat Collegiate 1-0 April 9, so the Cougars will be hoping the third time's the charm on Thursday.
Saints coach Laurie Marshalek said her team's defensive prowess is a credit to the work ethic and growth of all 18 players on the roster. But in particular, her group of seniors and captains — Sophia Connell, Emma Galbraith, Emma Mitchell and Sophia Palumbo — have used the loss of last spring season as a motivator to "leave no rock unturned" in their final season at St. Catherine's.
"They have helped to keep the team motivated, inspired and determined," Marshalek said. "They have set an example of passion, even in the times of challenge."
Junior keeper Talley Applewhite, a Naval Academy recruit, has scored more goals than she's conceded this season. Applewhite has netted two herself while playing in the field, an impressive statistic the coaches joked about with their keeper during practice this week.
Marshalek said Applewhite been a catalyst in the 10 clean sheets, as has Palumbo, a center back and 2019 first team All-State selection. Senior forward Sophia Connell and junior Sydney Simpson feature in the attack, and senior midfielders Emma Mitchell and Emma Galbraith partner to anchor the midfield. Though the Saints defense has been dominant, they've also scored 40 goals (3.64 per game).
Marshalek said, though her team takes a measure of pride in the 10 clean sheets, their ultimate goals for the season — success in the LIS and state tournaments — still lie ahead of them.
"Ultimately, you get those wins from not getting score on, right?" Marshalek said with a laugh.
Many of the St. Catherine's and Collegiate players play together and are friends beyond a school setting. Marshalek said the Cougars have some of the best attacking players in the state, so her defense will need to "continue to play fearlessly" if they're to remain unbeaten. She also expects Collegiate, facing a third defeat to their cross-town rivals, to "come out guns blazing."
"A lot of what we've seen this season is the willingness to work for each other," Marshalek said. "Whether that be offensively or defensively. Tomorrow, from the first minute, we need to start right off the bat and never let off the gas. This group of girls has played with heart and determination all season long, that's going to be just as important tomorrow as it has been in any other game."
(804) 649-6555
Twitter: @ZachJoachim