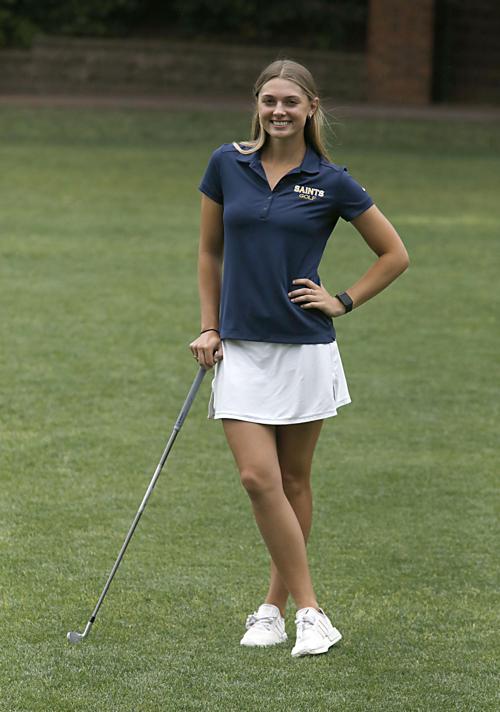 Tatum Walsh's first memories of picking up a golf club begin with clinics at The First Tee of Greater Richmond and competing with a team in the PGA Junior League.
Her recollection is she was 7 or 8 years old.
"First Tee on the range with my tiny clubs, and my dad standing next to me. That was really cool," Walsh said.
Her interest sparked by the drive to get better every day and the enjoyment of playing with her father and his friends and her friends, she set aside all the other sports in which she participated – basketball, swimming, tennis, soccer, gymnastics -- and focused on golf in the eighth grade.
"I focused on golf because I realized I just wanted to spend all my time practicing and putting my effort in that," she said.
The practice and the effort were the foundation for a sparkling career on the St. Catherine's golf team and has led to Walsh, 18, being named the 2020-21 Times-Dispatch All-Metro golfer of the year.
She is the third female to earn the title. Jackie Beers of Monacan was the first in 2000 and 2001. Lyberty Anderson of Meadowbrook was honored in 2012.
"She is the real deal. She practices and works hard. She puts in the time," said Janet Phillips, Walsh's St. Catherine's coach.
Said Salisbury Country Club director of golf Mike Hott, Walsh's swing coach: "She has a lot of God-given talent. She's fast, naturally strong, works all the right ways. She will work on her body, her strength, her balance. We made some swing changes a couple of years ago. She just absorbed it, worked at it, got through it. The ultimate student."
Walsh won a tournament on the Peggy Kirk Bell Golf Tour, a girls-only national tour based in North Carolina, when she was an eighth-grader. She was runner-up in the Richmond Women's Golf Association Amateur as a 14-year-old to 15-year-old friend Caroline Curtis.
Walsh, 17 at the time, claimed her most significant victory last summer in the Virginia State Golf Association Women's Amateur at Roanoke Country Club. She was the No. 2 seed based on qualifying scores, won three matches to advance to the final and defeated No. 1 seed Julie Shin 5 and 3.
"That was really fun. I love that course. I'm honored to have my name on that trophy," said the personable Walsh, whose victory came a year after former St. Catherine's teammate Rory Weinfurther won the tournament in 2019.
"She's been one of my best friends in golf since forever," Walsh said. "She texted me after my win last year, and I was like, 'I've got your trophy protected; I've got it covered.'"
Hott says Walsh is "starting to realize what she is going to become. There is a lot of work still to be done. The mental part. I have to remind her a lot about how good she really is."
After a summer of playing tournaments, including trying to defend the VSGA Women's Amateur title, and getting ready for college, Walsh will join the James Madison golf team in the fall.
The eight-birdie, two-bogey 66 that netted Walsh co-medalist and co-player of the year in the VISAA Division I tournament "was a great way to close out my high school career," she said.
Meet player of the year Tatum Walsh
The skinny: Walsh is the third female to be named All-Metro player of the year following Jackie Beers of Monacan (2000-2001) and Lyberty Anderson (2012). Walsh concluded her high school career as co-champion and co-player of the year in the VISAA Division I tournament. Her 6-under 66 included birdies on the first four holes and eight overall. She set a school record with 58 career birdies and one eagle. Walsh holds the school record for lowest 9-hole score (5-under 31).
Meet the rest of the first team
The skinny: Dingledine moves up from second-team All-Metro in 2019 to first team. He compiled a 35.86 stroke average, was match medalist nine times and finished the season with 502 strokes for a 502 par. Dingledine shot back-to-back 3-under 69s to win the Region South tournament and the Region 4B title (third consecutive for the Chiefs). Named to all-state team. Times-Dispatch/Sports Backers Scholar-Athlete of the Year finalist.
The skinny: Kennedy capped his high school career by becoming the second Eagles golfer to be named first-team All-Metro four times. Mark Lawrence Jr. was the first. Kennedy, who was player of the year in 2018, was the Region 5B champion (68-70 -- 138) for the third year in a row. He posted 4-under 68 and tied for second in the Class 5 tournament. His 9-hole stroke average was 34.8 in six matches. His brother, Andrew, was first-team All-Metro in 2016.
The skinny: Steady four-year starter and senior co-captain was named team MVP after he helped the Cougars win the Prep League and VISAA titles in the same season for the first time. Montague shot par (72) in the Prep League tournament, and his 1-over 73 counted in Collegiate's record-setting team total of 4-under 284 in the state event. His brother, Jack, was first-team All-Metro in 2017.
The skinny: This is the second time Sveum has earned first-team All-Metro honors. The first came as a sophomore. He was second-team All-Metro in his junior season. Sveum's 9-hole stroke average was 37.2. He earned all-region and all-state honors. A third-place finish in the Region 5B tournament (75-71 -- 146) led the Wildcats to another region title. He finished fifth (2-under 70) in the Class 5 tournament, and Deep Run was the runner-up team.
The skinny: Wilkinson shot a 1-under-par 71 at Glenrochie CC in Abingdon to win the VHSL Class 4 state title. He is the first four-time state golf qualifier in school history. The runner-up in the Region 4B tournament (71) this year was second-team All-Metro, region champion and region player of the year in 2019. Times-Dispatch/Sports Backers Scholar-Athlete of the Year nominee. His brother, Ward, was the All-Metro player of the year in 2016.
Jack Barnes, Collegiate; Esther Choi, Midlothian; Brint Harbison, Deep Run; Garrett Kuhla, Trinity Episcopal; Justin LaRue, Matoaca; Jared Miller, Atlee; Nick Owen, James River; Cole Pollard, Trinity Episcopal; J.J. Powell, St. Christopher's; Steele Vantre, Glen Allen; Zack Wilson, James River
Note: With the variance in schedules and some schools not participating in some seasons due to the pandemic, for all sports this year The Times-Dispatch is selecting one All-Metro team with honorable mentions.
Past All-Metro golfers of the year
2019: Charlie Hanson, Deep Run
2018: Charlie Kennedy, Mills Godwin
2017: Cameron Moore, Glen Allen
2016: Ward Wilkinson, Hanover
2015: Adam Hade, Deep Run
2014: Mark Lawrence Jr., Mills Godwin
2013: Mark Lawrence Jr., Mills Godwin
2012: Lyberty Anderson, Manchester
2011: Mark Lawrence Jr., Mills Godwin
2010: Chris O'Neill, Deep Run
2009: Chris O'Neill, Deep Run
2008: Nick Austin, James River
2007: Nick Austin, James River
2006: Nick Austin, James River
2005: Hunter Townsend, Deep Run
2004: Thanompol Soongnarata, L.C. Bird
2003: Will Oldham, Douglas Freeman
2002: Daryl Chappell, Dinwiddie
2001: Jackie Beers, Monacan
2000: Jackie Beers, Monacan