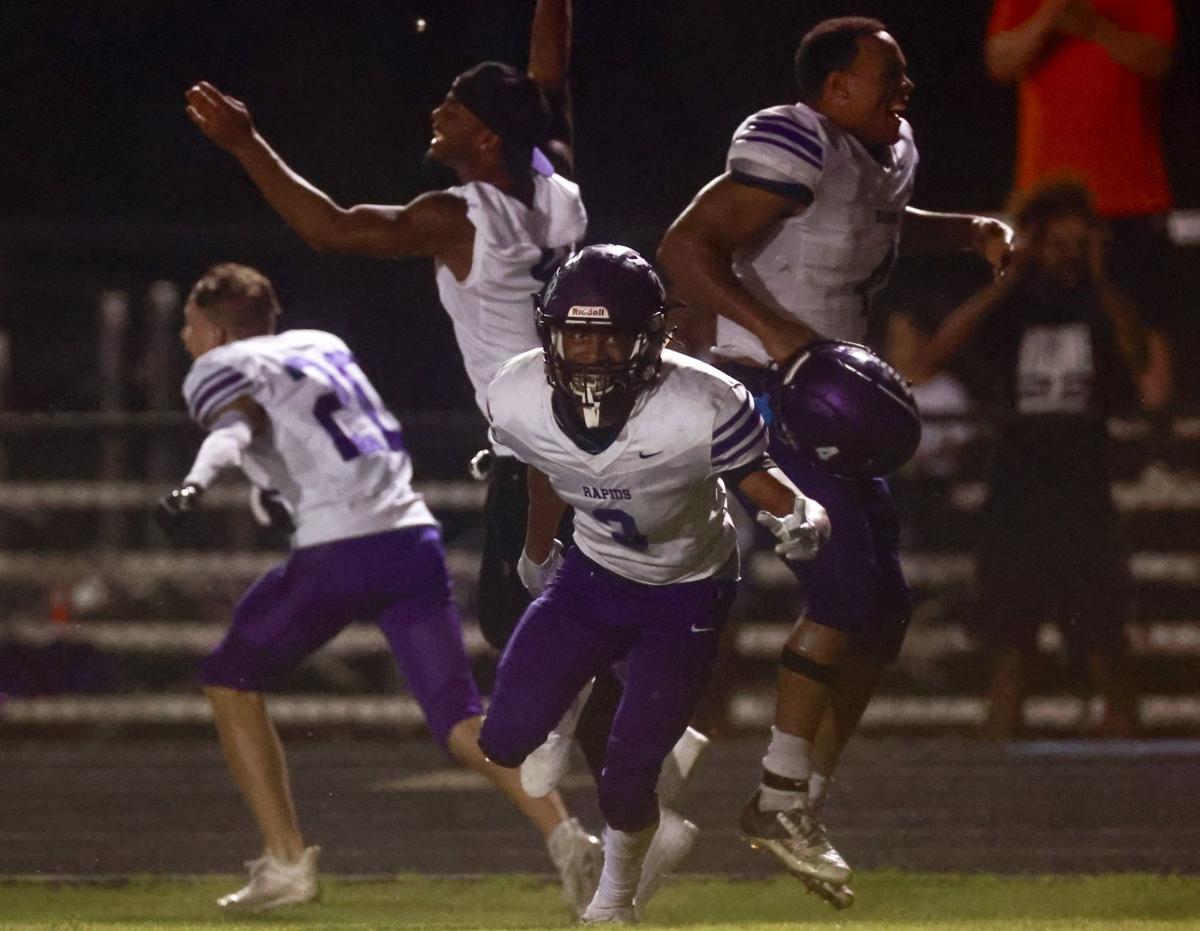 By the numbers: James River wide receiver Chris Seward began the area football season with a bang when he caught a game-winning touchdown pass to defeat L.C. Bird in August. He's kept up his stellar play since, particularly in a 30-9 victory over Powhatan on Friday. Seward, a senior, tallied 11 catches for 105 yards and a touchdown in the win over the Indians, along with a touchdown that was called back because of a penalty. James River plays Monacan this Friday.
On the game plan against Powhatan: "We saw an opportunity for us to pass in the middle of the field. They had their safeties off, they didn't really cover the slot too much. So that was something [coach Jacob Hodges] had come to me with earlier that week in practice. I had made it a point in my mind to do everything I could to take advantage of that and capitalize on that."
Seward said he had opportunities against George Wythe the week before that he felt he left on the field, so he was committed to making those plays happen this time.
On his touchdown catch: His 21-yard score in the first quarter came on a hitch-and-go route that he had run a couple of times in the season.
"It wasn't actually designed for me, it was designed for another receiver on the team. It was just a feel that we had before the play. I just looked over at Hodges, he looked at me, and he knew what we were going to do there."
Hodges, James River's first-year coach, said the defender tried to play Seward tighter after allowing some shorter catches earlier, allowing the receiver to beat his man to the end zone.
On his 11 catches: "It was really cool, actually. Obviously, I love getting the ball. But I feel like it's just working in practice and making sure you're prepared for the game. I feel the way I ran my routes got me open a lot and gave my quarterback clear looks."
He credited the other receivers on the team for their execution that allowed him to run free.
"Even the other receivers running their routes as well as they could have to get me open in certain spots, that was a reason why I had as many receptions as I did."
On his defining skill: "I would say speed, for sure. I worked a lot for four years, that's one thing I really wanted to do, was get as fast as possible. I feel like every Friday I am the fastest person on the field, and I feel like that's how it should be."
Hodges said the coaches plan many different ways to get Seward in space, so he can use his "explosive" speed and route-running ability. He also said that balance in the offense between the running game and receivers helps Seward prosper, and vice versa. Seward agreed.
"I think that puts me in the best situation to have success because even if I'm not getting the ball, I can still be that threat over the top with how fast I am to get everyone else open."
On his exciting season: "It's really special. I've been here four years, and we haven't had a whole lot of success, and I've always felt like I should be doing the things that I'm doing this year. I should be making these plays. So I hold myself to a high standard. It's a really special feeling to be able to do that and then be able to directly contribute to our success and be a part of a program that's having as much success as we are now that hadn't seen that in a long time."
Game day superstitions: Before every game, Seward runs to the far goal post, kneels and says a prayer. He prays for both teams' health as well as success for himself and his team.
On his game's model: He studies how to run routes from NFL players such as Devante Adams, Stefon Diggs and Jarvis Landry. "They're not necessarily the fastest guys or shiftiest guys, but everything they do is so precise. It's meticulous, in a way. They're able to manipulate defensive backs in a way nobody else is able to do." He also looks at deep threats such as Deandre Hopkins and Mike Evans to develop that part of his game.
Hodges, a former UVA player, compared him to another Cavalier, Darius Jennings, who was productive as a receiver and returner, despite being a bit smaller. Seward lists himself at 5-foot-10, 160 pounds. Jennings, most recently a member of the Lions' practice squad, is listed at 5-10, 180.
Favorite food: "Pancakes. I love pancakes." He said IHOP is No. 1. "Obviously." But he also grew up loving his grandmother's homemade pancakes.
On his playlist: Lately, he's been most interested in music that calms him and helps him focus. Jacquees, Summer Walker and SZA are among his favorites at the moment.
Readers vote for the player of the week on 804Varsity.com. Here are this week's results:
Chris Seward, James River, 471
Quanye Veney, Highland Springs, 297
Za'Quan Wallace, Thomas Dale, 229
Beau Sahnow, Hanover, 213
Brenton Hilton, Dinwiddie, 140