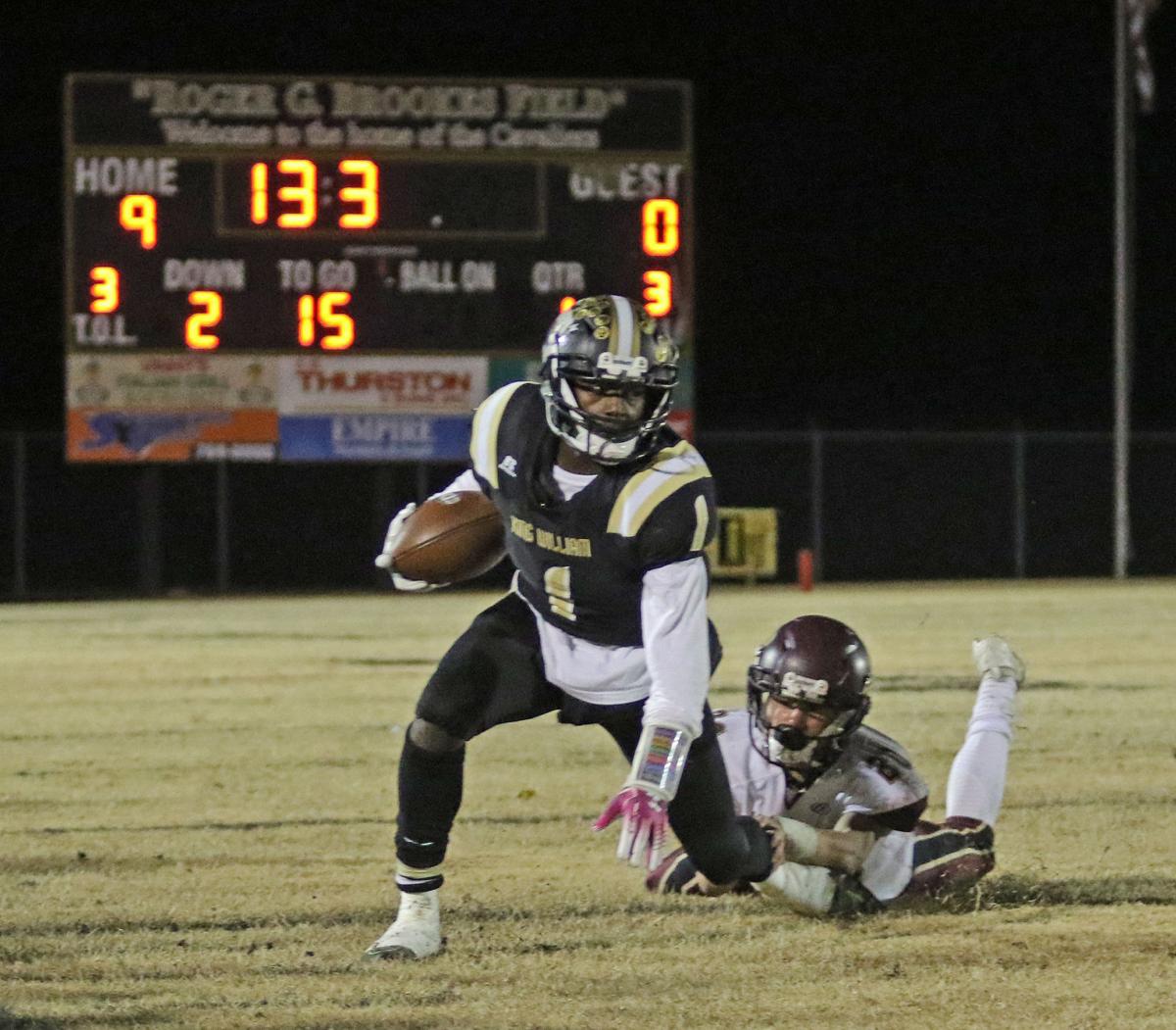 By the numbers: King William was locked into a barnburner with Lafayette last Friday, and senior running back Demond Claiborne delivered a rushing master class. The Wake Forest pledge carried the ball 31 times for 258 yards and four touchdowns, blistering the Rams in a 62-41 victory at home. He also added a 48-yard touchdown reception. The Cavaliers (5-1) have racked up at least 58 points in four games.
Game plan vs. Lafayette: "Going into that game, nerves were high, of course. That was a big game. But I felt like we were well prepared at practice. It started at practice and came in with a great game plan from the coaches. We went into the game and started driving the field, and as soon as we figured out that the run game could work, we stuck with it the entire game. We just kept with it, and everything was opening up."
On his first touchdown: It was a 15-yard power rush on fourth-and-1. Claiborne called it a "risky call" because of how early in the game it was, but he broke a pair of tackles and found the end zone. He thought it set the tone for the rest of the game.
"After I scored that first one and the crowd was in it, I was like, 'We're gonna win. It's game time.' From there, that momentum. The crowd got into the game, and we took advantage of it."
On QB Jayveon Robinson: Claiborne and Robinson are a devastating duo for opposing defenses to deal with. Robinson scored seven times in a September victory over Washington & Lee, which earned him 804 Varsity player-of-the-week honors at the time. Claiborne was out because of COVID tracing in that game, but he was rooting for Robinson's success.
"Me and him train together. We're together the most. He's one of my best friends. We do everything together. … He texted me and was like, 'I have to step up for you.' I was like, 'That's love, baby, go out and get the win.' So he produced that game. So when we get on the field together, he has my back, I've got his back, and I feel like we're the best duo in the state, honestly."
"These are the things me and him have prayed for when we've worked out. We've always set our goals to get recognized by the state. It's amazing for both of us. We both still talk about it to this day, on how far we've both come."
On King William's season: "Last year, our season got cut short. So we used that as a chip on our shoulder to show the state and Region 2A that we're coming and we're not playing. Right now we're ranked third in the region, so hopefully we can get up to that No. 1 spot. But if not, we're going to produce from wherever we're at in the region."
"Our coaches will bring [last year's season] up in practice, like, 'Y'all remember that feeling.' That's our driving force."
On his best game ever: "I think that was one of my best games. That's the most I've ever touched the ball in my high school career. So that was a big accomplishment. And it's not just me, but my teammates, the way we played as one, it was definitely the best game we all played as a team and I played as an individual."
Favorite food: "I love pizza." He says he's a "cheap guy," so he will always opt for a $5 large cheese pizza from Little Caesars.
"My coach told me I need to stop eating that though. He likes to eat bougie," he said with a laugh.
Favorite music: Rod Wave, a 22-year-old rapper and singer from Florida, is his go-to artist at the moment. He also likes Lil Baby and he'll turn to some more old school tunes when the mood is right.
On Wake Forest's season: Claiborne committed to Wake in July. He chose the Demon Deacons over UVA, Virginia Tech, Vanderbilt and West Virginia. Since his commitment, they haven't lost a game. They're 6-0 overall, 4-0 in the ACC, and ranked 16th in the nation.
"Wake Forest is cooking up something special. ... So I pray and hope they can continue to stay undefeated and climb up in the ranks. I feel like if I continue to have this dynamic year, I can go there, earn that spot and put 804 at the top. Continue to let everyone know the best athletes come out of the 804."
Gameday superstition: He walks the field barefoot before every game. "One day it just happened, I want to say sophomore year. Sophomore year is when I started to crank up on the football field. I'm just like I can't stop doing it now, it's been a habit." If it's too cold outside, he'll throw on some slides or his "camo Crocs."
Readers vote for the player of the week on 804Varsity.com. Here are this week's results:
Demond Claiborne, King William, 946
Ethan Minter, Thomas Dale, 908
Trent Hendrick, St. Christopher's, 499
Cooper Meads, Midlothian, 479
Daniel Faniel, Benedictine, 341
Jaylen Burton, Hermitage, 207