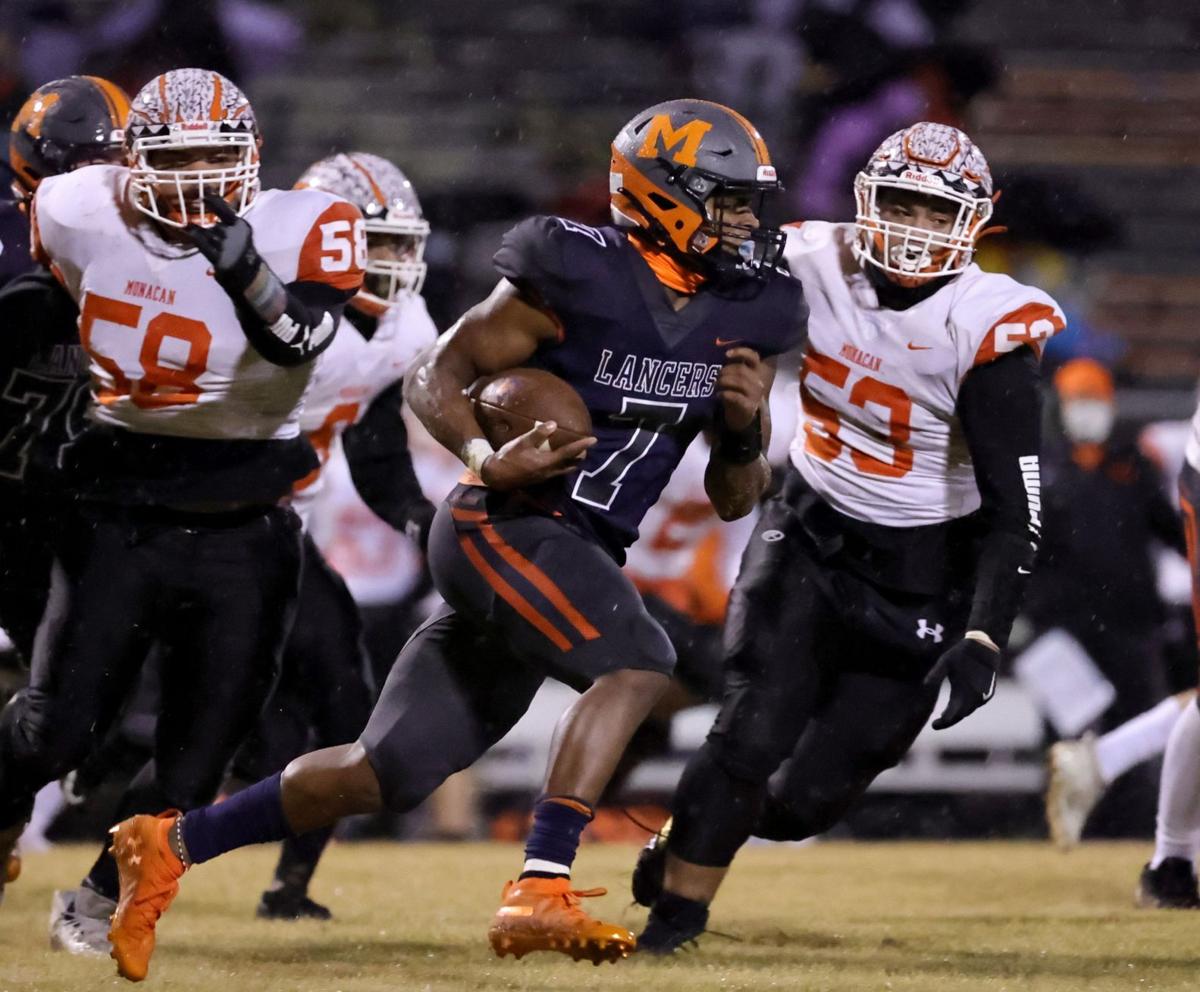 Virginia Tech landed All-Metro running back Ramon Brown from Manchester High on Friday, giving the Hokies one of the top-rated running back recruits in the country and two of the area's top recruits in the past week.
Brown, a 5-foot-11, 200-pound rising senior who announced his commitment on CBSSports.com, is the No. 19 running back in the Class of 2022 in the composite rankings of recruiting service 247Sports. He's considered the No. 8 prospect in the state and a four-star recruit.
"Biggest recruiting pickup in years for [Tech coach] Justin Fuente and his staff from a rankings standpoint," said Steve Wiltfong, director of recruiting for 247Sports. "They add a big, fast, physical, dynamic running back to the fold in Ramon Brown, a guy I think can be a game-changer for them."
Brown had narrowed his choices to Tech, Maryland, Penn State, West Virginia and South Carolina. He said it came down to Tech and Maryland, and he solidified his choice Friday morning after talking with his parents.
He liked Tech, he said, for several reasons: "How I fit outside of football. The environment. I'm a real laid-back guy. I feel like I can fit in perfectly with their scheme. I have a great connection with the coaches, players, and there's nothing like playing in your own backyard in the state of Virginia."
Manchester coach Tom Hall believes Brown can help as a freshman.
"He's a big kid … [who] runs a 4.4," Hall said. "When he lowers his shoulders, he can run with power. When he gets into the open he can break away from you. He's really worked on his blocking and his pass protecting this past year. He is the complete back."
After transferring to Manchester from L.C. Bird, Brown averaged 138.7 yards rushing (971 in seven games) and scored 15 touchdowns this past season.
"Very self-driven," Hall said of Brown. "He works, he's a polite kid, he leads by example and has a great family. High character."
After several years of seeing many of the state's — and the area's — top-rated recruits going out of state, Brown's decision signals Tech is making some inroads.
He joins Highland Springs defensive lineman Rashaud Pernell, who announced his commitment to Tech this past weekend.
Brown said Pernell is "real close" to his family. They played together several years ago on a youth league team.
Pernell, a 6-foot-4, 265-pounder ranked among the state's top 20 prospects by several recruiting sites, said he was hoping Brown and some other top state recruits would go with him to Tech, which has struggled to regain prominence in recent seasons. Pernell's Twitter account includes the hashtag #VA2VT.
"As we got older and went to separate high schools, did our thing, that's when he came by the house a couple of times, played basketball," Brown said. "He was telling me he was really feeling Tech, and I was telling him I was, too. I was telling him I wasn't really sure about my decision yet. And then, here I am."
Hall and Highland Springs coach Loren Johnson — both of whom played at Tech and have talent-rich high school programs — said the Hokies are making a bigger push in the area.
Fuente brought in J.C. Price, a former Tech standout, as the co-defensive line coach and defensive recruiting coordinator in February. He has plenty of ties to the area and state from coaching at Marshall and James Madison. Also from JMU came Ryan Smith, who joined the staff as the cornerbacks coach and defensive passing game coordinator in 2020.
"I think Tech has done a better job in the state this last year," Hall said.
Tech's overall 2022 class now is rated in the top 20 nationally by 247Sports. Brown is the highest rated of the Hokies' recruits.
Hall said he tells his players he's proud when they announce their commitment, but then it's time to get back to work and "focus on our now team. Your future team will present itself soon enough."
"Once the world tour [of colleges], the Summer of Ramon, is over, he'll get rehumbled next week when we start back to workouts," Hall said with a chuckle. "And he knows that."
(804) 649-6965
Twitter: @timpearrelltd