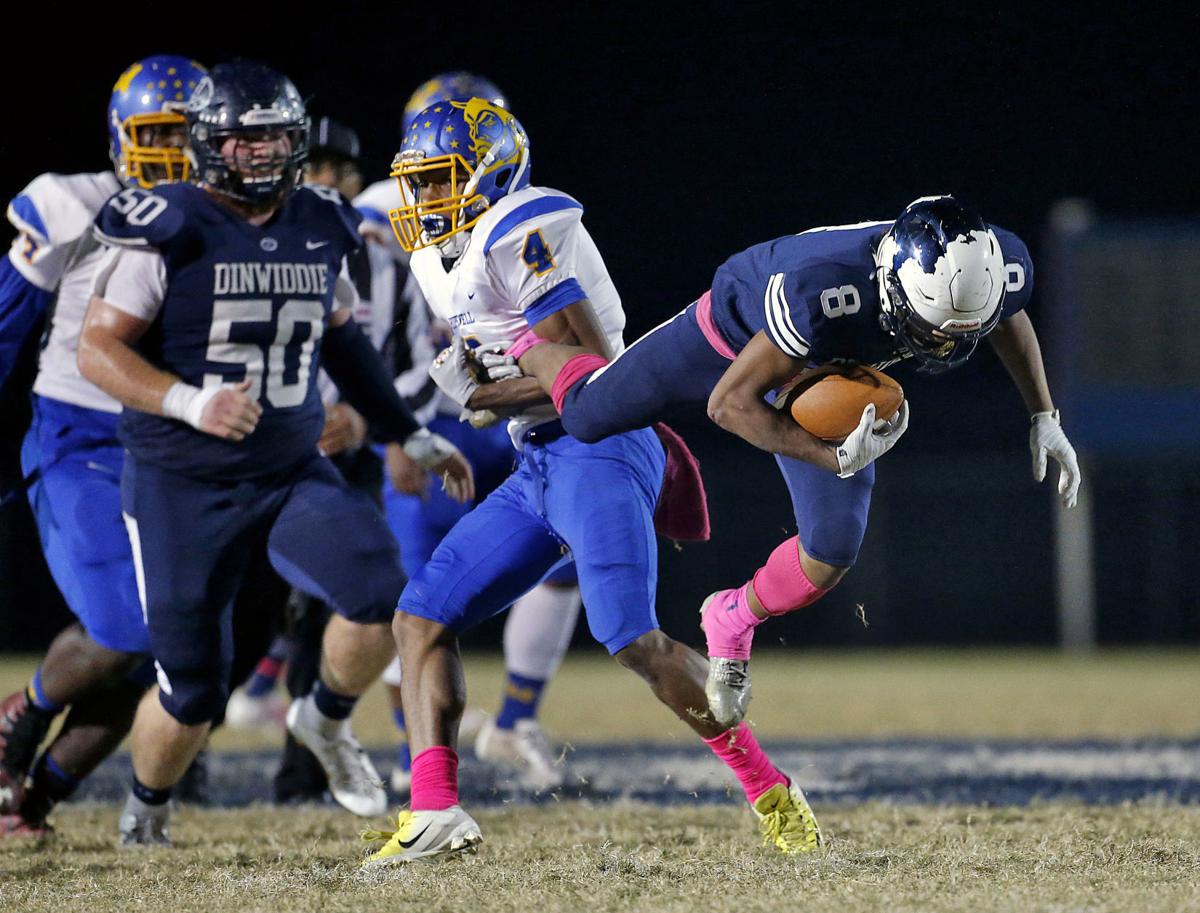 DINWIDDIE — Speed runs in Trey Henderson's family. His aunts and uncles were track stars at Hopewell High School, and his half-brother, Ronnie Walker, is a running back at the University of Indiana.
"It's in my genes," he said.
So when Henderson dodged a tackler and found open grass ahead of him Thursday night, there was little hope he'd be caught. The sophomore scored the only touchdown of the game, a 79-yard run with 4:06 remaining in the fourth quarter, and No. 8 Hopewell upset No. 3 Dinwiddie 7-0.
It was a monumental victory for the Blue Devils (7-1). It was their first win over Dinwiddie (8-1) since 2012, and it was Dinwiddie's first regular-season loss since 2015.
"They've been the standard in our district for a long time," Hopewell coach Ricky Irby said.
And Hopewell did it despite not having its starting quarterback, Daniel Grier, who missed the game with a shoulder injury. He could return next week, Irby said.
But the extent of his injury wasn't determined until Wednesday, meaning Hopewell had to install a new quarterback on the fly. That job went to senior wide receiver Damonye Taylor, who hadn't played QB since he was a freshman on the junior varsity. It took him a few plays to feel comfortable leading an offense again.
"After the first drive, it came back to me," he said.
He rushed 19 times for 95 yards, but Hopewell's offense plodded most of the game. In the fourth quarter, Henderson was inserted at quarterback. On the first play of the drive, he took the snap, went left, juked away from a defender and turned on the jets.
He raced down the left sideline and into the end zone. But a flag had been thrown at the line of scrimmage — his heart sank.
"I was pretty nervous when I saw that flag," he said.
But the penalty was called on Dinwiddie, not Hopewell. The touchdown stood, and the Hopewell players were jubilant.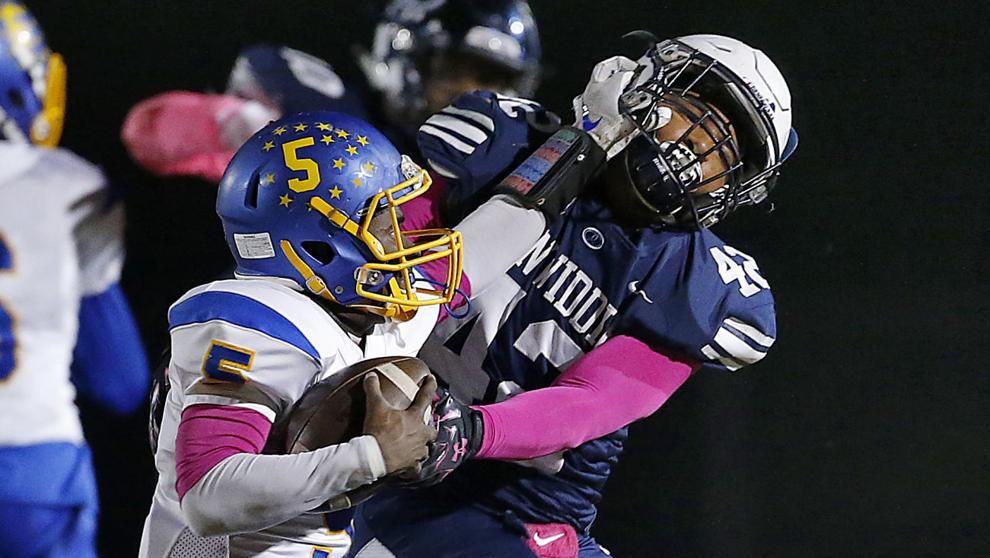 Henderson's speed is top-notch. Last week against Thomas Dale, he chased down speedster Chris Tyree, something Irby said he's never seen done. And Taylor says the fastest player he's ever played with is Henderson.
His speed caught the attention of Indiana's coaching staff, which offered him last year. And it's a big reason why Michigan is looking at him now, Irby said.
"I was always the fastest kid on my team," Henderson said.
When he was little, he and Walker would put on pads, go to the backyard and run into each other. Walker was always bigger and had the upper hand, Henderson said.
Hopewell's defense recorded its fifth shutout in eight games. Dinwiddie turned the ball over five times, including two fumbles and two interceptions committed by quarterback K'ymon Pope, who finished with 100 rushing and 64 passing yards.
"We had [No.] 10 baffled all night," Irby said. "[The defense] willed us to a victory tonight."
That comes a week after Hopewell surrendered 49 points in a double-OT loss to Thomas Dale.
On the last play of the game, with Dinwiddie at its own 28-yard line, Pope heaved the ball into the air. But several Hopewell defensive backs swarmed the Dinwiddie receiver, and Henderson intercepted the pass, ending the game.
Hopewell sacked Pope three times, including twice by Travonte Jones. The Generals were limited to an atypical 218 yards of offense.
---
HOPE—Henderson 79 run (Haden kick)
HOPE: Briggs 18-61, Taylor 19-95, Wood-Allen 3-11, Henderson 3-82, Cox 3-5, Team 2-22. DIN: Pope 19-100, Lucess 5-20, Dalton 14-34.