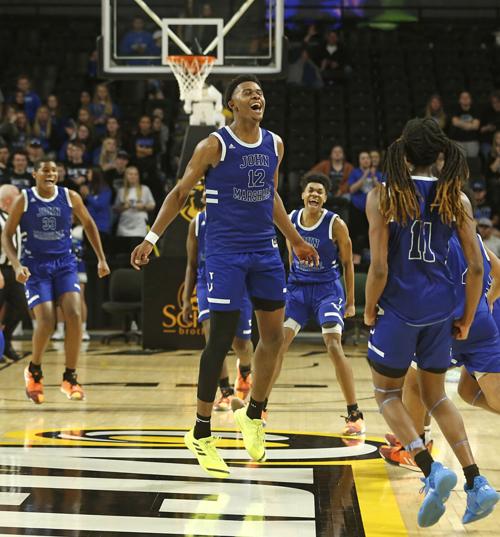 Several of the area's school systems plan to play high school sports starting in late December, but Richmond Public Schools won't be among them.
RPS Superintendent Jason Kamras said in a newsletter Monday night that the school system will not play winter sports in high schools and middle schools.
The decision sidelines high school teams at Armstrong, Huguenot, Thomas Jefferson, John Marshall and George Wythe — and some of the top boys basketball programs in the area and state.
"I have recently received a number of questions about whether RPS will have high school and middle school sports this winter," Kamras wrote. "Athletics are important for many reasons: they motivate and inspire, improve student health, and can even lead to college scholarships. I am deeply sensitive to this.
"At the same time, given our decision to go 100% virtual for the first semester, and given rapidly rising infection rates [of COVID-19], we will unfortunately not be fielding any teams this winter.
"I recognize this will be disappointing to many students and families. But I believe it's the only option we have if we are to fully honor our commitment to safeguarding the health and safety of our students, families, and staff. Thank you for your understanding."
Richmond schools spokeswoman Danielle Pierce said the division has not made a decision on fall and spring sports. That will be governed by the School Board's decision on whether to remain virtual for the second semester, she said.
Gov. Ralph Northam eased some restrictions on recreational sports last Thursday, paving the way for the Virginia High School League to get back to playing in December, with winter sports followed by fall sports and spring sports in shortened seasons (sports played in the winter are boys and girls basketball, gymnastics, indoor track, sideline cheer, swimming and diving, and wrestling).
Decisions on whether to play are up to local school systems, VHSL Executive Director Billy Haun said. The state's public divisions are operating in various ways — fully remote, in person, partially in person, hybrid or partially hybrid — according to the state Department of Education.
Among other area school systems, spokespersons or superintendents said:
Henrico County intends to play winter sports.
Chesterfield County is "continuing our planning conversations with the local health department and risk management leadership as we prepare to move forward," spokesman Tim Bullis said. "Obviously, we will continue to monitor data closely and make adjustments as needed."
Hanover County is reviewing the VHSL's guidelines. "While we have not made any final decisions, we are evaluating every possible option that will allow our athletes to compete," Hanover spokesman Chris Whitley said.
Powhatan, Colonial Heights, Prince George and Dinwiddie plan to play, and Petersburg intends to have boys and girls basketball, indoor track, wrestling and sideline cheer.
Hopewell Superintendent Melody Hackney said the School Board will "vote on our return to in-person learning proposal, which includes athletics, Thursday night."
Richmond city schools traditionally have fielded powerful boys basketball teams, and the decision means those teams won't be playing. John Marshall won the Class 2 state title last year.
Several top college recruits from that team were expected to return.
The Justices won state titles in Class 3 in 2018 and 2014, beating George Wythe for the crown in '14. Wythe won the Class 3 state title in 2015.
John Marshall boys basketball coach Ty White said Kamras is "putting the safety of young people first, so we fully support" the decision.
Armstrong boys basketball coach Darryl Watts said he was torn. "I feel bad for the kids, especially my seniors," Watts said. But he says there's a side of him that also says it's better to be safe than sorry.
Armstrong went to the Class 3 state quarterfinals last year and was eliminated by Lakeland High School. Ra'quan Lee-Bryson and Jawaun Williams, the top two scorers, would have been back this year.
As a coach, Watts can tell kids they have to get their grades up, if they need to hear it. He's worried that if he says it now, it won't carry any weight because there isn't any eligibility at stake. He Zooms with the players, though they can't practice.
Huguenot boys basketball coach Ksaan Brown said that "if Henrico, Hanover and Chesterfield all play and we're not, it sets us back many, many years."
A lot of kids don't have anything to look forward to other than sports, he said. He's worried this could lead to transfers, dropouts and lackluster performance in schools.
"From my perspective, if other localities play, we have to play," he said.
John Marshall sophomore Dennis Parker II is considered a top basketball recruit. His father, Dennis Parker Sr., is concerned that since high school players can't take a redshirt year the way college players can, they'll lose a year they can never get back. He's also concerned that his son doesn't have access to John Marshall's facilities because practice isn't allowed.
Parker Sr., who played football at John Marshall and in college, said Richmond kids already are more disadvantaged than kids in the counties, so they are less likely to be able to afford private teams and coaching and need access to their facilities even more.
The CEO of a mental health services behavior entity, Parker Sr. said he's worried about kids not being able to relieve stress in a healthy way. "We're forgetting this is a mental health crisis as well," he said.
VHSL Season 3, spring sports
| Sport | Number of contests | MPR | First practice | First contest | Region start | Region deadline | VHSL semis | VHSL final |
| --- | --- | --- | --- | --- | --- | --- | --- | --- |
| Baseball | 12 | 8 | 12-Apr | 26-Apr | 14-Jun | 19-Jun | 22-Jun | 26-Jun |
| Lacrosse | 9 | 8 | 12-Apr | 26-Apr | 14-Jun | 19-Jun | 22-Jun | 26-Jun |
| Soccer | 10 | 8 | 12-Apr | 26-Apr | 14-Jun | 19-Jun | 22-Jun | 26-Jun |
| Softball | 12 | 8 | 12-Apr | 26-Apr | 14-Jun | 19-Jun | 22-Jun | 26-Jun |
| Tennis | 10 | 8 | 12-Apr | 21-Apr | 20-May | 5-Jun | 7-Jun | 11-13-Jun |
| Track & Field | 6 | 8 | 12-Apr | 26-Apr | 7-Jun | 12-Jun | NA | 18-19-Jun |
VHSL Season 2, fall sports
| Sport | Number of contests | MPR | First practice | First contest | Region start | Region deadline | VHSL semis | VHSL final |
| --- | --- | --- | --- | --- | --- | --- | --- | --- |
| Competition Cheer | 3 | 20 | 4-Feb | 1-Mar | 5-Apr | 10-Apr | NA | 17-Apr |
| Cross Country | 6 | 8 | 15-Feb | 1-Mar | 12-Apr | 17-Apr | NA | 23-24-Apr |
| Field Hockey | 10 | 8 | 15-Feb | 1-Mar | 12-Apr | 17-Apr | 20-Apr | 22-24-Apr |
| Football | 6 | 15 | 4-Feb | 22-Feb | 7-Apr | 17-Apr | 24-Apr | 1-May |
| Golf (Boys) | 8 | NA | 15-Feb | 1-Mar | 12-Apr | 15-Apr | NA | 19-Apr |
| Golf (Girls) | 8 | NA | 15-Feb | 1-Mar | NA | NA | 21-22 Apr | 26-Apr |
| Volleyball | 12 | 8 | 15-Feb | 1-Mar | 12-Apr | 17-Apr | 20-Apr | 23-24-Apr |
VHSL Season 1, winter sports
| Sport | Number of contests | MPR | First practice | First contest | Region start | Region deadline | VHSL semis | VHSL final |
| --- | --- | --- | --- | --- | --- | --- | --- | --- |
| Basketball | 14 | 8 | 7-Dec | 21-Dec | 8-Feb | 13-Feb | 16-Feb | 20-Feb |
| Gymnastics | 6 | 8 | 14-Dec | 28-Dec | 1-Feb | 6-Feb | NA | 12-Feb |
| Indoor Track | 6 | 8 | 14-Dec | 28-Dec | 1-Feb | 6-Feb | NA | 12-13-Feb• |
| Sideline Cheer | NA | 20 | 7-Dec | 06-Jan+ | NA | NA | NA | NA |
| Swim & Dive | 6 | 8 | 14-Dec | 28-Dec | 1-Feb | 6-Feb | NA | 13-Feb |
| Wrestling | 8 | 8 | 14-Dec | 28-Dec | 1-Feb | 13-Feb | NA | 18-20-Feb |