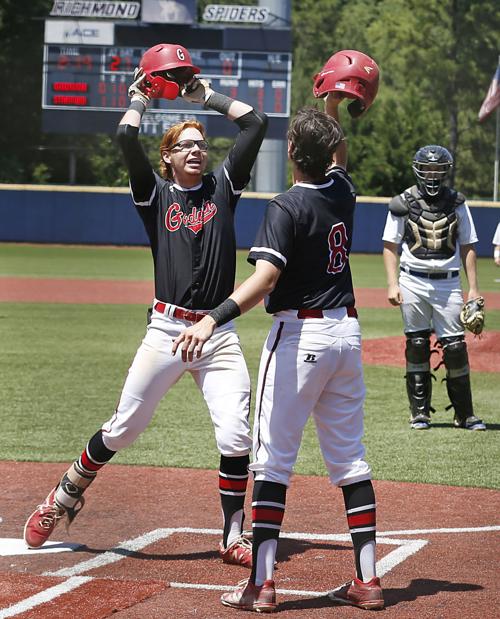 With coronavirus concerns delaying the start of the Virginia High School League spring sports season for at least two weeks, area athletics directors have started discussing scenarios for a shorter season.
ADs in Class 5, Region B, which encompasses 17 area schools, met on Thursday to come up with preliminary ideas depending on how much of the season, if any, is left.
"One of the words we're using around the region is fluidity," Varina AD Kevin G. Adams said. "What they direct that we can and cannot do today may change in three hours.
"We're going to play it by ear and make those adjustments as needed."
Teams were supposed to open their seasons on Monday. The VHSL announced Friday it was delaying the start for two weeks, with the first date to play March 30. The league also said its Crisis Management Committee will re-evaluate that stance on March 25.
The VHSL said the spring state championships remain on schedule. Some sports start on June 5, with others running June 9-13. Some region tournaments begin May 22.
Adams said ADs in Region 5B agreed that teams would not make up canceled games. Manchester AD Greg Woodle said if the season resumes in two weeks, teams probably will be given a week of practice before playing games "just for safety and being a little bit prepared."
"All 17 of us are under the assumption we will get something in," Woodle said. "Whatever that something is, we don't know."
The VHSL canceled most of the state championship basketball games that were scheduled Thursday-Saturday at VCU's Siegel Center. The Class 2 girls and boys games were played early Thursday afternoon. The league decided not to play the Class 1 games Thursday evening after Gov. Ralph Northam declared a state of emergency.
Friday's and Saturday's games were canceled, with teams in Classes 1, 3, 4, 5 and 6 declared co-champions.
VHSL executive director John W. "Billy" Haun said Thursday the league controls decisions on state championship events but holding regular-season events is up to local school divisions.
On Friday, though, he said in a statement that the league convened the Crisis Management Committee and decided "the best course of action and most prudent at this time was to delay spring sports first play date by two weeks."
Northam, also on Friday, ordered schools across the state to close for at least two weeks to minimize exposure to COVID-19.
The VHSL said local school divisions still can hold practices if they chose. Spokespersons for Chesterfield, Hanover, Henrico and Richmond, however, said teams will not be allowed to practice until school resumes.
"We don't know [what's going to happen]," Adams said. "And what you don't know, you've got to err on the side of caution. And that's what we're doing."
Spring teams were allowed to begin practice on Feb. 24. Woodle and Adams said their teams were able to get in scrimmages.
With no organized activities now, Woodle and Adams said coaches are sending out ways for players to stay in shape.
"Some will. Some won't," Adams said. "But that's not the priority right now.
"We just told them at this time it's a public health crisis, and that's a priority. They should focusing on their families. Our school system is trying very diligently to make sure that our kids are able to do some schoolwork at home. … It's going to be a challenge for the academic instructors. We're extracurricular. We're not that important.
"We've got to deal with this and get through it, and then we'll resume how we can, when we can. It's really about trying to ensure from an academic standpoint that the kids are able to learn."
Local private schools, which generally finish instruction earlier in the spring than public schools, face a tighter window for hosting a spring athletics season. At Collegiate, where students were on spring break this past week, athletic activity won't resume for three weeks. Students will begin remote learning on March 23, which will continue through at least April 3.
If students return to school the following Monday, April 6, teams would have about six weeks to complete a season. Virginia Independent Schools Athletic Association state championships are typically held in mid-May, and Collegiate's seniors are scheduled to graduate May 22.
Collegiate athletics director Karen Doxey said she'd rather teams play an abbreviated season than no season at all, if it's possible. She hopes her teams can still play their conference schedules with the Prep League and League of Independent Schools, though neither league has made a decision yet.
"Everything depends on the amount of time we end up having," she said. "So much of it is a wait and see."
Two of Collegiate's teams were able to play scrimmages Wednesday, the softball and boys lacrosse teams. A boys lacrosse game scheduled for Thursday was canceled when the opponent, Lafayette, was unable to make the trip to Richmond.
By Friday, all athletic activity at the school was canceled. Had the schedule gone on as normal, the baseball team would have played a doubleheader Saturday, and the boys and girls lacrosse teams would have gone on the road to play.
St. Christopher's and St. Catherine's, which also were on spring break this week, announced they will start distance learning on March 19 and won't hold in-person classes until at least March 27. At that point, the schools said, they'll reassess.
Benedictine had planned to stay open until Northam ordered schools closed for two weeks. Benedictine held classes this week and played its first baseball game Wednesday at Walsingham, winning 9-5. Games scheduled for Friday against Bishop McNamara and Saturday against Paul VI were canceled when the visiting teams said they couldn't leave town.
Earlier this week, a false press release surfaced on social media claiming the VISAA had canceled spring state championships. It was reported by media outlets across the state, including The Times-Dispatch, before being retracted. In actuality, the VISAA has made no firm decisions about championship events. The association is following guidance from the Virginia Council for Private Education and the Centers for Disease Control and Prevention, executive director Dick Kemper said in a statement.
The 804 All-Star Game, an annual high school basketball all-star game for local seniors, also was canceled. It had been scheduled for March 21 at Henrico.
(804) 649-6965
@timpearrelltd
(804) 649-6109
@EricKolenich