The coronavirus caused schools to close in Henrico County and education to be hastily revamped into an online model. But for three high schools — Deep Run, Glen Allen and Mills Godwin — there's a small silver lining. Their artificial turf football fields will be completed ahead of schedule.
Building a new football field at a high school typically requires stopping work each morning as students enter the building and again each afternoon as they depart. At Deep Run, entrance to the construction site runs through the student parking lot. At Godwin, construction trucks and material sit where students typically park their cars.
But because schools have been more or less empty since mid-March, the AstroTurf-contracted crews continued uninterrupted, allowing the fields to be finished quicker.
Construction at the three schools is expected to wrap up in early August, said Neil Luther, Henrico County's director of recreation and parks. In past projects, the fields were ready by the time the season began in late August, but the new rubber tracks weren't finished until September.
"School being out was certainly not in the plans, but overall, we were better prepared to do this," Luther said.

After the track is paved, the surface must cure, or cool, for 30 days before the rubber can be applied. Work crews have done a better job fitting that 30-day gap into the construction schedule.
While the football fields are just about ready to be played on, there's just one problem. The football teams aren't ready. Henrico County Public Schools is planning a proposal for how its teams can safely return to practice. After the Virginia Department of Education approves that proposal, teams can begin summer practice.
Dinwiddie began practice already, and other districts expect to begin in the next three weeks.
Last year, when Glen Allen had a natural grass field, coach Perry Jones would spend an hour each Thursday night painting the lines. With a turf field, that's one hour he gets back each week. He said his players are excited for the new surface.
"Something new is going to get the guys excited to play on Friday night," he said.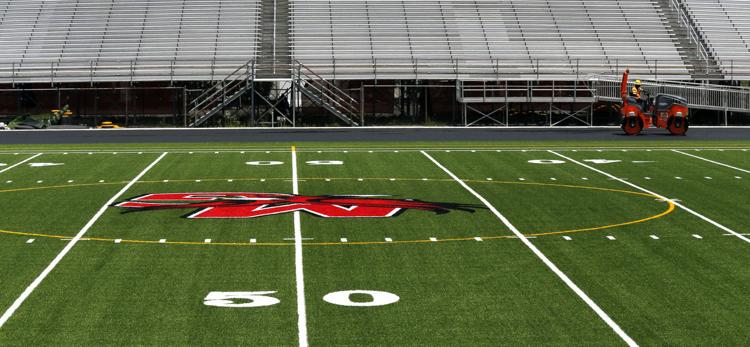 In 2016, Henrico voters approved an $87.1 million bond referendum to improve recreation and parks in the county. Of that total figure, $12.5 million was allotted for a turf football field to be built at each of the county's nine high schools.
Turf holds up longer than natural grass. For many high schools, their fields are reduced to muddy patches of brown grass by mid-November. Because turf needs no recovery time, it can be used by outside clubs when it's not in use by school teams.
It handles rain better, too. Turf fields are designed to drain so quickly that as soon as a storm concludes, the surface is dry and playable.
There is a drawback to artificial turf, some players say. It's not as soft as natural grass, so many players cover their elbows and knees in tape to prevent scratches.
Douglas Freeman, Hermitage and Varina received their fields in 2018, followed by Henrico in 2019. Highland Springs is scheduled to get its new field in 2021, along with a new school building. J.R. Tucker, whose new school building is also scheduled to open in 2021, will receive its turf field in 2022.
Freeman, Hermitage, Varina, Deep Run, Glen Allen and Godwin have AstroTurf brand fields. Henrico's field was made by Shaw Sports Turf.
Collegiate, St. Christopher's, St. Catherine's, St. Gertrude and Huguenot have artificial fields, too.