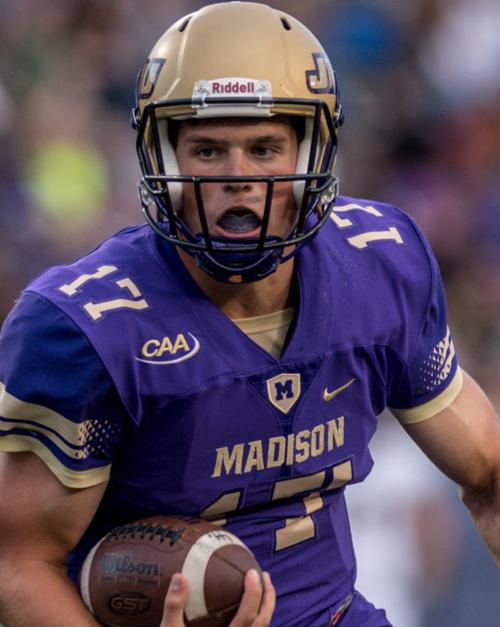 James Madison football coach Mike Houston ate lunch at one of his preferred Harrisonburg establishments before spring practice began and made sure to order the same sandwich he requested at each visit last season.
"When you get on a win streak like we were on ... you don't change up anything," he said.
In Houston's first season, the Dukes won the FCS championship, went 8-0 against CAA competition, and finished 14-1, with the only loss coming at North Carolina on Sept. 17. Among the 22 starters in the national championship game, 12 are back, five on offense and seven on defense.
JMU is in the midst of spring practice after concluding last season on Jan. 7 with a 28-14 win over Youngstown State in the FCS title game in Frisco, Texas.
"The good thing is, it wasn't that long ago when we practiced, so it's not like you're installing a brand-new offense or a brand-new defense," said Houston. "You're kind of picking up where you left off."
The coaching staff is balancing a short offseason and the need for players' physical and mental recuperation with a regenerated drive that leads into the opener at East Carolina on Sept. 2.
The Dukes will be the team to beat in the CAA and may be preseason No. 1 in the FCS. JMU was projected as the third-place finisher in the CAA poll last July.
"Everybody understands the expectations. Everybody understands their roles. Everybody understands kind of the way we're going to go about doing things," said Houston, speaking of the difference between last spring and this spring.
The Dukes return quarterback Bryan Schor, the CAA offensive player of the year. Khalid Abdullah (1,809 rushing yards, 22 TDs) was a senior. JMU brought in Georgia Tech transfer Marcus Marshall, who has two seasons of eligibility remaining. With the Yellow Jackets, Marshall played in 22 games, and started nine times. The 5-foot-10 212-pounder gained 1,278 yards and scored eight touchdowns, leading Georgia Tech in rushing in 2015 and 2016.
"One of the things we're really going to focus on is we have some talented younger players that are going to be depended on more heavily this year," Houston said. "(In the spring) you can really spend a lot of time trying to develop those guys and really work those guys and see (if they) are really ready to play."
Houston and his assistants molded the Dukes' identity into a physical team last spring after a pair of unsatisfying defensive seasons.
"We know who we are right now," said Houston. "I would like to see us build upon that identity."
Houston acknowledged that complacency could be an issue after a national-championship year and has shared that concern with his players.
"We've got to understand right now that we've gone from being kind of the team that hadn't won a playoff game in four or five years, and now all of a sudden, everybody's got a bull's-eye on us," said Houston. "We're the game that everybody's going to circle on their schedule.
"Now it's a deal where we are preparing for all contenders."
Notes: JMU will play its spring game on April 8, and returning players will receive their national-championship rings following the game. ... JMU lost one member of its coaching staff, offensive line coach Jamal Powell, since the conclusion of the season. Powell moved to Lamar.
(804) 649-6233
@RTDjohnoconnor