BRISTOL, Tenn. — Bristol Motor Speedway has made national news in the past decade for hosting a football game, NASCAR races and the first major American sporting event during the pandemic, last July's All-Star Race.
This weekend, the national spotlight will return.
The .533-mile concrete oval will be covered with dirt for the NASCAR Cup and Truck races.
From social media outlets to talk shows, the BMS transformation has been the hottest topic in the sport for months.
Track general manager Jerry Caldwell said discussions for a dirt race date back to 2000-01, when BMS first covered the track for a doubleheader involving Sprint cars and late models. Crowds estimated up to 85,000 attended those spectacles, dubbed The Battle of Bristol Dirt Weeks.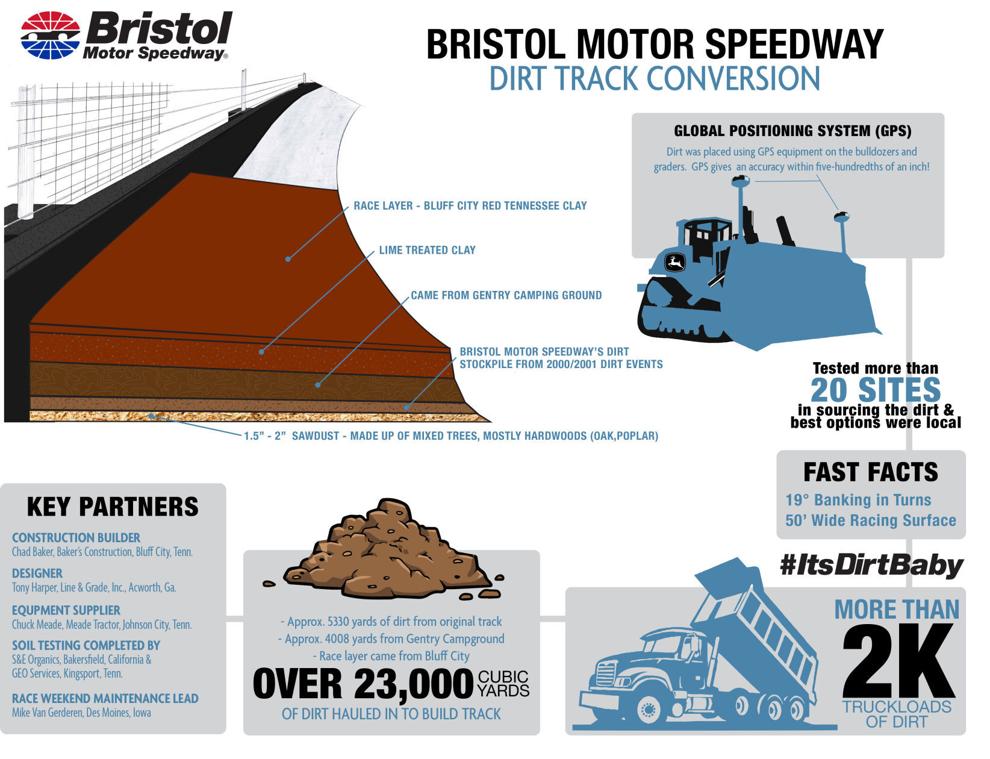 "Conversations have continued after every event when we do fan research," Caldwell said. "We ask the fans, 'What other things would you like to see at Bristol Motor Speedway?' Dirt racing has always been on that list."
All the socially distanced tickets for the March 28 Food City Dirt Race were quickly snatched up by curious fans. While BMS has not released the official ticket allotment, a spokesman confirmed that it will be around the same 30,000 allowed for the All-Star Race and for the iconic BMS Night Race on Sept. 19.
The last NASCAR Cup race on a dirt surface was held in 1970 at the North Carolina State Fairgrounds in Raleigh, North Carolina. Seven-time NASCAR champion Richard Petty claimed the $1,000 top prize for winning that 200-lap event.
Ryan Newman, who has competed at the top level of NASCAR for the past 22 years, was among the first drivers to express approval for the high-profile dirt experiment at BMS.
"I just know in my heart that it's going to be good for our sport because it connects with the fans in a different way," he said. "As much as we don't like change, I think this is a good change."
Austin Dillon is among a group of Cup regulars who have experience competing on dirt tracks such as Volunteer Speedway in Bulls Gap, Tennessee, and Wythe Raceway in Rural Retreat, Virginia.
"I remember when the World of Outlaws (Sprint cars) were at Bristol, and just thinking how cool it would be to run that track on dirt," said Dillon. "I like to change the schedule up, and I like NASCAR's willingness to be open. So much of our fan base comes from the dirt tracks across the country."
The celebration of dirt at BMS began last week with the Karl Kustoms Dirt Nationals. That six-day grassroots event attracted more than 1,300 entries, including several NASCAR stars, from 40 states.
Brady Lear, 30, made the 234-mile trek from Broadhead, Kentucky, to compete in one of the late model classes.
"I bet the registration wasn't open for two minutes before I sent in my entry," said Lear, who works for Sherwin-Williams in Richmond, Ky. "After that, I began counting down the days until the race."
Like many of his competitors, Lear prepared for his Bristol adventure by watching footage from those historic 2000-01 dirt races at BMS. He also purchased the new iRacing computer simulator game that mimics the dirt racing experience at BMS.
"But nothing compares to actually being on the Bristol surface," Lear said. "This is the biggest track I've ever been on."
What sort of strategy did Lear concoct for his races?
"This place is super-fast, so you just have to hang on," Lear said.
For the 2000-01 dirt showcase, track engineers hauled in over 14,000 truckloads of dirt.
The latest makeover has been just as ambitious.
Bulldozers equipped with GPS satellite-tracking systems were used to help reduce the banking in the corners of the track from a Mount Everest-like 28 degrees to 19.
Two men instrumental in the grand Bristol dirt experiment of 20 years ago returned to work their magic.
Chad Baker is president of Baker's Construction Services in Bluff City, Tennessee. Steve Swift is Speedway Motorsports senior vice president of operations and development.
"As a company, we have dirt tracks at Charlotte, Las Vegas and Texas, so we have some background in dirt," Swift said. "But none of them have the concrete underneath like the 'World's Fastest Half-Mile,' so that makes it more difficult."
Working within a four-week window, Swift and company remained ahead of schedule despite an intricate and time-consuming process that involved installing a base of sawdust before the top layer of dirt was installed.
BMS officials were actually able to use some of the same dirt from the 2000-01 events at BMS as the base layer for the new track surface.
"We stored that dirt off Highway 394 on one of our pieces of property," Swift said. "We're dealing with nice, good red dirt that we have in Northeast Tennessee."
The surface dirt for the BMS event will come from a different source.
Before the first drivers hit the track, there was a daily parade of nearly 150 dump trucks bound for the high banks of BMS.
According to Caldwell, the new look of racing at Bristol Motor Speedway has the potential to attract a new segment of fans. The track will revert to its original concrete surface in time for the Sept. 18 Night Race.
"A number of folks who haven't come to a race in a long time but are so interested to see how this place transforms,' Caldwell said. "I think it's just a testament to the history and to this place at Bristol Motor Speedway.
"Whether it's a dirt track 20 years ago, a football game, the largest NASCAR events in the country or turning it back into a dirt facility, it's special and something people want to see and be a part of."