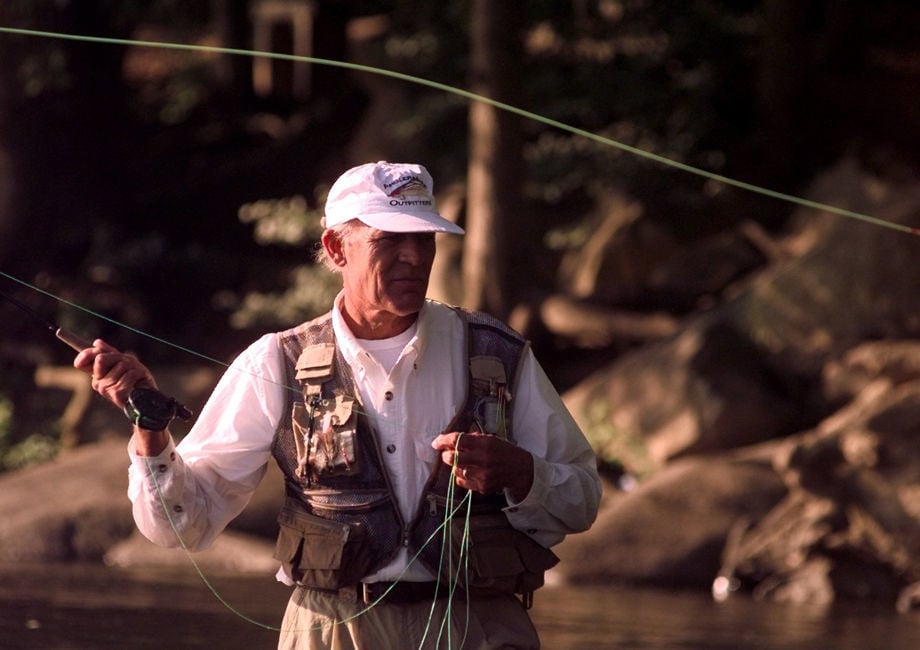 Capt. Art Conway of Conway's River Rat Guide Service out of Ed Allen's Boats and Bait reported that Chickahominy Lake midday surface water temperatures were in the low to middle 50s in the lower lake on Wednesday, with cooler water below five feet. The lake level was about even with the top of the dam. The surface water was light brown and clear in the central lower lake, with more cloudy water deeper, on windy shorelines and in some creeks.
A few small blue cats and bullheads were on flats, along drop-offs and in channels in the main lake. When active, they hit on live minnows and cut bait. Mixed sizes of crappie were on deep flats or in channels in the main lake, and were frequently at channel edges near the bottoms of drop-offs. Active crappie were hitting live minnows, tubes, curly tail grubs and small swim baits.
White and yellow perch were scattered or in loose aggregates on deep flats or channel edges in the main lake and, when active, were hitting small live minnows, swim baits and jigs. Most bluegill and shellcracker were on channel edges or in channels. They were hitting live worms, wet flies, Nikko nymphs, Wright Bait Co. 1-inch curly tail grubs and small swimbaits.
Pickerel and bass were in the lower ends of some creeks, around cypress trees, on deeper flats and in channels in the main lake. When active, bass and pickerel were hitting live minnows, spinnerbaits, swim baits, stick worms, crank baits, jerk baits, jigs and top-water baits.
Fishing with Capt. Conway: Tricia Pearsall had 18 crappie, two bluegill and two white perch; Jerry Davis had 10 crappie, five white perch and two pickerel; Steve and Mark Austin had two each crappie, white perch and blue cats, and one largemouth bass; Tom Porter had 23 crappie, 10 white perch, tree largemouth bass and two pickerel.
Saltwater: Speckled trout continues to be the hot bite. Folks are battling specks of all sizes in many places in the Chesapeake Bay and along the oceanfront. On Nov. 12, the water temps were in the 59-60 degree range. Popular places are still the Piankatank, Mobjack, Little Creek, Lynnhaven and Rudee Inlet. The Rapp and areas close by are giving up good trout also. A lot of anglers are using popping corks, Gulp! swim baits, sea shads and topwaters still. Jim Miller of Henrico went out Friday and had a nice limit of specks, including a 5-pound, 11-ounce beauty as well as a 22-inch puppy drum.
There's plenty of pups available in these same areas mentioned, as well as around bridge areas, such as the James River Bridge. The JRB area has also been good for keeper rockfish. Many of the rivers are giving up better rockfish now, as the water temps continue to drop. The Rapp may be the more popular one, but the Potomac and York rivers are yielding their share. Many are having better luck with tandem bucktails in the 30-inch range.
Another species that is growing in catches is the tautog. The CBBT, bay wrecks, reefs and ocean wrecks are producing fish. The tog bite thrives during the colder months, and they are delicious. The preferred bait is crab.
Big drum are being caught from the beaches in North Carolina, especially the Cape Hatteras area. Fresh-cut mullet is hard to beat. Surf anglers are also reeling in sea mullet and speckled trout. Pier anglers are experiencing much of the same.
Not many of the charters are venturing out, but the few that have are returning with King Mackerel, blackfin tuna and some yellowfin tuna still. The deeper water anglers that are targeting Seabass are doing well also, when conditions allow.
Freshwater: The crappie bite is on in many places right now, but especially the tidal rivers. Both the James and Rappahannock are giving up quality crappie to those that are targeting them. The lakes are giving up nice catches of crappie, also. The bridge areas in the upper portions of Lake Anna are where many are focusing. Docks with brush around them are productive, too. Brush piles have been better at Kerr Lake. Many choose to use slip floats with minnows, as the depths of the bait can be changed without re-rigging.
The stripers are biting a little better, but the water temps need to be in the 53-degree range for them to really take off. Topwater walkers are tough to beat for locating active fish and feeding zones. Four-inch swim baits, like the Bass Assassin sea shad, have a smaller profile, which can be key during this time. Quarter-ounce to 1/2 ounce heads are the most commonly used.
The bass bite is increasing all over as well. Lipless crankbaits can be greatly effective during this time. They are good for shallow cover and casting to schooling fish. Alabama rigs are being cast more now that the temps have the baitfish grouped up better. Many of the bigger bags in the colder months are due to the A-rig.
Tournaments are resuming again, and the tidal rivers are an excellent place to participate at. The James, Chick and Rappahannock are all excellent destinations now and into the winter months. The Chick is perhaps the more well-known for trophy Bass. Large swim baits are becoming more popular, as more anglers are focused on quality rather than quantity.