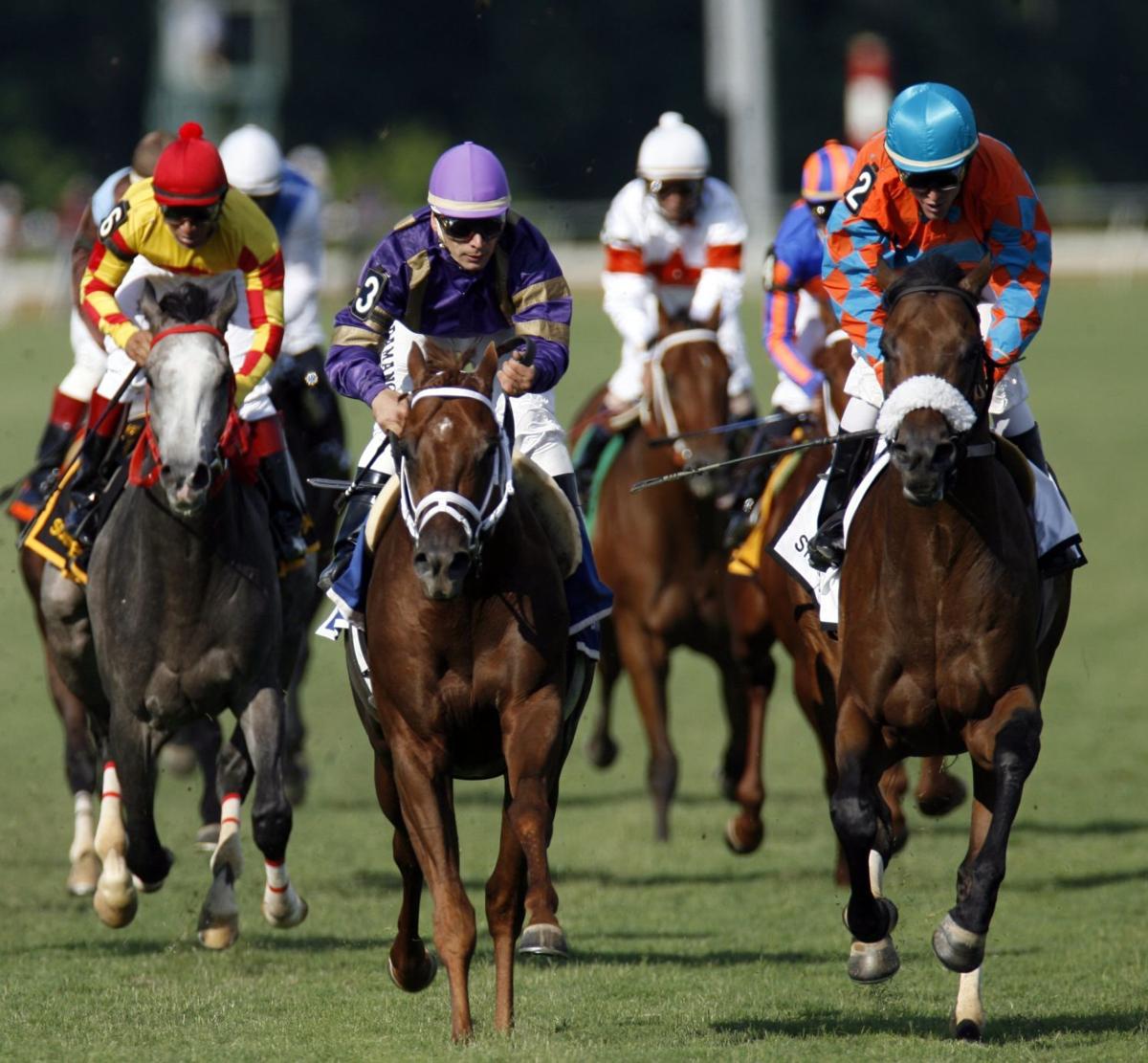 Handicapping horse racing isn't for the faint of heart. Especially when people – almost always strangers – use your expertise to bet (sometimes large sums of) money they too often can't afford to lose. And, as sure as God made little green apples and Secretariat was the greatest of all thoroughbreds in our lifetime, you are going to lose. In the long run, the house always wins, whether at Rosie's or at the paramutuel window. Or there wouldn't be a Rosie's or a window.
It is in this world of fun (?) and games that people like "Derby" Bill Watson and Jessica Paquette live – and, yes, love. At Colonial Downs, it was out with the old (Watson) and in with the new: Paquette who has been the track's official handicapper this summer for the first time. From Rowley, Mass., near Boston, she's been picking win-place-and-show plus-one for about 15 years including last year at Sam Houston Race Park where she became the quarter horse racing emporium's first female tipster.
"If you do it long enough, you are wrong a lot," she said. "There are days when you can't pick your nose."
This is Volume 64 in our trip down memory road where we take a small detour into a world that, sadly, seems to be getting smaller. Call it: "Having a Sense of Humor Helps."
It takes a special person willing to stick her neck out three days a week to predict the outcome of races involving animals with big bodies and spindly-looking legs covering distances as long as 1 1/4-miles over Colonial's dirt track or 1 1/8-miles over its nationally-envied Secretariat Turf Course – named for the 1973 Triple Crown winner raised in Doswell. It's hardly an exact science.
"You have to have a thick skin, that's for sure," said Paquette, who was hired for the seven-week Thoroughbred meet – which has its biggest program today featuring the 18th Virginia Derby – after the regular handicapper could not commit to a Monday-Tuesday-Wednesday afternoon schedule.
"I remember a day at Suffolk Downs when I went 0-for-9, and some little, grouchy old man said, 'You went 0-for-9' … and I asked him how he did: '0-for-9.'"
Like Watson, who was Colonial Downs handicapper for six years – and has been doing his shtick on radio's "Off to the Races" since the track first opened in 1997, Paquette is something of a character – which, for our purposes, is good. Make that great.
For example, she's been quoted as saying, "Every good thing in my life has come from horses." OK, that means husband Keith Henshaw is big into racing, too, right?
"No," she said last week, "he's not a horse person." But? "He knows where he falls in the hierarchy here."
Paquette was kidding, no? No matter. The point is, she was what she describes as "a horse crazy kid … and couldn't have a horse of my own, so I went to the track … I was the little girl who couldn't have a pony, so she went where there were a whole lot of them."
Now Paquette is the proud owner of two retired thoroughbreds – What A Trippi (42 starts, 9 wins) and Puget Sound who started a whopping 84 races, winning about 16, "I think."
"I loved Trippi the moment I laid eyes on him," she said. "He's the horse of my lifetime. My best friend. I paid $500 for him and he's beaten $100,000 show horses. After 84 starts, I promised Puget Sound the soft landing he deserved."
Paquette began at the bottom at Rockingham Park as a "hot walker," leading thoroughbreds around through the barn area mostly, then became a clerk and interned in the public relations department. From Rockingham she spent 14 years at Suffolk Downs where she became senior vice president for marketing.
"I'm a real pedigree nerd," Paquette once said. "Nothing fills me with as much joy as being at a race track up close. I love watching horses turn left."
You immediately get the idea she's a walking/talking advertisement for everything that's good about The Sport of Kings. Paquette said her "heart was broken" when Rockingham (2016) then Suffolk Downs (2019) closed. The latter, where she also was track handicapper, had been in business for 84 years.
The contrast between Watson, handicapper, and Paquette, who's called "Racing Analyst" on Colonial Downs' list of employees, is more striking than similar. We're talking style and approach to the job here. For one thing, "Derby Bill" uses form and statistics as the bedrock for his selections. Paquette is more hands on. She likes to check the horses up close and personal.
You couldn't miss Watson, all 6-6, 300-pounds-plus of him, intermingling with the customers, his signature loud voice booming with laughter. Equally friendly, Paquette is, nevertheless, all business from first race until last.
"It's more serious now," said "Derby" Bill, who has health issues and hasn't been to the New Kent County facility this year. "They don't have the fun like we had when I was there. That's what you're supposed to do … have fun at the track."
It says here no one had more fun than Watson, 61. Does he miss it? You bet. "… the jockeys, horsemen, especially the fans," he said. "It was a blast." He sounded like a man who couldn't wait to return to his former digs.
Coming to Colonial Downs was like a re-birth for Paquette, whom Watson calls "a real horseperson."
"I heard the Secretariat course was the best grass surface in the country," she said shortly before the meet's July 19 start. "It just lights my soul on fire."
Last year, because of the pandemic, she did her Sam Houston Park analysis from a closet/office at home, and "that was difficult, having to go off paper, [but] I did OK. I had an $80 winner at the start that made me clever enough for the rest of the meet."
On second thought, "I was great," Paquette said. "I can't be humble."
So how accurate has she been this summer? Understand, Paquette makes her selections sometimes as many as three days prior to race time so they can appear in the official program ($3). Occasionally, she will change her opinion "if I don't like a horse in the paddock," and tell the assembled customers/fans/bettors during a live talk that appears on the big screen in front of the main grandstand before every race.
Like "Derby" Bill, Paquette doesn't keep a record of how well she's done in the prediction department, she says, "but I'm good enough. I had a trifecta in the Kentucky Derby a couple of years ago. I'm not afraid to put my money where my mouth is, which I do occasionally. I've never been afraid to take a swing at a long shot."
Last Wednesday, armed with a few dollars and typically little sense, the memory man decided to give Paquette's picks a whirl. Always the big spender, he bet $2 win, place and show on her top two choices in each of nine races – a total of $108. "I think that's smart," she said before the first post at 1:45 p.m., adding, "I might owe you a few bucks at the end of the day. We'll see."
Paquette was fast out of the gate, hitting her first and second choices in Races 2 and 3 after a Race I warmup when her No. 2 finished No. 3 for a modest payoff ($4.80). In all, there was some return in all but one race but not another winner. However, the wager overall was reduced by $6 when her second selection in Race 5 was scratched.
In the end, we finished $38.40 in the red. Not to worry. On a hunch – number (7) and name (Aintgottaclue) – how appropriate was that? – a $15 bet ($5 each across the board) resulted in a winner and $91 payoff in Race 6. Considering other hunches that didn't do nearly as well, the day's take was less than $20, but it was half-price day for seniors buying the kitchen's giant burger … what the heck!
This is the third season under new management at Colonial Downs, which suffered a COVID-19-shortened program in 2020. The track had been dormant since 2014 when original but absentee owner Jeff Jacobs pulled the plug. Jacobs had been less than popular here. That included the horsemen, with whom he feuded since the beginning over dates and purse size, as well as members of the racing commission. He didn't like them, and they didn't like him.
Now, from all appearances, things have gone possibly better than anyone could have reasonably expected this year. Varina's Ferris Allen III, who has been a leading trainer here since the track opened, certainly sounds pleased.
"Sure, purses are about twice what they used to be because of all the gaming that goes with it, but they also made a commitment, right?" he said. "The quality of horses is the best there's ever been. Churchill Downs not running has helped, of course. And it's not all good for me personally because it takes a little faster horse to win here now. But we're doing just fine."
Allen has 20 horses at Colonial and has been at the top of the trainer standings – or thereabouts -- throughout the 21-day meet that ends Wednesday. He also gave a shout out to Jill Byrne, a University of Virginia alumnus and the track's intense, hands-on director of racing operations. "She's a proactive manager … and knows her stuff. If you don't, it can hurt," Allen said.
With racing held in the summer, at the hottest time of the day, the track has taken extra precautions to ensure horse safety, something it apparently didn't do under the former regime. "They used to be more interested in filling out 12-horse fields," a longtime observer said.
Last Wednesday, two horses were pulled from a race at the starting gate because they already appeared heat fatigued.
"Having somebody who really knows the game … and knows how to approach safety issues without being wacko about it … makes a big difference," Allen said. "The heat index gets to 102 degrees, and my horse gets a cold water hose right away [after a race]. Making sure you cool your horse is something Jill does." (Byrne sometimes does the horse-hosing herself.)
Being a woman in a sport heretofore dominated by men "can pose some interesting challenges," said Paquette who, like Byrne and Colonial's racing secretary Allison DeLuca, seems to be handling it quite well, thank you. Of course, it hasn't all been roses.
"I've dealt with more than my fair share of sexism and misogyny," said Paquette, 36. "… but the world is not going to change, and you just have to push through, do the job as best you can and hope people notice. I have found that having a sense of humor and being firm helps … and understanding context. Not everyone who says something you find inappropriate may mean it in an offensive manner.
"I remember years ago at Suffolk Downs a jockey said something off-color to me. I took him aside and said, 'Would you like it if some creepy old man said something like that to your daughter?' He told me the next day he thought about it all night and, no, it was not an appropriate way to talk to women ... and we've been great ever since. You have to stand up for yourself, but also have to be able to take a joke, too."
In other words, take your job seriously, but don't take yourself seriously.
"That's been my guiding principle," Paquette said. "I take what I do very seriously, but you've got to have some fun, too."
Now that you mention it, why don't we compare selections for the Virginia Derby? That could provide some laughs – or not – when it's over, eh?
Paquette likes 7-2 morning-line favorite Experienced to win, with Search for Truth (8-1) place and Wootton Asset (5-1) show.
Watson has 8-1 Hidden Enemy, followed by 5-1 Indian Lake and Experienced.
In a race everyone agrees has no big names and couldn't be more wide open, three of four national racing form types chose 15-1 Draft Capital, from Chicago, who comes south with a four-race winning streak.
They're all wrong, of course. Your 2021 Virginia Derby winner will be … Indian Lake, who has finished in the money 16 of 17 times lifetime. His $222,400 earnings are the 12-horse field's most, by far. Or, if you're big into hunches, how about It Can Be Done (10-1)?