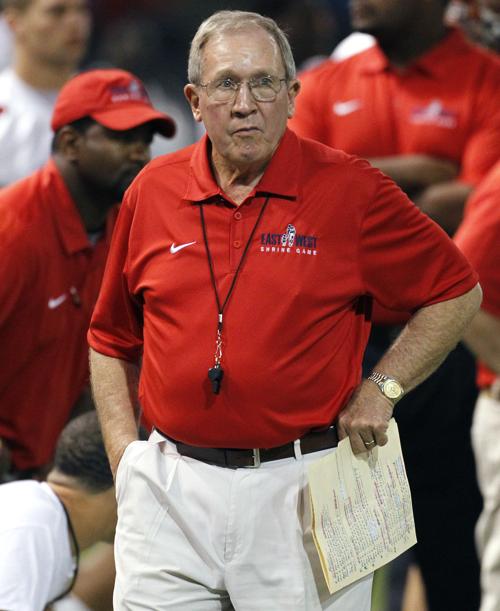 November 10 was the anniversary of a 1990 game the ACC Network, in a recent documentary, suggested was the most significant in the conference's quest for national football relevance.
With a 41-38 victory, Georgia Tech ended the University of Virginia's three-week run as No. 1 in the country. And, the unbeaten (once tied) Yellow Jackets went on to claim a share of the national championship.
So, we asked Bobby Ross to reach back 31 years and recall how/why it all happened. Now 84, the native Richmonder was the Tech coach, after all. It seemed so logical, to devote the latest march down the memory man's ancient lane to tales of Scott Sisson's winning field goal and assorted other highlights from Ross, who didn't disappoint.
"We drive to their 21-yard line with 12 seconds left and call time out. My line coach was Pat Watson, from Virginia Tech. He comes up to me and says: 'Coach, tell him a joke! TELL [Sisson] A JOKE!!'
"What the hell do I have to tell him a joke for?
"'TO RELAX HIM! TO RELAX HIM!'
"'I DON'T KNOW ANY DAMN JOKES!'
"The thing was, Sisson didn't get tight. So, there was no joke, but he still made it. On TV I came away with a bit of a smile, and that's what I was smiling about."
Then again, it would be a shame to limit this to just 60 minutes in a career that began in 1959 at alma mater Benedictine and wound up 47 years later at the United States Military Academy. In between Ross served under such coaching icons as John McKenna, Marv Levy, Lou Holtz, and Jerry Claiborne before running programs himself at The Citadel, Maryland, Ga. Tech and Army as well as the NFL's San Diego Chargers and Detroit Lions.
Oh, the stories he can tell about the ups and downs of Xs and Os on the national stage: of rats in the toilet, of never being fired (although he came close once after refusing to obey orders), of being so honorable he resigned from a good – read: successful – job, of overcoming great odds to succeed at another – and why he accepted an offer from the United States Military Academy when he was 68 and had been out of coaching – retired, he thought – for three seasons.
They gave him a reported $600,000 a year. That had to be it, right?
This is Volume 72: "It's Your Patriotic Duty." Uhh ... before going any further, we should point out Ross had a lot of nice things to say about players and coaches, even media and front-office types. It's just that, well, nice doesn't necessarily mean compelling. And this is, after all, the longest stuff we've written to date – by far. An abbreviated version of a two-hour-plus sitdown with an old friend. So, saddle up. Hold on tight. Let Ross-on-Ross begin:
He majored in English and history at VMI, where he played quarterback and defensive back for McKenna. By the time he was a first-classman, Ross still didn't know what he was going to do in life except there was no hurry to decide. He had a two-year military service commitment staring at him straight ahead.
"In April of my senior year, Coach McKenna called me down to the office and asked if I'd be interested in coaching? I said I'd never really thought about it," Ross recalled.
Benedictine was looking for someone who knew something about football. Oh, and he would have to teach history, too, and Ross took it, recognizing it probably would be one and done because Uncle Sam was waiting. When the Cadets went 1-8-1, well, it didn't bode well in a profession he had taken a liking to, nevertheless.
"That lit the spark," Ross said. "Despite the record, I loved it. I really did."
Three years – including an unscheduled Cold War trip to Germany – later he was a civilian again. "I sent my résumé to 20 or more state high schools … and two responded," Ross said. He spent three seasons at Colonial Heights HS before "taking a cut in pay" to join McKenna's staff in Lexington as freshman coach. That began an eight-year stretch also working as an assistant at William & Mary (under Levy then Holtz), Rice, and Maryland (for Claiborne).
"I was just happy to have a job," Ross said.
In 1973, Red Parker left The Citadel for Clemson, and McKenna recommended Ross for the vacancy. He should have known it was not a job made in gridiron heaven when a member of the search committee asked, incredulously, "Why in the world would you want to come to The Citadel?"
It had to be a question he was asking himself when wife Alice found a rat in the toilet one day. Or when a quarterback he doesn't name would, in effect, snicker at the plays being sent in and call his own. After five years (24-31), Ross left Charleston, S.C., to rejoin Levy, now running the NFL's Kansas City Chiefs.
(At the time Ross told an old friend he had it with college coaching. Why? Because the University of Georgia had pirated his best defensive back - which was against NCAA rules, of course, but nothing was done about it ... Ross said he didn't remember that.)
In 1980 William & Mary was looking for someone to replace Jim Root (fired). Ross knew the school well, having spent four years there, two with Levy (1968-69) and two with Holtz (1970-71). Ross was interviewed by a committee that included two members of the football team, and ... "and they offered me the job."
(Here we should take a brief timeout to note, in Volume 25: "He Bled Green & Gold," athletic director Ben Carnevale allegedly gave Ross an 11 p.m., deadline to make his decision. When the time came, Ross was said to have told the AD he hadn't heard from all the people he wanted to bring with him, so Carnevale turned to Choice No. 2 – George Henshaw, a Florida State assistant who was from Midlothian – and finally to Choice No. 3 -- Jimmye Laycock who, over the next 39 years, became the winningest football coach in school history.)
Ross said he didn't recall being given a deadline. "I said, 'No,' [because] I sensed the players wanted someone younger." He was 44 at the time. Laycock, who had been at The Citadel with Ross, was 32.
In 1981, Claiborne left Maryland after 10 years for alma mater University of Kentucky. His only losing season (4-6-1) was his last and, on the way out, he told the world just how awful the facilities were. Ross applied anyway. "I had no idea I would get it," he said. "I think I was the third choice."
You will have to decide if they did Ross any favors. On the one hand, the Terps claimed three ACC championships (1983-85) during his watch and, not until the last of five seasons (5-5-1) did they win fewer than eight games.
He also was the coach of record when Maryland overcame a 0-31 deficit at halftime to beat Jimmy Johnson's Miami Hurricanes in Miami. It is a tale worthy of more space than we have here. The game was played Nov. 10, 1984 – six years to the day prior to the upset of UVA in Charlottesville. Suffice to say there were numerous twists and turns (which will be detailed in another volume). In the end, the good guys prevailed after the home team "ran through our warmup, cussing us," Ross said. "It was crazy."
On the other hand … there were promises made and not kept by Maryland's administration. When fallout from the cocaine-induced death of Maryland basketball star Len Bias carried over to the football team, Ross decided he had to move on.
Understand, he was, is and always will be a man of principle. It's a family tradition. So, despite his success in College Park, Md., he had made a commitment to recruits he couldn't keep because the school did not live up to its guarantee to him that Byrd Stadium would be renovated and a training facility built. There also was the matter of unresolved academic issues.
"The main thing was, I didn't know what their total commitment would be," Ross said. He had just completed the first of a new four-year contract that, according to reports, paid $150,800 annually. It wasn't exactly chump change but Ross was already thinking about resigning when Bias died (June 19, 1986). He even considered going to the University of Minnesota.
The controversy that ensued from Bias's sudden demise apparently was the tipping point for Ross. "It was guilt by association," he said. "They would interview our players on TV … and none of them were involved in it. That really angered me. I went to the [school] president to put them off limits. I told him it could have a very detrimental effect on recruiting. He wouldn't do it."
So Ross talked it over with Alice, as always, and she agreed: "It was time for me to go."
Once again he was a coach without a job. Not that Ross had to wait long before several schools came calling. He talked to Purdue, Arizona and … Georgia Tech. McKenna was assistant athletic director at Tech and, naturally, put in a good word for Ross to replace Bill Curry who had gone to the University of Alabama. Had Ross only known …
He spent – what else? – five years in charge of the Ramblin' Wreck. Of course, the highlight was winning the program's first national championship since 1952. Ross was awarded every major coach-of-the-year honor as Tech finished 11-0-1 and was named co-champion with Colorado by United Press International in the coaches' poll. The Associated Press voted Colorado (11-1-1) No. 1 because the writers apparently didn't think a team from the ACC – a basketball conference, after all – could possibly be good enough. (After losing to Ga. Tech, Virginia was No. 11, a record one-week tumble for No. 1 that has never been equaled.)
Ross still can't get over the crowd at Scott Stadium, how big it was. "I had played there many times before and there weren't that many people. It was packed," he said. "I was shocked."
Most of his family was there, including his father. "There had been an article in Atlanta about me going home, and I mentioned it would give me a chance to see him. He hadn't been in good health," Ross said. "At the end of the game, our co-captains came up to me: 'We want to give the game ball to your dad.'"
Suddenly, in that touching moment, you had to believe almost everything he had gone through to get that far at Tech had been worthwhile. Almost.
A close relative told us about the mess Ross inherited on arriving. Academic deficiencies took their toll – among other things – and he lost more than 15 players he was counting on. "We had some internal things going on. Just say the cupboard was bare," he said, preferring to leave it at that.
Athletic director Homer Rice ordered a drug testing program that helped down the road but too late to help Ross immediately. His first two teams didn't win a conference game (0-13).
"It was tough, really tough," Ross said. "After we start 0-3 my third year, three alumni call and say they want to meet with me. I tell Alice to pack the bags. 'It's coming. It is going to happen.' I thought I was about to be fired. I really did."
There was no reason to think otherwise. "It was a Saturday. We had an open date. I was listening to the Georgia game. They were beating the hell out of someone," Ross said. "There was a knock on the door. 'Uh, oh … here it comes.' And they walk in and ask: 'What can we do to help?'
"In all the places I've been, we never had a more supportive group than we had at Georgia Tech. They were wonderful."
Ross was 26-9-1 his last three years there before the San Diego Chargers made him an offer he couldn't refuse. He stayed there – you've got it – five years, reaching the playoffs three times including Super Bowl XXIX where Steve Young threw six touchdown passes as the San Francisco 49ers romped 49-26.
Under Ross, the Chargers never had a losing season, but in 2001, after going 8-8, general manager Bobby Beathard (of Redskins fame) told the coach to fire four assistants. Loyal to a fault, Ross asked: "'What will you do if I don't?' He said, 'We'll have to talk about that.' So I went to Dean Spanos [the owner's son], and he said, 'I'm going to back Beathard.' So I resigned … but Bobby was going to fire me.
"I didn't want to leave San Diego. I loved the players."
Once again, as it had been at Maryland when several top jobs were available, his timing was impeccable. Three NFL teams, among them the St. Louis Rams, wanted Ross. He opted for the Detroit Lions. Big mistake.
"They had Barry Sanders and [former UVA standout] Herman Moore. Everything was in place to be good," Ross said. "When I first got there, I wanted to meet all the players [one-on-one], but didn't get a real good response."
His reputation as a no-nonsense coach who expected everyone to work hard preceded him. When he got into coaching, he asked McKenna if he had one word of advice, what would it be? "I can still see him making a fist, holding it up and saying: 'Rule with an iron fist.'" Ross said.
For someone groomed in the military, that was easy for Ross … until he got to Detroit, which had a long, losing mentality. To make matters worse, his predecessor, Wayne Fontes (fired), had created something of a country club atmosphere. "I don't know if they resented me … but they were used to going to Florida and having a helluva time. I cut that out, and I don't know that went over real good," Ross said. You think?
Hall of Fame running back Sanders never came to mini-camp or off-season workouts. Ross persuaded center Kevin Glover, who had played for him at Maryland, to ask Sanders to come in for a chat. "I remember my exact words," Ross said. "I told him: 'Barry, the greater the player, the greater the responsibility. I want you to be a leader.'
"He tried. He just didn't want to do it. He wasn't a malcontent. He just wanted to play football."
Then, there were the rumors that Sanders planned to retire, if prematurely, prior to training camp in 1999. "I talked to his agent," Ross said. "He said, 'Oh, no … he [Sanders] will be there.' He had us all fooled."
Come to think of it, it was downright amazing the Lions reached the playoffs twice in the 3½ seasons under Ross. It was a dysfunctional team with a dysfunctional quarterback, Scott Mitchell, a lefthander who "had a strong arm but just seemed to make bad plays." He also had a weight problem.
Mitchell didn't take kindly to Ross after being benched two games into the 1998 season and vowed he would get even, A couple of years later, with the Cincinnati Bengals, Mitchell planned to drop back and throw the ball at Ross, on the sideline, but changed his mind at the last minute. "I did not dislike him," Ross said.
What Ross didn't like was the players, for the most part, didn't seem to care if they won or lost as long as they got their over-valued paychecks on time. There was a reason Detroit hadn't (still hasn't) won a championship since 1957. So, midway through the 2000 schedule, his health deteriorating, Ross decided he couldn't take it any more. The Lions were 5-4 when he quit -- and hardly anyone, including the tough Detroit media, blamed him.
That spring Ross had been hospitalized with blood clots in his right leg. "I resigned because I was exhausted," he said. "I'm still on blood thinners."
That, as far as he was concerned, was it. Coaching can take a lot out of you, and Ross called it a career – he thought. He returned to Lexington, Va., became a full-time grandfather, and life was good. Then the phone rang – again. Ross had been out of football going on three years when the athletic director at West Point, N.Y., called to ask if he would serve on a search committee to hire a new coach. Sure. Great! We'll get back to you.
"Three weeks come and go ... and I haven't heard a thing," Ross said. "So I call them and ask: 'What's going on?'
"'We want to offer you the job.'
Nice try. Not interested. "And, the AD says, 'Why don't you watch the Army-Navy game Saturday, and I'll call you Monday.' So I watch it, with Alice, and Army gets beat real bad … and the players are crying … and Alice says to me: 'What do you think?'" Ross recalled.
"They had the longest losing streak in the country. It was a huge rebuilding job … 'I'm not going to take it.' And she looks me right in the eye and says, 'It's your patriotic duty to take that job.' Ultimately I did. It was a great experience."
That depends on your definition of experience. "Because I coached at The Citadel and went to VMI, everybody thought I would have an inkling about the military … but not West Point military. It's different … to some extent the hardest I ever had to deal with," Ross said.
From 2004 through 2006, he fought the good fight and was making some headway when a cross-country, four-day recruiting trip from hell left Ross, at 71, knowing he had to stop – or else. "I sat down with Alice. 'This is crazy … I won't be living much longer if I keep this up.' I went in the next morning and resigned."
It's 15 years and counting since then. Bobby and Alice returned to Richmond 11 years ago. Looking back, any regrets? "No, not one," he said.