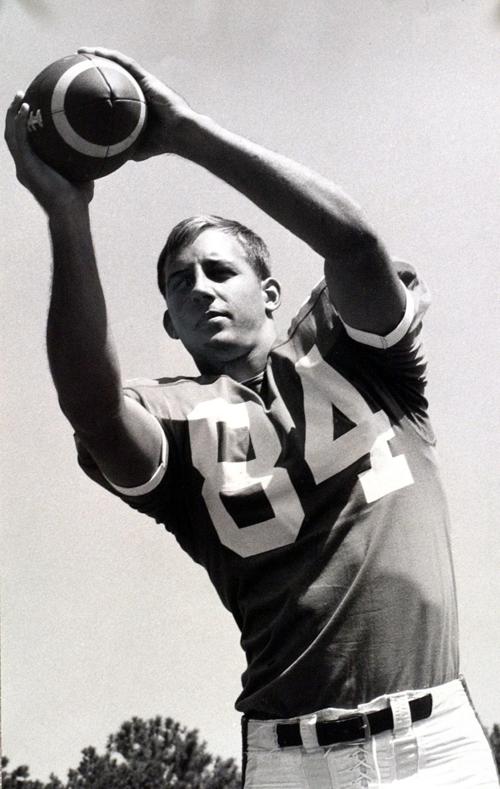 For the record, Winston Whitehead always was a favorite here, one of those football players who excelled despite his size (not big) and speed (not much). A three-year starter for the University of Richmond, twice named All-Southern Conference, he was a defensive back who (coachspeak) "will hit you."
From 1967 through 1969, Whitehead didn't settle for just bringing down opponents. He punished them. If you were on offense — running with the ball or trying to catch it — and cared anything about your health, it was imperative to first locate him or else. Sometimes even that wasn't enough. This is Volume 42 in our oh-so-slow stroll down memory lane: "I Was Hurt Emotionally."
Last week we followed up an earlier piece in which teammate and wideout Walker Gillette revealed that Whitehead offered to take out his serious competition for all-conference.
Next, a reader brought to our attention that Frank Easterly, VMI wideout from Richmond, had a similar run-in with Whitehead early in the third game that same (1967) season. Unlike Cavanaugh, however, the Keydet junior was sure it was intentional. While Easterly escaped uninjured, he reacted by trying to do the Spider DB bodily harm. And, for his momentary loss of temper, the alumnus of St. Christopher's was ejected.
Ah, yes, Easterly remembers it well. He was covering a punt that rolled into the end zone and … "so you slow down, and this guy [Whitehead] comes up and deliberately clips me from behind," Easterly recalled recently. "I slid about three yards, got up and punched him … a good shot right in the face. The [official] was right there ... he kicked me out of the game."
Until then Easterly was among the country's leading receivers, having caught — by his recollection — about 16 passes in the Keydets' first two games, beating Davidson 46-21 then dropping a 21-9 decision to West Virginia. Richmond snapped a two-game losing streak against VMI, winning 3-0 on Mike Bragg's second-half field goal.
It also marked the only college game in which Easterly, 74 and living near Los Angeles, was tossed. He finished the '67 campaign with 43 receptions, 5th in the conference, and made second team in postseason voting. Gillette and Cavanaugh were named first-team at the end position. The Keydets wound up 6-4, the only non-losing season during Ragazzo's five-year regime (10-41). They won their last four games including Boston College, Virginia and then-arch-rival Virginia Tech.
No question it was the best season at VMI for Easterly, who opted for the Lexington school because his father and older brother went there — and plans to go to Dartmouth didn't work out. He was a defensive back as a rat [freshman], "the monster man, if you can believe that, because I would stick-em," he said. To think he had something in common with Whitehead, at least for a while. Then, prior to his first varsity season (1966), assistant coach Bobby Ross "asked if I'd like a tryout with the receivers. That was that."
But, as good as his junior year was, Easterly couldn't shake his dislike for UR. "The animosity was always there. I never liked coach Frank Jones," he said. "My sophomore season we played them in Richmond. I caught a ball out of bounds. I fell right at his feet, and he stomped on me."
Come on, Frank, that's hard to believe. "I don't make those things up," Easterly said.
As for Whitehead, who died in 2018, "I thought he just had it in for me. I don't want to say anything bad about Whitehead himself. I don't have anything against him personally … but what he did was deliberate, a dirty play." One and done. The teams met again in 1968 when Easterly was a senior. "I don't remember him the next year at all," he said.
That was a season to forget, after all. VMI went 1-9. Easterly caught 36 passes (14.1 yards per). The Keydets scored a total of 90 points while throwing four touchdown passes with 21 interceptions. Their only victory was 21-17 over Davidson. They lost 35-0 to Richmond and 55-6 to Virginia Tech.
Meanwhile, off the field, Easterly was uncommonly busy as president of the senior class when, for the first time, Black people were admitted to the corps. "It went well … [and] we didn't do anything different, I promise you," Easterly said. "We discriminated against everybody their first year on the rat line. True story."
In retrospect, Gillette, who became UR's first consensus All-American in 1968, doesn't recall the 1967 incident with Easterly. "Before every game, I'd remind [Whitehead] I wanted to catch more passes than the other team's receivers … hoping to fire him up and not let them make any big catches," Gillette said. "I didn't want him to hurt them. Just cover them."
To this day, he can only speculate about the early hit that eliminated William & Mary's most dangerous wideout. "After Winston put him out of the game, he came over to me and said, 'You don't have to worry about Cavanaugh,'" Gillette recalled. "You know, I'm not really sure if he did it on purpose or not. But, it happened and, well, that's football. It sure made for a good story."
Knowing Whitehead even a little bit, I'm guessing he's looking down on us and smiling. He had the last laugh, after all. Neither the hit on Cavanaugh nor the blow to Easterly resulted in a penalty. No flag, no foul, not officially anyway.
Add Easterly: VMI and Washington & Lee are a short march apart in exciting downtown Lexington, Va. (Pop., 7,744, est.) They couldn't be more dissimilar in approach or attitude which, over the years, has made for some tall tales — some taller than others. On arrival at W&L in the fall of 1959, we asked how the respective undergraduates got along, if at all.
Well, we were told, it wasn't uncommon for the brothers in Red Square — a gaggle of fraternity houses nearest to VMI — to greet the Keydets marching to church on any Sunday by throwing empty beer cans at them. (No self-respecting Kappa Alpha would waste a drop, much less pitch a full one.)
"So, you went to W&L," Easterly said. "Everyone is entitled to a mistake."
Fast Fact II: Football made its debut at VMI in 1873 with a one-game season vs. Washington & Lee. The Generals romped 4-2 (yep), and it took the Keydets a while to recover. VMI didn't play football again until 1891.
Full disclosure: From the early 60s through 1970, yours truly was executive secretary of the Southern Conference Sports Writers Association. Which meant? I collected ballots for all-conference football and basketball teams. Sounds simple enough, which it was … except …
In those days of long ago, there were nine member schools: The Citadel, East Carolina, Furman, George Washington, Richmond, Virginia Tech, VMI, West Virginia and William & Mary, although Tech bailed in 1965 and WVU left in 1968. Check results for the all-teams, and you can't miss they were dominated by players from the commonwealth, which had the most schools.
Also, the writers from Virginia, for whatever reason, tended to care more about it, so they joined the SCSWA in greater numbers than other states and seldom failed to cast their ballots. At least, as naturally prejudiced as they might have been, the Old Dominion's scribblers invariably recognized excellence outside our borders, too. During my watch, they never did what one sportswriter from West Virginia did, filling his 22-man football ballot with 22 players from the same team. One guess which one.
Another precinct heard from: She's an old friend but I better say long-time instead or risk the wrath of people who don't have anything better to do than play the politically correct game. Frances Burch always has marched to the beat of her own drummer, God bless her, and so she was at it again last week, inspired by tuning into the Super Bowl.
"I don't love football," Frances emailed. (Right to the point, she doesn't mess around.) "The thing that especially makes me mad enough to [complain] constantly is the experts telling us how the game will go. And, at halftime, how the game has gone and, afterward, how the game was played. I wonder how much these guys are getting paid, and I wonder how most of the audience uses this time … to get another beer, or snack or take a [potty] break?"
That was a warm-up observation. "Getting right to the nitty gritty … I yearn to see the marching bands perform. Think of all the parents whose kids are in such bands, who would stay in front of the TV at halftime just to see their kids out on the field … with no fear of concussions or broken bones or winning/losing the game," she continued. "Many more students could be involved than the few on the football team. I have fussed about this for years, way prior to the coronavirus."
Frances said she watched the Super Bowl's halftime show, calling it "over the top." She thought "the performer [The Weeknd] was reasonable," apparently based on low expectations. " … no grabbing at his crotch or other obscene gestures which, of course, would be difficult to [do while] playing an instrument," she said.
I can only imagine her reaction if The Weeknd sang his big hit "Ebony," which is too loaded with nastiness for even the NFL to condone.
By the way, Frances, SB55-on-CBS analyst Tony Romo only makes $18 million annually to work a game a week for approximately five months. His booth partner, the veteran/versatile Jim Nantz, is paid a mere $5M but … he reportedly is asking for "Romo Money" in negotiations for a new contract currently under way.
Our figures come from a website, Celebrity Net Worth, which also enumerates net worth. Romo, who was paid — notice we didn't say earned — more than $127M during 14 NFL seasons with the Dallas Cowboys, is said to have a net worth of $70M, compared to $15M for Nantz. (Oh, there are other sources that peg Nantz' yearly take-home anywhere from $6.5M to $7.5M.)
Born in Charlotte, N.C., May 17, 1959 (shortly before the memory man went to work for his first of 47 years with the R-TD), Nantz joined CBS in 1985 and has been the network's signature voice for NFL, NCAA hoops and golf — especially the Masters. He's credited with the "tradition unlike any other" reference to the tournament usually held in April.
ESPN, which has unloaded a bunch of big-contract talking heads ostensibly to save money, is said to want both Nantz and Romo. While it's almost inconceivable Nantz would take the money over the Masters, the tournament's contract with CBS runs year to year. The Green Jackets of Augusta National could dump CBS at any time despite a partnership that began in 1956.
The Masters holds such control over the network and its telecast that, if someone says something the Green Jackets don't like (however innocuous), it's adios and good-bye. See Jack Whitaker, who became persona non gratia in1966 when he referred to spectators — sorry, they're patrons by Masters degree — as a "mob." Horrors! The legendary sportscaster, who died in 2019 at age 95, was banished from Augusta for five years before being welcomed back.
In 1994, funnyman Gary McCord said the greens were so fast that bikini wax must have been applied. Then he also used the term "body bags" apparently to describe large mounds on the course. Masters leadership wasn't laughing and, encouraged by anti-McCord sentiment from two-time winner (1977, 1981) Tom Watson, 71, demanded McCord be removed from the telecast. Unlike Whitaker, he never returned to Augusta with CBS.
(In another example of television kissing the Masters ring, when ESPN was awarded the first two rounds starting in 2000, it reportedly was with the understanding that network original, the polarizing Chris Berman, would not be part of the telecast.)
The irreverent McCord remained a staple on CBS coverage of other events until he was fired following the 2019 schedule. Watson, who wanted McCord dismissed 25 years earlier, finally got his way. McCord, who had been with the network for 33 years, didn't leave quietly especially after being told he and Peter Kostis were being let go because golf on CBS "was getting a little stale" by sports division boss Sean McManus. "I've been called a lot of things, but stale isn't one of them," McCord, 72, said.