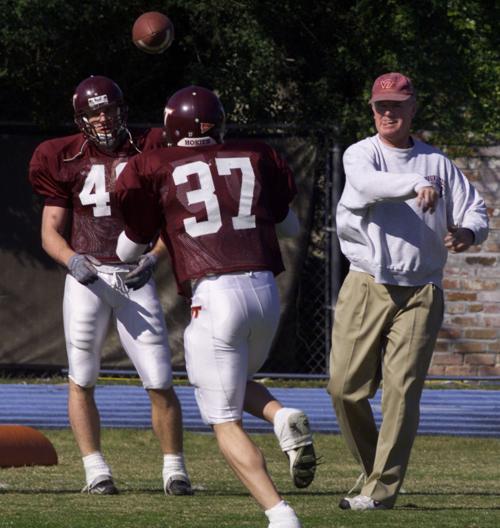 Once again the memory man takes the easy way out — he is 82 going on 102, after all — and settles for some short- … as well as the usual long- … term recollections of times gone by. This is Volume 41: "The Perfect Spot To Get Whacked"
Jim Cavanaugh always suspected the blow to his left knee, abruptly ending his sophomore season (1967) at William & Mary, wasn't accidental. In the Tribe's annual finale with the University of Richmond, he caught the first-quarter ball — and was hit low and hard by UR defensive back Winston Whitehead. The result: stretched inside medial collateral ligament that required about four months of rehabilitation.
"It was quite a shot," Cavanaugh said recently. "His timing was impeccable." Talking long distance from his retirement condominium in Charlotte, N.C., he can't forget what happened. "I ran a slant pattern, six yards then in. 'Deacon' Dan Darragh was the quarterback. I caught the ball … I have a picture of it somewhere … and he puts his shoulder pad right on my knee … with my heel in the ground, toes off the ground. I was in the perfect spot to get whacked."
Richmond won 16-7 after Cavanaugh had to put his three-season W&M Hall of Fame (2001) career — 117 receptions, 1,507 yards — on temporary hold. (Remember: Freshmen didn't become eligible until 1972.)
So, tell us Cav, at the time, did you think Whitehead tried to hurt you on purpose? "I don't know. I wouldn't have said that, but one thing that was odd: he wasn't trying to tackle me," Cavanaugh said.
Much later he was told by an old friend, the late Tommy Throckmorton (who was an assistant on the UR staff), that "we were trying to knock you out of the game,'" Cavanaugh said. "I just laughed it off."
Now, the backstory: In our Jan. 3 memory piece, Richmond's first consensus All-American Walker Gillette talked about his personal goals. First, he wanted to catch more passes than the other team's best receiver, then lead the Southern Conference and, finally, the nation. According to Gillette, teammate Whitehead said he would help any way he could. (Use your imagination.)
"He [Whitehead] was a tough guy. What you say doesn't surprise me one iota," Cavanaugh said, chuckling.
He didn't sound upset. So we called him back 24 hours later to make sure. "I had to have the knee taped the rest of my [football-playing] life. It was a cumbersome deal. I wasn't that fast to begin with, so this didn't help, that's for sure … but, no, I didn't have a problem with him," Cavanaugh insisted.
In the ensuing 50-plus years, he served as an assistant coach at North Carolina State, Maryland and Virginia Tech — among others — working for such hall of fame coaches as Lou Holtz, Richmond native Bobby Ross and Frank Beamer. In other words, Cav has seen it all. Nothing surprises him when it comes to football. He can forgive if not forget.
So, the late Whitehead was out to get him. It happens. "A lot of people tackle like that nowadays. It's a wonder more people don't get hurt," Cavanaugh said, adding, "I just wish he had tried to tackle me … just a little bit higher."
Whitehead was not a lone ranger when it came to hitting-to-hurt. "There were a lot of those guys in those days," said Gillette. "You know, [coaches] put bounties on rival players to get them out of the game."
As it turned out, both Cavanaugh and Gillette were named all-conference ends in 1967, although neither led the SC in receptions or yards per catch (which was the yardstick for final ranking). George Hannen of Davidson and Furman's Robbie Hahn each caught 53 balls to tie for No. 1 in that category. Gillette was third with 51, then Cavanaugh with 48. "I was really hot early in the season, leading the nation for a while, I think," he said.
In fact, he had one of his best games in William & Mary's storied 27-16 upset of No. 6 Navy on Oct. 21. Cavanaugh recalled having five receptions, one for 20 yards and another for six points. The Tribe scored four touchdowns in 14 minutes to spoil homecoming and beat the 21-point-favorite Middies for the first time since 1942.
Marv Levy was in his fourth of five seasons as W&M coach and, as usual, wasn't at a loss for a good quote afterward. Noting the Tribe trailed 16-0 well into the second half, he said: "If ever there was a time when I was ready to give up, that was it. I'm glad the boys didn't feel the same way."
Cavanaugh finished eighth in the conference, averaging 13.9 yards per reception, with Gillette ninth (13.8). Hahn was fifth (16.0) and Hannen 11th (13.5). Despite the blow to his knee, it would prove to be Cavanaugh's best season. He tailed off slightly to 41 catches (12.4) in 1968. Then, with Levy leaving to become the Philadelphia Eagles kicking coach, co-captain Cav fell to 31 (11.8) in 1969 when W&M ran the ball 521 times and threw it only 210 under new coach Lou Holtz. His quarterbacks had nine touchdown passes and 15 interceptions as the Tribe wound up 3-7, losing its last four.
Cavanaugh later worked for Holtz as a graduate assistant and became something of a nomad, which is the norm for most coaches. In 2014 he closed out his active career at Virginia Tech, where his recruiting territory included Richmond and the Peninsula. Cav is one of those outgoing, never-met-a-stranger types, who was at his best during in-home visits.
Quarterbacks Michael Vick (Newport News) and Bryan Randall (Williamsburg) are on Cavanaugh's long list of recruiting successes. ESPN once ranked him the fourth best recruiter in the country. In a piece found on the school's sports website, the native of Queens Village, N.Y., was called "probably the greatest recruiter in Tech history." You get the picture.
By the way, Cav, in case you didn't know, Tech and arch-rival Virginia haven't been able to sign many — if any — of the area's blue chip high school players in recent years. National big boys like Notre Dame, Ohio State, Oklahoma and Clemson are getting the firsts, the state's power conference members seconds and thirds.
He might be retired, but Cavanaugh, 73, keeps up. He knows. "The [Virginia] schools aren't really recruiting the high schools like you would think. They say they are, but they aren't getting enough Virginia kids. We had a pretty good pipeline going," Cav said.
Many moons ago, like the early 1990s, we obviously didn't have enough to do. So, for chuckles, we put a clock on the Super Bowl to answer the burning question: How much real action is there in the 60-minute game? Snap or kickoff return to whistle … add the times up, and you get …
Would you believe just south of 15 minutes? It's true, Kurt Angle, it's damn true.
Sunday, with lots of mind-numbing time available, we put a stopwatch on the commercials. Of course, that meant we had to watch them — which proved a major test in self-control. (Is it only us or are they getting worse in direct proportion to the rising cost to show them? This year's best and worst were interchangeable. Like the CEO of a milk-substitute firm standing alone in the middle of a field, armed with a keyboard and singing way, way off-key. To think that was among a big-city reviewer's top three thumbs up.)
I know it seemed like a lot more, but commercials during the game, not including halftime, ran 52 minutes, 33 seconds. There were 20 breaks in all, equally divided between halves. From an overall high of 2:57.17 following Kansas City's early field goal to a low of 2:22.77 after Tampa Bay's late-third-quarter interception that led to a 52-yard field goal, ending the scoring in a 31-9 final for the Brady Bunch.
In keeping with a pandemic-related trend, the game delivered a 14-year low of 96.4 million viewers from all electronic sources including 91.3 million — down 8% from a year ago — on CBS. Only 38.2% of all TV homes in this country tuned in, the first time in 31 years the rating didn't reach 40.0. The NFL's regular season numbers were off 7% from 2019.
Perfection isn't easy … duh ... but when it comes to predictions the memory man comes close. The last time he got one right was … never mind. It's been a while. Not that he takes the easy way out. Among his biggest whiffs was Cleveland over New York in the 1954 World Series (Giants 4-0).
Still out there as the LONGEST of longshots is Russell Wilson to the team once known as R—skins for Ryan Kerrigan and a package of draft choices. I mean, now that Washington has signed Taylor Heinicke for two years (maybe), who needs him? That's the same Heinicke, from Old Dominion University, who scared Tom Brady more to open the playoffs than Patrick Mahomes did in the Super Bowl.
One bit of crystal ball gazing that seemed so logical was flat out insisting there would be no football — period — until a widely-distributed virus vaccine came to the rescue — which would end any thoughts of playing in 2020, possibly 2021 as well. A pandemic has gripped this country unlike anything like it in our lifetimes. Why risk it when people are dying in record numbers?
Stupid me. I forgot that the NFL, as well as the college game at the highest level, are driven by pure greed. Simple as that. Television, with its obscene payouts, runs the show. So they would play, and if some players got sick, well, they could have opted out, you know. Tough.
It was with that mindset that I asked a Division III coach why he was about to play even a brief schedule of four games this winter? His group of non-scholarship schools is all but ignored by the networks, so TV money can't be the reason. Would you believe, without games, there would be no players and therefore no programs?
"Football is important to the athletes here," said Andy Frye, Centre College (Danville, Ky.) head coach since 1998. "They're volunteers. They play because they love to play, [unlike] Virginia and Virginia Tech where they are mercenaries. They are paid to play.
"You also have to understand there are 243 D-III football schools. Of them, 200 are admissions-driven. That's how they make their money. UVA and Tech make their money on how many are sitting in the stands and from TV. We don't make money unless our student-athletes are on the field because they are paying tuition. That's why a lot of colleges are playing … because they have to. If they don't play, they will close down because those kids will leave."
We introduced Frye last week because he hired John Roush as new offensive line coach to meet a sudden, unexpected need. So what? Well, Roush is 70 years old and recently retired after 22 years as Centre's president. He played football at Ohio University and began his post-graduate career as an assistant at Miami, O. He quickly moved into college administration and, along the way, worked at the University of Richmond (1982-1998).
A member of the eight-member Southern Athletic Association, Centre was scheduled to begin its abbreviated schedule Saturday (Feb. 13) and end March 6. There also will be a SAA championship game, COVID 19 willing.
Frye added he thought his players would stay, if they played this year or not, "because they are here for the outcome [a degree] … but it would be very difficult for them. They will tell you they came to play football. Unfortunately, our conference has a broad spectrum of schools. Some are admissions driven. We're not, but we want to support our conference."
It has been uncommonly quiet in Williamsburg since last fall when an attempt to kill seven sports ran into a Title IX roadblock and, among other things, resulted in the dismissal of athletic director Samantha Huge. The underlying reason for what became a cause celebre and led to a threatened lawsuit on behalf of women's swimming, gymnastics, track and field and volleyball was a desire to pump more bucks into football and basketball. As one very influential donor explained, they wanted to make the so-called major sports more relevant nationally.
That prompted an email from Richmonder Barry Fratkin, who served his alma mater as sports information director then chief fund raiser. First, he noted "W&M had a nice degree of success" from the mid-60s through the first 25 years or so of football coach Jimmye Laycock's remarkable reign that ended with his retirement in 2018.
"They poured money into renovating the stadium, building the Laycock center and improving amenities for the players … none of which produced more success on the field, but less," Fratkin wrote. "My personal thought is that W&M's lure is that it was/is a great academic attraction in a historic city with a beautiful campus. It was Ivy League with scholarships. W&M seldom outrecruited someone for having a better locker room or weight room or synthetic field."
Short stuff: Wrong again, Jerry. In last week's item about late basketball coach John Chaney, we misspelled Cheyney State College, leaving out the first "y." There's an alum living here, and he brought it to our attention. Renamed Cheyney University of Pennsylvania in 1983, the Cheyney (near West Chester), Pa., institution, with fewer than 700 undergraduates, is the oldest of historically black schools. It was founded in 1837 as the African Institute.
Reader Frank Morgan, former superintendent of schools in Goochland County, emailed: "When I was in South Carolina, I met a state senator named Mike Fair. He played at South Carolina and, after being cut by the (NFL San Diego) Chargers, played for the (semi-pro Richmond) Saints in 1970. He told me his experience in Richmond convinced him he needed to go to law school after all. He particularly remembered the old scoreboard at City Stadium that was darn near impossible to read."
The '70 Saints finished 4-11 and folded after a tumultuous season that first saw an ownership change. Then coach J.D. Roberts left with the team 1-7 for the top job with NFL New Orleans. One of the R-Saints quarterbacks, Fair returned to his hometown Greenville, S.C., where he became the center of several firestorms during 33 years with the state legislature. Now 75, he retired in 2017.