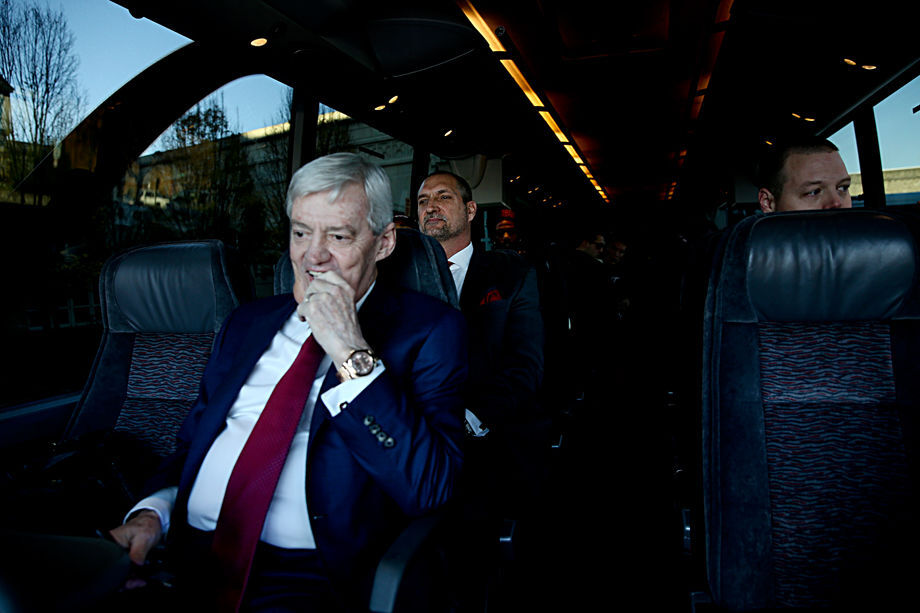 Look out below … the memory man is flying high and about to drop some more short-term as well as the usual long-term lookbacks at kid's games, amateur and for pay. This is Volume 68: "When Forever Meant 'About Three Seconds.'"
CELEBRATION TIME, COME ON!!! Frank Beamer will be 75 next week. Has it really been more than a half-century since he was a hard-hitting defensive back as an undergraduate at Virginia Tech, playing for Jerry Claiborne?
We talked to Beamer recently. Unlike too many – OK, most – of today's collegiate leaders of men, he liked give-and-take with the media. Yes, that F. Beamer, who returned to coach at his alma mater from 1987 to 2015 that will always be remembered as the glory days of Hokie football.
Anyway, that's been well-documented. What we dialed up Beamer for this time was his recollection of trick plays – one in particular, the Bummerooski – that Claiborne, of all people, liked to spring on unsuspecting opponents. Yes, that J. Claiborne, Mr. Three-Yards-and-a-Cloud-of-Dust himself, who learned at the knee of "Bear" Bryant. If you didn't know better, you would think Claiborne and trick plays would be as compatible as (fill in the blank).
Well, these old eyes saw Tech pull the Bummerooski at Florida State with halfback (as they were called then) Tommy Francisco the beneficiary. "I think [Claiborne] brought it from Alabama. That was always part of our game plan … a few special plays that could turn the game around," said Beamer, who wasn't adverse to doing such things when he became a coach. "When I got to Tech, we didn't have a whole lot of success right away, so we had to trick you to beat you."
Claiborne's version of the Bummerooski, later dubbed Fumblerooski elsewhere, was set up by an innocent-looking punt formation – with one back fairly close to the line between the center and guard and another behind and to the right of him. Beamer takes it from there:
"Instead of the punter, the ball is snapped to the second back, and he sneaks it between the legs of the guy in front of him … who sits there forever. The guy who put the ball in there takes off to the right … the linemen on the right side take off to the right … the linemen on the left act like they're blocking back. The intention is to make [the opposing team] think that personal protector [blocker] has the ball and is running to the right … and you can't rush it. You've got to sit in there about three seconds. Then, all of a sudden, when everybody gets out of there, the center and the upback on the left side lead the guy with with the ball up the middle of the field. Hopefully, they fall for it … and he heads for the end zone."
Beamer still chuckles over the fact that Claiborne, a traditionalist if there ever was one, liked to take chances now and then. "It was amazing … how conservative he was with his offense … that he was all in with those trick plays, where you take some risks," Beamer said.
In fact, Beamer recalled, they almost always had a trick play of some kind ready for every game. If they didn't use it then, they could use it later. "He had several of them," Beamer said. With that, he described one that included running a sweep into the boundary towards the Tech bench, a player pretending to tie his shoe near the ball – while teammates were huddling with their backs to him several yards away – then suddenly flipping the ball to a back while the defense was standing, relaxed, near the ball.
You had to be there, I guess, but Beamer recalled springing it on North Carolina State. "It worked," he said. "I don't remember what [Claiborne] called it … [but] it sure was interesting in the details."
Then there was the fakery that VPI (as it was known then) used on a kickoff in the 1966 Liberty Bowl. With a sophomore named Beamer in the lineup, the Gobblers (now Hokies) surprised Miami, Fla., by looking like they had set up a return to the right only to stop and throw a lateral pass across the field to the left. "You get those guys on kickoff coverage … they're usually not starters … and they come flying down the field to make the tackle," Beamer said. "Next thing they know ..."
Suddenly, he began laughing at the memory of another Claiborne classic in which he was supposed to have a key role. "I was the holder on the field goal team. You know, I had a bunch of touchdown passes in high school – around 43, I think it was. And he said, 'This week we're going to fake a field goal … You're going to run, and we'll have a receiver in the far end of the end zone.' I thought, 'Oh, man, I'm finally getting to show off that arm I had in high school.'"
It was 1968, Beamer's senior year, when the Men of Claiborne would go 7-3 during the regular season. Invited back to Memphis for another crack at the Liberty Bowl, having dropped a 14-7 decision to Miami, Fla., two years earlier, they blew a big, early lead and lost 34-17 to sophomore Archie Manning and the University of Mississippi. More on that in a moment. Beamer continues:
"So, we get ready to practice, and he says, 'Kincaid, get in here and hold!' Al Kincaid was our quarterback. I said, 'Wait a minute! You saw me throw in high school. Don't you think maybe they might think something is up if your starting quarterback is in there when the other guy has been the holder?' That killed me. Broke my heart."
Tech subsequently faked a field goal against Kentucky, with Kincaid airing it out, not Beamer. Yeah, but did it work?
"Ahh, I can't recall exactly … but I might say 'no' because it wasn't me throwing the ball," Beamer said, still laughing.
Occasionally Claiborne's imagination backfired – big time. He got greedy – there is no better way to put it – against Ole Miss, attempting an onside kick after a field goal made it 17-love in the first quarter. The Rebels were caught by surprise, no question about it, but the ball didn't go the required 10 yards.
"When they work, it's great," Beamer said. "When they don't, it's not so good."
That was the beginning of the end for the Gobblers. Manning drove Mississippi 49 yards for six points. VPI managed to get into the Rebels' end once over the final three quarters. For the game Kincaid completed one pass for two yards, still records. The Gobblers turned the ball over five times and had 12 penalties accepted for 120 yards. Manning, father of Peyton and Eli, threw for 141 yards and two first-half touchdowns in a game that featured running backs (both teams). The winners ran for 326 yards, the losers 332.
"I told Archie one time, 'We got your career going in the Liberty Bowl … then we played Tennessee in the Gator Bowl and Peyton had a great game when I was coaching,'" Beamer said. "If we had played Eli, we would have gotten his career going, too. We've been very good to your family."
Say this for college football today … well, maybe several things like:
When was the last time you saw two Power 5 teams combine for 103 points (in regulation) while combining for an inordinate number of yards … without a quarterback who looked like he belonged in the All-American conversation?
Last Saturday afternoon Oklahoma and Texas gave the usual "Red River Showdown" capacity crowd of crazies at the Cotton Bowl plus an ABC television audience a little bit of everything: a first-snap swing pass that went for 75 yards and six points; a terrible decision by the referee after reviewing the play; two Texas touchdowns in less than a minute; another blown call on a punt when a teammate was shoved into the player signaling a fair catch, and it was ruled a fumble that wasn't overturned; the preseason Heisman trophy favorite throwing a pass directly to a member of the other team for an interception; an 85 yard punt by a kicker who's first attempt a few minutes earlier was blocked and recovered in the end zone for six points; and five touchdowns in fewer than 14 minutes – all in the first quarter.
The Heisman hopeful, Oklahoma QB Spencer Rattler, looked rattled and, perhaps, deserving of the to-date harsh treatment – read: booing – from Sooner fans. He was eventually replaced by freshman Caleb Williams, who ran virtually untouched for 66 yards and a TD – on fourth and one. Like Texas QB Casey Thompson, who went all the way, Williams finished with gaudy numbers that were more the product of how-did-they-do-that catches of throw-and-hope passes.
It was the kind of game that leaves head coaches thinking about replacing their entire defensive staffs. Oklahoma trailed 28-7 after one period then won 55-48 on a 33-yard run with :03 to go. The Sooners got a major break on their second possession, already down by 14 points. Replay clearly showed (to everyone but the ref) the receiver stepped out of bounds on his own – a rules no-no – before keeping a drive alive with a finger-tip reception on third-and-11. ABC's Kirk Herbstreit said it was an easy call, reversing the on-field decision. However, Oklahoma kept the ball and scored.
With states, like Virginia, encouraging legal betting, and betting services now all over TV, questionable stuff will always draw concern about a game's integrity. Likewise, college athletes are allowed to receive large, virtually-unchecked over-the-table payoffs (NIL) for their legal services. You don't think that could put them in compromising situations, do you?
It's been speculated already that fans are down on Rattler for not living up to the preseason hype despite receiving a glossy, albeit legal, NIL payoff. This week the gossip out Norman, Okla., way includes Rattler entering the transfer portal and leaving for either Arizona or Arizona State. He's from Phoenix and has three years eligibility remaining.
It was fewer than 10 years ago that the National Football League was trying to discourage states from, in effect, becoming partners with the Las Vegas crowd, citing "a distrust … that normal incidents … will [lead to] accusations of point-shaving and game-fixing." Of course, that thinking didn't last long. The NFL became actively engaged with bookies and gambling. Greed has replaced common sense.
Now we get Phil Simms and Boomer Esiason giving their take on a betting service's over-under for select games on CBS. And there is NBC rookie Drew Brees encouraging us to make our bets now before it's too late.
Look for TV ratings, college and pro, to soar as people will continue to watch, say, a 40-7 blowout to the very end, having bet the over on 50 points. Or under, for that matter.
"We are so thrilled to have hockey back on ESPN." Speak for yourself, Steve Levy.
The World Wide Leader in Cutting Payroll was in Tampa Bay Tuesday for opening night of the 2021-22 season, having joined TNT – yes, TNT, home of AEW rasslin' – to replace NBC as TV home of the NHL. ESPN last featured hockey in 2004 and since then treated the game as a second-class citizen (at best) on SportsCenter. Now, armed with a seven-year deal reportedly worth $2.8 million, the cable network that is runaway No. 1 in subscriber fees has decided the sport is important after all.
So there was Levy, host of the pregame, between-periods and post-game shows, surrounded by Barry Melrose, Mark Messier and Chris Chelios, NHL icons all. After the first 20 minutes, Melrose talked the most because he was, by far, the most experienced of the analysts in front of a microphone. Levy, who once was an ownership partner of Melrose in Glens Falls, N.Y., with the UHL's Adirondack franchise, tried to engage Meesier and Chelios with light banter that brought laughs from everyone but Melrose – and viewers who wanted more.
Sean McDonough and another ex-player, Ray Ferraro, were in the booth, and the game was well under way before you could hear what they were saying. For almost an hour, including buildup and pre-game raise-the-Stanley Cup-banner ceremonies, the noise first from the public address announcer then from the crowd plus the sound of sticks meeting the puck and skates throwing ice overwhelmed anything McDonough and Ferraro had to offer. It was a production glitz that has become much too commonplace at football games featuring large, loud crowds. (Of course, it could be argued the network was doing fans a favor – intentionally so.)
… which brings us to Cris Collinsworth. You don't have to be that old to recall when the former Cincinnati Bengals' wideout made his national television debut in 1990 to rave reviews. He was the perfect mix of insight plus bite that few analysts have had, and Collinsworth did it with some humor but, most important of all, with an economy of words.
He and Al Michaels became unquestionably the best NFL-on-TV tandem. NBC's Sunday night coverage is must-see, and not only because the Peacock invariably gets a premier matchup. Then, the deep thinkers began to overthink and began tinkering with the studio show. Now, Collinsworth has become a non-stop yapper which could drive us to reach for the mute button except Michaels is a delight – among the last of a dying breed.
Sunday's coverage of the Bills' big beat down of the Chiefs was a nightmare from the outset. The statistician was giving Michaels some erroneous numbers regarding non-stop penalties called in the first period. And Collinsworth kept talking and talking then talking some more. Maybe being the recipient of 17 sports Emmys has gone to his mouth as well as his head.
(Making matters worse … NBC littered the small screen with non-stop statistics that were more distraction than instructive – and too often were there and gone before we had a chance to read, much less digest, them.)
Worst of all, they didn't bother to explain how Kansas City could be called for offensive pass interference and still gain five yards to the Buffalo 23-yard line – which Michaels thought was the 28. NBC blew giving sideline reporter Michelle Tafoya a chance to provide some real news, at the least an explanation of why. Did the game officials mess up? Or, what was the rule?
At halftime, when the Bills led 24-13 en route to 37-20, and a thunderstorm delayed start of the second half, it would have been nice if Tafoya had answered the questions instead of such deep, penetrating coverage as some of the Bills thought there was too much peanut butter on the sandwiches. That led to a hey-anything-in-a-storm discussion of the perfect ratio of peanut butter to jelly in a PB&J. (Actually, Tafoya did some of her best work, adlibing from the tunnel near the locker rooms.)
TNT opened with Washington entertaining the New York Rangers, minus 20-year-old Richmonder Zach Jones who was sent to AHL Hartford – but, it says here, not for long. Turner Broadcasting is shelling out a reported $225,000 for each of the next seven years and, as expected, got its money's worth. Unlike ESPN's first game, where the home side was listless – you should have heard the excuses – and was blitzed by undermanned Pittsburgh, the Caps and Rangers played hard if not very well … the Broadway Blueshirts, that is.
You could feel the energy from both teams in what was billed as New York wanting revenge for Tom Wilson working over the Rangers with no meaningful retaliation late last season. By adding toughness lacking in 2020-21, they supposedly couldn't wait to take on the Caps' willing right winger. Three newcomers to the New York lineup – Ryan Reaves, Jarred Tinordi and Patrik Nemeth, whose reputations for willingness to drop the gloves preceded them – spent most of the night watching Wilson draw occasional raves from TNT's Kenny Albert, Ed Olczyk and Keith Jones for his hustle and work in the offensive end. Tinordi was a team-high (low?) minus-2. Nemeth minus-1 in the tell-tale plus-minus stat.
Reaves, the Rangers' new resident goon, and Wilson were on the ice together for a total of nine seconds among Reaves' 11 minutes of playing time in all. Nothing happened. Reaves made one segment with Alex Ovechkin (2 goals, 2 assists) who was miked by the cable network. They lined up side-by-side during a faceoff. "How was your summer?" Reaves asked. In the post-game show, panelist and ex-penalty-minutes king Rick Tocchet went off on a mini-rant. "I don't think I'd ask him that," the Philadelphia Flyers' franchise leader in PIM said.
The Caps won 5-1 (another goal was nullified for a close offsides after further review). There were no major penalties – and no one appeared to take a run at Wilson in anger. The Rangers outhit Washington 27-12. That did not include another New York newcomer Sam Blais running over a teammate near center ice for Best Hit of the Game honors.
Hartford opened its season Friday night, with Z. Jones scheduled to be on the first defense pairing with another rookie, Brendan Schneider. Because veteran blueliners Nemeth and Tinordi – who like Jones are lefthanded – had less than auspicious debuts, there was reason to believe Jones could be recalled most any time.
By every account Jones had an outstanding preseason but was sent down to get as much playing time as possible. An excellent skater, the 5-10, 185 pounder is at his best in a wide-open, fast-moving game where he also excels at passing the puck quickly to the open man. Washington left Nemeth and Tinordi, as well as Reaves, look like they were skating in sand.
Until next time … when we celebrate ice hockey's 50th anniversary here.